Hey.
I'll start out by shortly introducing myself. Red Wars has been changing owners a couple times by now, and I feel like it will be easier for you to trust me if I reveal a couple things about myself. Don't worry, it'll be straight to the point. If you don't care who I am, just skip ahead.
I'm Reus and I first started modding Mount & Blade back in 2011. I was terrible at it, but with time I improved. I briefly worked on a couple smaller mods back then. Got on the team of Gallipoli 1915 but the lead developer disappeared from the scene, so it was short-lived. Eventually I started working on a small project myself which eventually was mashed together with a project by Robin, also known as cwr - a Perisno developer. It didn't work out but eventually I joined him and the others on the Perisno team in 2015. I'm still a Perisno developer, but I mostly do some community management at this point as I have gained more interest in Red Wars and other things. I also developed the custom Bear Force II and Perisno ModDB pages plus graphics and artwork for the Third Age: Reforged mod for Medieval II.
This turned out a bit longer than I thought it would be, but I think it'll do. You can also find me on the Mount & Blade Community Discord server, Subreddit or the TaleWorlds forums. I'm SirBackstay on Reddit. Hit me up if you have questions or just want to talk.
Either way, let's get to the good stuff.
---
As you may already know, Red Wars has been undergoing some changes recently. Originally the development was ceased in May 2016 and it was turned "open source" - another topic I will talk about later in this article. A year later in May 2017 it was picked up by Lor Dric, but he quit modding entirely one year later and dropped all of his projects. This is where I stepped in to pick up the mod and continue it. I am currently working on a big ass Red Wars 2.0 patch with the main aim of improving the overall quality and polish of the mod.
Red Wars 2.0 will feature big reworks for factions, troops, scenes, sounds, music, and more. A real thicc patch all around. I don't have any screenshots to show you yet, as I have mostly been fixing and changing things that you can't really take screenshots of. I am however currently writing a development blog where I go more in-depth with what I'm currently working on and what I have finished so far. Hopefully I can sneak in some screenshots of new scenes, but I don't think I'll have new troops ready for it in time. These development blogs will be consistent and I will release one every time I feel that I have enough unique content to showcase. You can also follow progress through our new Trello board. It's not quite finished yet, but I will keep it updated. Feel free to suggest changes and report bugs here on ModDB or the forum board so I can pick it up and work on it.
I don't have a current estimate for the release of the new patch, as I have to fit the development around my schedule. I have school and a job to attend to as well, plus other real life projects. Don't let this discourage you, however. I'll get it done. And bear in mind it'll be a big patch; I don't do these frequent small patches with only a couple changes. I think it's very inconvenient since you would have to manually re-download them every time.
---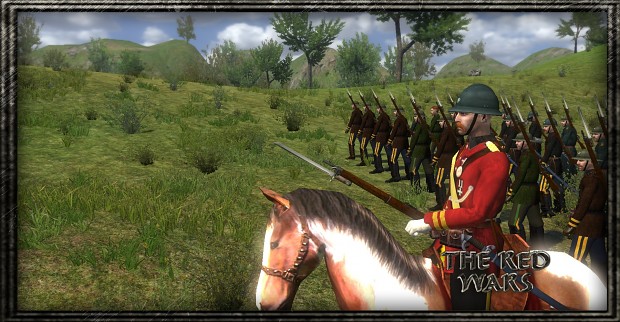 Lastly I want to address the Red Wars source. Previously we have witnessed the Parabellum scandal. A mod that used Red Wars as a base without permission and then went on to steal assets from other mods and even sounds and artwork from Battlefield. Horrible, I know. Eventually Parabellum was taken down from ModDB for copyright infringement. Recently, however, I have heard that the developer is putting together a big new patch for the mod. People are even making sub-mods, claiming to use Parabellum as base. It's ridiculous to the extent that it gets funny. The sub-mod just renames things.
I'd just like to clarify that Parabellum and its "sub-mods" are not allowed to use our assets.
For the people asking "How did Parabellum not have permission? Isn't Red Wars open source?" I'll give a short answer. No, it is not open source. But I hate short answers, so I'll give a better one.
In this old article from when the original developers ceased development in 2016 talks about how Red Wars was going open source. However, if you read the actual article you can see that only the code is open source. None of the assets are. And this is because Red Wars does not own the majority of its assets. A lot of the assets were outside jobs and Red Wars has been allowed to use them. We don't own them and can therefore not make them open source for anyone to use. This means that Parabellum was not allowed to use any of the assets. Only the code is open source.
Furthermore, future Red Wars patches are not going to be open source. Not until development is finished, which is likely when we've all moved onto Bannerlord. The 1.9 source has also been taken down, as I don't feel it's fitting when a 2.0 is in development anyway.
I think I have said everything I wanted to say for now. Stay tuned for the upcoming development blog where I will showcase some new things. You can stay updated on the progress through our new Trello board. Bear in mind the Trello board is not finished yet. It doesn't include all changes that need to be made, and it also doesn't include the majority of things I have finished so far, so don't let it discourage you. I will also occasionally post new screenshots here on ModDB.
See ya later,
Reus.