Its been a long time coming and the first level for Sirius is released. This level takes place about midway through the game and is intended to be difficult, the enemy force knows you are coming and are prepared for your arrival.
I have been working tirelessly playing through the level and bug-fixing over and over (I now understand why video game companies hire game testers lol).


BUGS
There a few standout issues that I have yet to solve.
1 - some doors are either missing or impenetrable after loading a saved game.
2 - there are intermittent crashes (at least on my machine) in certain parts of the level (this could be at least in part due to overclocking on my PC) I'm interested to know your experience on this.
3 - occasionally AI do completely weird random stuff, (fortunately this happens rarely)
4 - every once in a while after loading a saved game several times the player will spawn in the game with no arms or weapon mesh, simply exiting the game and reloading the last save resolves this.
5 - sometimes AI that are supposed to follow you fail to do so and often get hung up at obstacles (usually in buildings) using the AI again usually fixes this
6 - Im having some issues getting the minimap to work correctly, this should be fixed soon
Most of the issues Ive run across happen after loading saved games, most of the crashes do as well.
Im sure you will come across other issues, these are just some of the major issues Ive run across and have been trying to fix. As much as I want to release a bug free finished product, I also want to get a playable build of this level out to those interested and start getting some much needed feedback.


FEATURES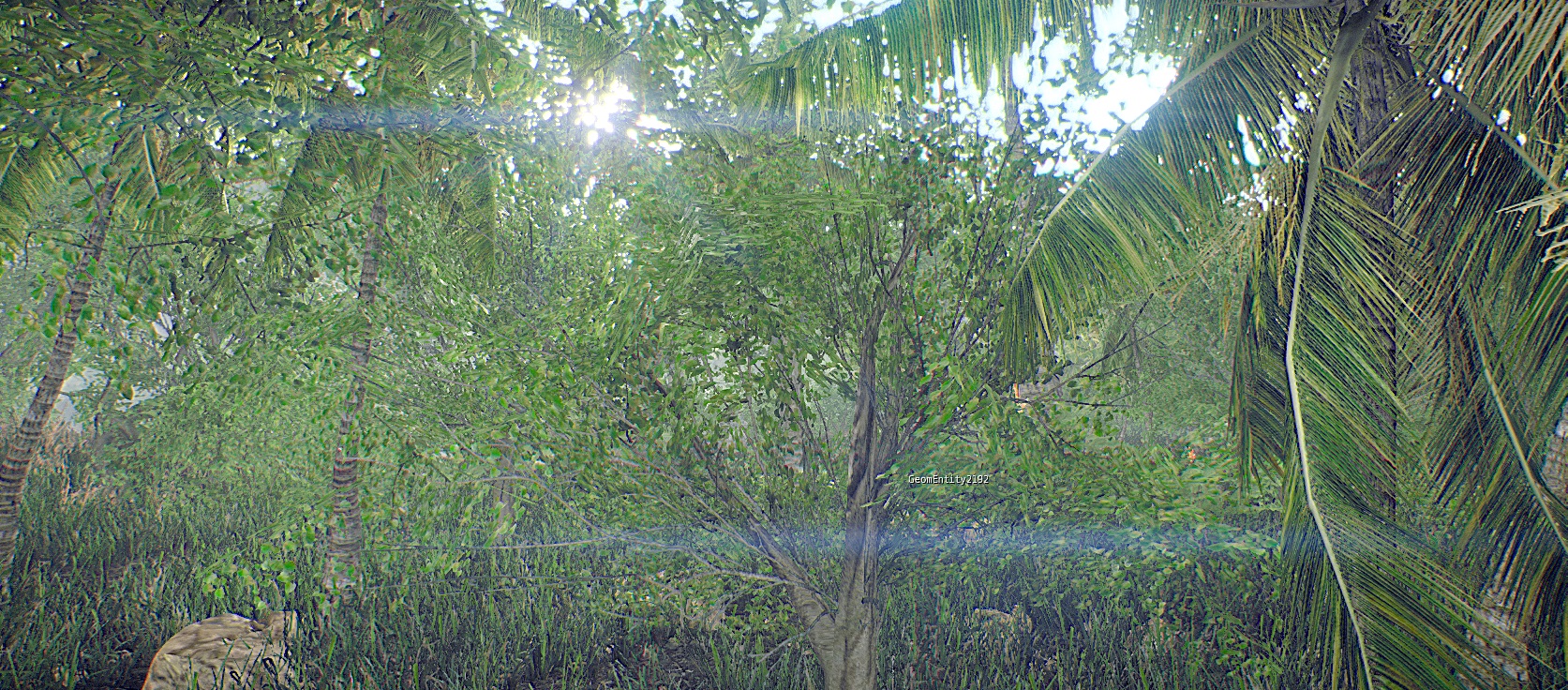 Enhanced Graphics
At this time this mod requires the CryzenX shader mod to be installed in your crysis folder. The reason for this is that the time of day settings require much tweaking and I have had too many other things to get done so far. You can use it without the cryzenx mod, but the level will look strange, the vegetation and sky will look dark. Once you've played it with the mod though its hard to go back, it really looks that much better, especially the battle smoke effects. (Note the sun effect above)
A major drawback is the framerate, CryzenX kills the fps in this level, but IMHO its worth the cost. If popular demand dictates, I will make a separate download with tweaked TOD settings for vanilla Crysis.
More detailed objects
Many objects are much more detailed, this is due to the Crysis Expanded mod and HD Textures 2018 mod.
Rocks, trees, vehicles, architecture and more have gotten a facelift via this mod, I highly recommend using it as a part of this mod.


Prerequisites
As mentioned the CryzenX shader mod is required for this game, A detailed list of the mods I'm using for this on my PC are as follows:
Crysis Expanded Mod
Moddb.com
CryzenX photoreal final
Mega.nz
Crysis HD Textures 2018
Moddb.com
Pure blood mod
(having trouble finding this)
New Nanosuit mod
(having trouble finding this too)
Note the 2 mods listed as missing, I'm am having trouble finding these mods now, if anyone knows where to find them please let me know!


That's it for now, let me know your experience with the level and I look forward to constructive feedback I can use to make this level and the rest of the game better. Making this level has been quite the experience and I look forward to the next. I do have another level that's at least 50% done I started before this one, that one is next on the agenda.
I'm also waiting to see if Crysis Remasteed is going to have mod tools, if so I will probably be switching engines, I will keep you updated.


Install instructions.
1 -- Download the archive file
2 -- Extract into your crysis\mods folder (create the "mods" folder if necessary)
3 -- in the archive there is a file called Objectives_New.xml this is the mission objectives file for Crysis and all level objectives including our mod objectives have to be in this file. We will have to add this file to the gamedata.pak file in the Crysis game folder.
pak files can be opened by any archive utility, such as winrar.
to do this you will need to open the following:
example c:\Program Files\steam\steamapps\common\crysis\game\gamedata.pak
when this file is open you will navigate to the Libs\UI folder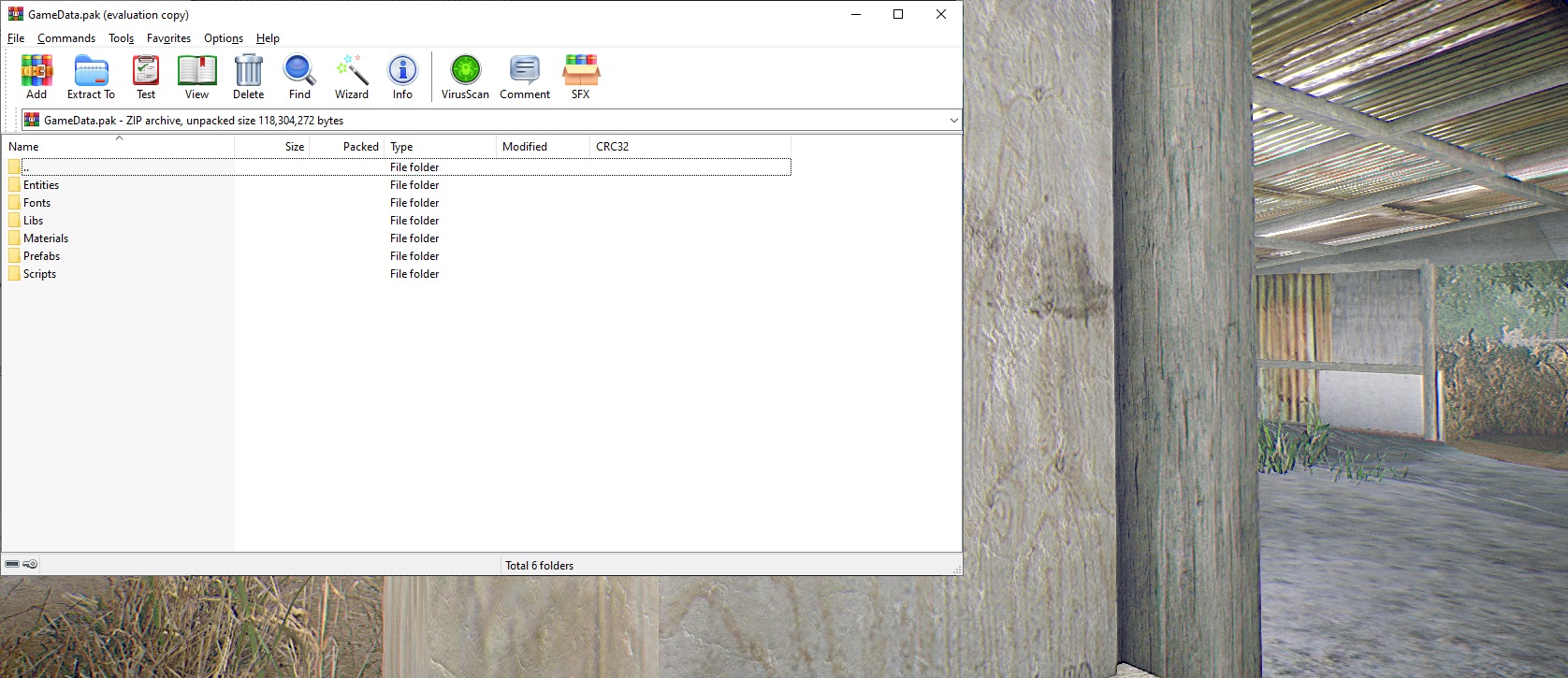 select the Objectives_New.xml file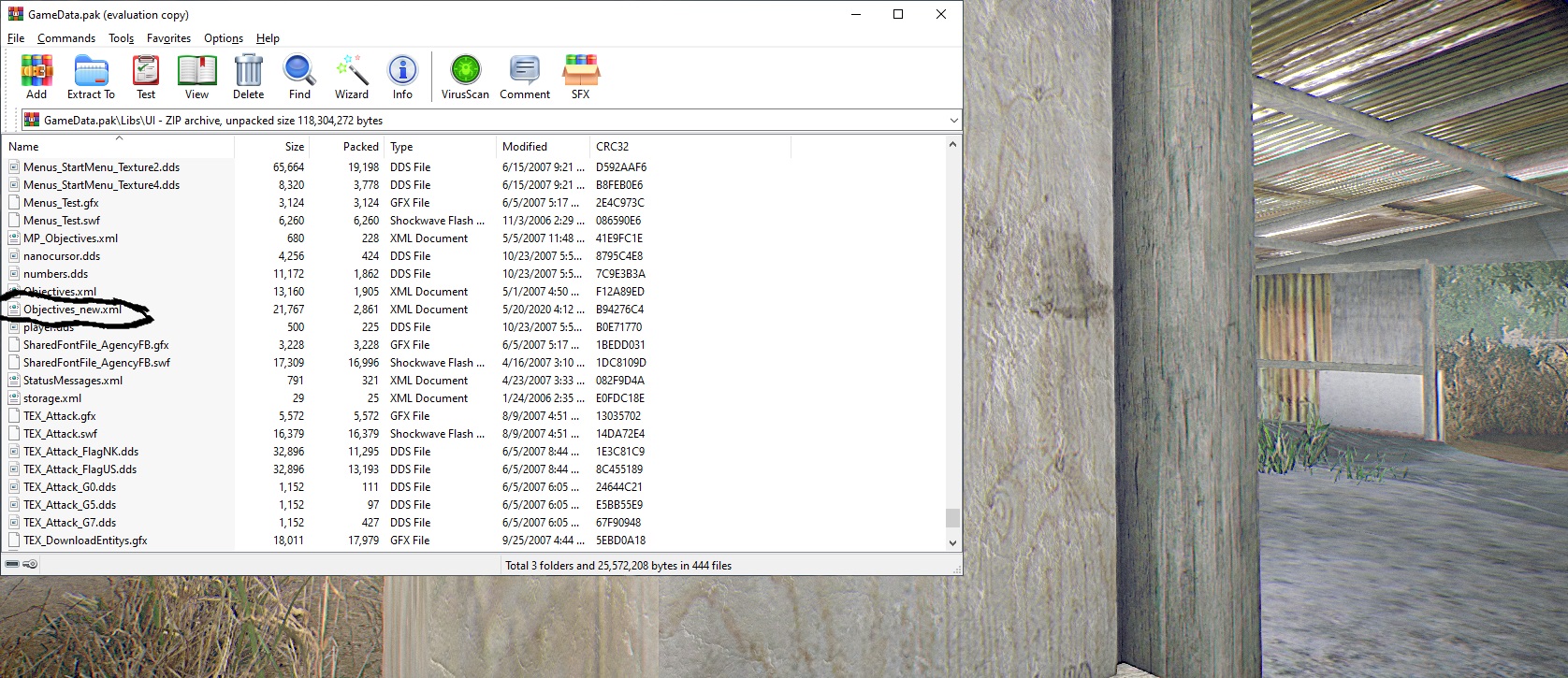 extract the file to any location so you have a backup copy
Next click "Add"
browse to the Objectives_New.xml file provided in the sirius archive.
Add the new Objectives_New.xml to the Libs\UI folder in the pak file, overwrite the existing file, or delete the existing file and add the new one, either method works.
Your now ready to play, after installing the other mods. To launch the mod, go into the Crysis main menu, select mods, and then Sirius.
next hit ~ to open the console and type "map sirius_infiltration"


If you you have questions about the install process or running the mod please let me know. I would like to have been able to just add the file to the mod folder so these extra steps aren't required, but I couldn't get it to work any other way.
Thanks again for your interest in my mod!