THE FINAL VERSION OF
Amnesia: The Dark Descent - Remastered.


CHANGELOG
I wanna start off with the most interesting stuff, so here are the last edits and additions to my remastered mod:
NEW SOUNDS
I've got the sounds remastered a long time ago. The reason you couldn't find them in previous versions was because they were scrapped. Now after a few suggestions I brought them back.
I didn't go crazy with the sounds, I wanted to capture the same feelling and style the original game had. My main goal was just to UP the quality. The sounds are very similiar, but there's more of them.
NOTE: I did not replace all the sounds!
ADDED BACK THE PHONOGRAPH INSIDE STUDY
Nothing much to say about this. Most of you from the community know about this one. It was part of the game some time after release. It was later deleted and lost.
NEW MENU SCREEN
I found that it was very hard to tell the original and remastered menu screen apart.
I edited the original one, but gave it a different tone -- although still very recognizable.
REMASTERED LOGO
As you've probably noticed - Amnesia Remastered has its own logo now. Exactly like the menu screen - different but still recognizable.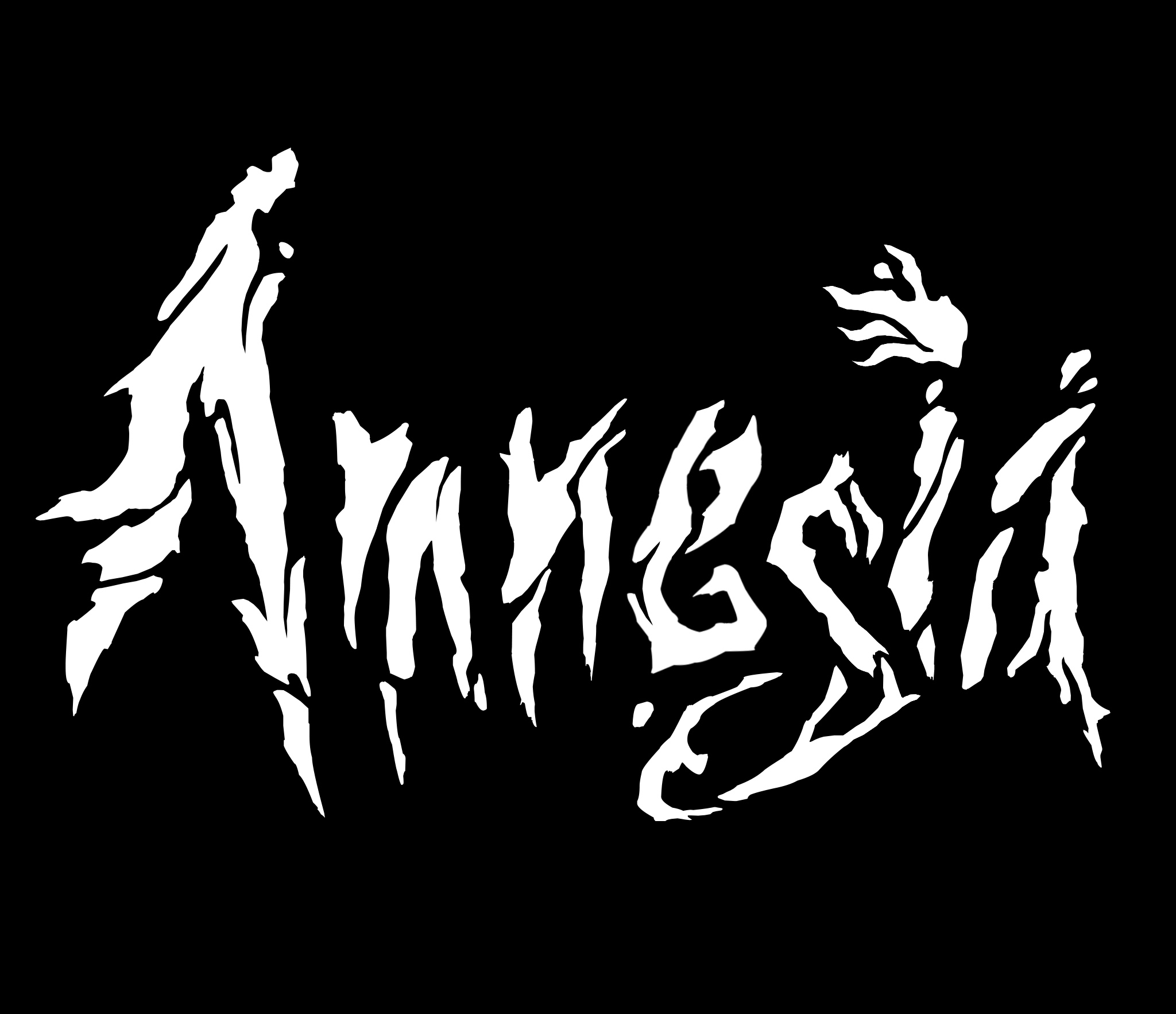 ADJUSTED MENU COLOUR
This one is really not that noticable. I personally think it goes with the new Main Menu screen a lot more than the orange-y colour it had before. It's also sharpened.
CHANGED THE INVENTORY LAYOUT
I tried to mimic the pre-release version of the inventory layout, but I couldn't quite get it right. I'm satisfied with this anyway.
I've completedy disabled the overlay and grid - making it look very slick and clean.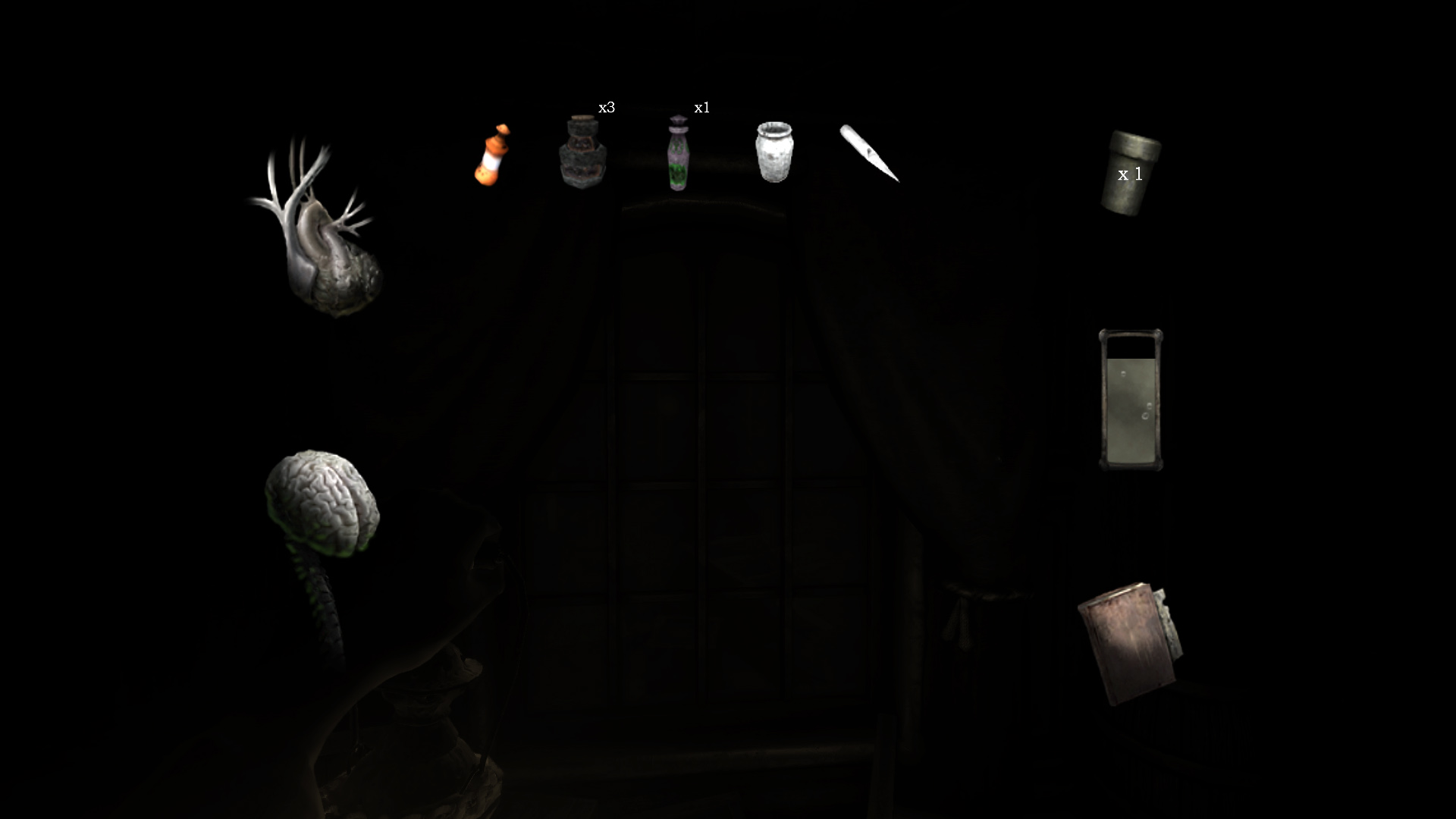 LOW HEALTH NOISE REMADE
I remade the noise, that's used when your health is low. It's now more sharper - using a 4 times bigger noise image than it did before.
ON-SCREEN BUGS REMADE
One of the insanity effects in amnesia are on-screen bugs that crawl around your monitor. I remember thinking this was such a cool touch back in the day, mainly because I actually thought they were on my monitor. Over the years they lost their charm and now you know what you're getting into...
So I remade them and I'll bet you'll fall for them now!
CHANGED UP ENEMY PATHS
I've slightly changed up some of the enemy spawns, paths and destinations. Not that big of a change as it may sound like, but some of the encounters may catch you off guard.
NEW ITEM SHADER
Pickable items now glow differently in the darkness.
MAP BUG FIXES:
Fixed visible room in the outside area in the Study - found by Ramen Llama (youtube)
Breaking sound effect upon entering the Study removed
Fixed Choir movement speed bug - found by Ramen Llama (youtube)
Added back a missing note inside Control Room, thanks Shirohige.HD
Prettied up the orb flashback (I think, I forgot to test it lol)
Properly scaled up the plank texture in Nave
Fixed graphical glitches in Old Archives, Archives and Morgue
Fog adjustments - Zimmermann Farm
Shouldn't be possible to get soft-blocked in Nave Redux anymore
Adjusted the ambient lighting in the machine room (Included from an older patch)
Disabled water reflection in Justine due to unplayable FPS (Included from an older patch)
OTHER:
Changed the ugly shadows from under hanging lanterns (Included from an older patch)
Trees, grass and shrubs move in the wind
Two A:TDD "easter eggs"
Brute variations
Ragdoll rats (if any were placed by FG in the maps)
ADDED WATER INSIDE BACK HALL
This was suggested by macgyverthehero (twitch/discord) on his stream.
I think it's a really nice touch, don't know why I didn't think of it sooner. It also makes sense since you'll just escape the Cellar Archives -- full of water.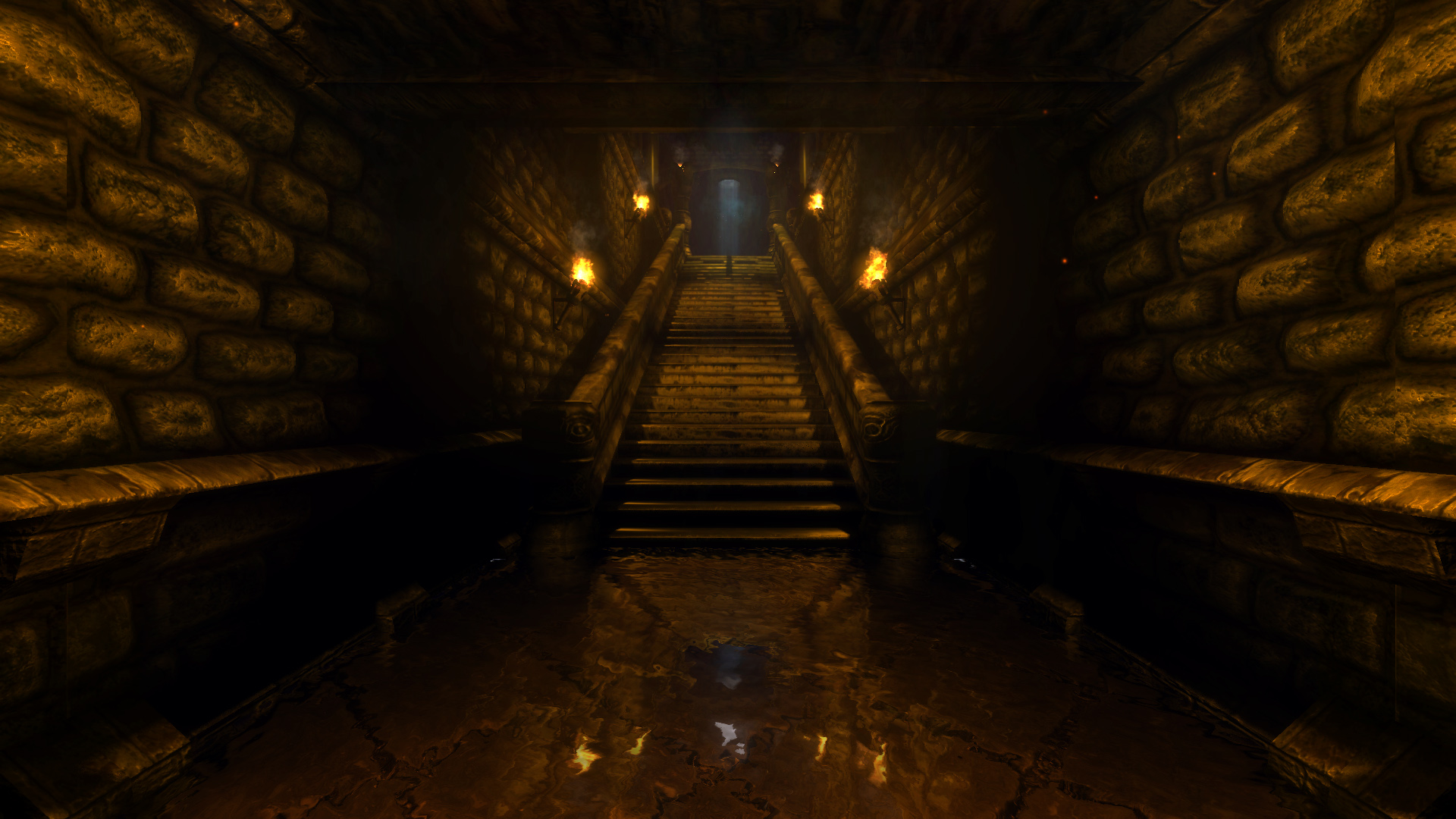 PERFORMANCE ADVICE
Most of you know that this mod is VERY demanding. Let's be honest the graphics are, even though better, still not good enough to run at this framerate. But there's nothing I can do about it. I don't own the HPL engine and at the time of making this mod the source code wasn't available to me, so any changes to the engine itself were not possible.
It runs like a game on a 10 year old engine with modern graphics - not well. Well unless you have a beefy computer!
I've gathered some footage off youtube and twitch and turned them into benchmarks:
BENCHMARKS (HIGHEST SETTINGS POSSIBLE)
- 980 GTX: 15-40 FPS, 1 minute loading times.
- 1050 GTX: 30-50 FPS, 40 second loading times.
- 1660 GTX: 50-60+ FPS, 15-30 second loading times.
- 2080 RTX: 60+ FPS, 5-15 second loading times.
If you have very low fps try:
- Turning down, or completely disabling SSAO (+5-15fps)
- Disabling Reflections (+15-30fps)
If your loading times go over 30 seconds:
- Lower the texture quality. Older graphics cards will take longer to load high-res textures.
- Low memory graphics cards will not load the machine inside Machine Room!! If that happens, you'll have to use the default textures: Mediafire.com
FOR DEVELOPERS
There have been people using assets from the remastered mod. And it's okay, I've allowed this.
Feel free to use the custom textures, upscaled models, edited entities and sounds BUT!:
- You have to use them inside the HPL2 engine.
- You MUST credit:
1. Me -- Florian (Normals, Speculars, Height Maps, Entities, Upscaled Textures, Sounds)
2. www.textures.com (Textures)
3. Mb3d.co.uk (Textures)
4. Cc0textures.com (Textures)
5. 3dassets.one (Textures)
6. Zapsplat.com (Sound Effects)
- Sites I got the textures and sounds from, do not break their policies and CREDIT THEM!
Thank you :)
THE COMMUNITY
First off let me thank you for playing my mod or at least giving it a try. Thank you for your reviews and suggestions.

Finishing this mod has not only brought me satisfaction after working on it for so long, but I also stumbled upon the Amnesia/Frictional Games community thanks to reddit, discord, twitch, youtube and moddb. This group of people (that I've devided into three categories: modders, speedrunners and nerds) are all really nice and If you haven't aleady go and join them too!
Here are some links of people who have recently played my mod:
Skyreon - Twitch.tv
Cakeri - Twitch.tv
Ramen Llama - Youtube.com
Haggison - Twitch.tv
Vovin - Youtube.com
Joffnatic - Youtube.com
macgyverthehero - Twitch.tv
Gamer Grox - Youtube.com
XtremePlayz01 - Youtube.com
Chaton Thug Life - Youtube.com
shape jok - Youtube.com
Discord servers (frictional games, HPL speedrunning):
Discord.com
Discord.com

My links (youtube, donation link)
Youtube.com
Paypal.me

DOWNLOAD THE MOD:
Moddb.com