The Elder Scrolls: Total War v 1.4 standalone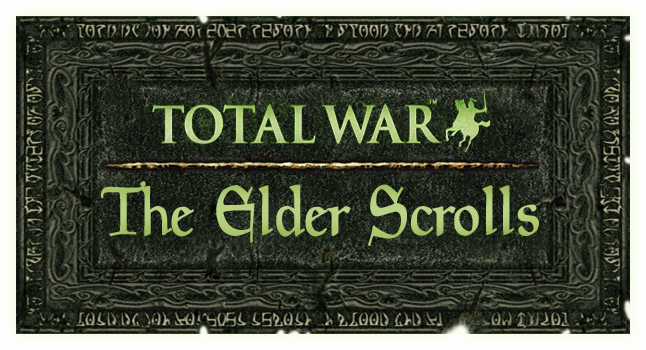 Installation step by step:
- Draw The_Elder_Scrolls folder from rar archive to your Medieval 2 Total War Kingdoms/mods folder, delete events.dat and events.idx in The_Elder_Scrolls/data/sounds
- Use TESTW Launcher to start mod
- If you want to disable ReallyBadAi - Click options in TESTW launcer and take off mark from Disable ReallyBadAi field, save, then restar launcher and mark it again.
INSTALLATION FOR STEAM USERS;
V 1.4 changes:
- UI has been changed, new custom interface added for all cultures.
- Reworked system of settlement upgrades, now you can upgrade your settlements again. All levels of cities and castles available, except of Huge City and Citadel. You can not convert city to castle and vise versa.
- New faction have been added.
- Many units have been reworked and redesigned, new added, especially for factions Aldmeri Dominion, Clans of Forebears and Crowns, Kingdoms of Daggerfall and Wayrest, Kingdom of Orsinium, Kingdom of Skyrim, Great House Hlaalu, Clans of Black Marsh. Also new units for undead have been added.
- New heroes have been included: Mannimarco King of Worms, lord of the Wild hunt - Hircine, lord of clan Volkihar - Harkon and Tharsten Heart Fang, skaal chief. Included new characters from The Elder Scrolls 2 Daggerfall, The Elder Scrolls 3 Morrowind and The Elder Scrolls 4 Oblivion.
- Strategic map has been reworked, in particular: Relief, borders of regions and location of cities. Some cities are replaced by new ones.
- Strategic balance has been reworked
- Mercenaries:
1. The player for different factions are available such mercenary armies as the undead legion of Worm King, vampire army of clan Volkihar, tribes of Skaal, the Dawnguard and the Wild hunt. To obtain these armies, you must fulfill certain conditions. The Companions are available for Kingdom of Skyrim. You will be able to hire them, if you acquire all the improvements of Jorvaskr in Whiterun.
2. All faction, except of House Dagoth, can build Fighters Guild quarters. Having built its headquarters and developed it, you can hire there not only Guild warriors, but also special units.
3. The Blackwood company are now available for factions Cyrodiil Empire, Kingdoms of Anequina and Pelletine, Clans of Black Marsh and Great House Dres. Having built its headquarters and developed it, you can hire there soldiers of the company.
- Added new voice for English and Russian versions. You have to download russion voice separately.
- New ancillaries have been added
- Oblivion crisis script has been changed. Now you may deactivate script.
- Hiring Bosmer for the Aldmeri Dominion with the advent of new units occurs differently. It is necessary to capture all the main cities of Valenwood, in order to obtain elite units of bosmer.
- New architecture for Imerial City.
- New architecture models for strat map.
- New models of agents for all non-human factions.
- Holy war: now you can hire priests in temples. Added models for priests and heretics.
- New portraits
- Changed the allocation of resources on the strat map, added new ones. New models for resources, such as netch skin, ebony and grain. Grain changed to village.
Credits:
Mod development team - LoRdNazguL and DaedraWarrior
Sengoku - development of launcher
Special thanks:
- Darkwood - for russian boice of imperials
- Basileus and Prisoner, developers of Morrowind Total War for mod resources
- Haktar and Dark Kovu Nazgul - administrators of forum "Империал" (Imtw.ru)
- Jadli and Unofficial patch submod team for the arrangement of sub-forum on TWCenter.net
- Bethesda Game stuidos for The Elder Scrolls!

Mod uses textures from Bosmer Armor Pack mod by Maty743 for TES V Skyrim. Link to mod page on Skyrim nexus:
Nexusmods.com
Credits to Arynn and Isilmeriels
Known issues:
- Problem with pathfinding of Imperial City.
- Possible crashes with lichas in battle
Report about errors in comments or to DaedraWarrior personaly.
Report form:
- Conditions then game crashed, on which turn
- Attach your autosave file
- Attach sytem.log from Medieval 2 Total War Kingdoms/logs