Ok folks, I'm assuming I have to clear-up some things now. Originally we were invited to be part of the big "summer of mods of indies" - feature (https://www.moddb.com/groups/summer-of-mods-indies). As we were not allowed to speak about it or to reveal, that we are part of it, we could only say that "the big update will come". The "big update", we have always talked about, was our contribution to this ModDB feature. We had sent a lot of pictures, videos and other stuff, but now ModDB has simply cut us out of the feature, without any message. I apologise that you have waited weeks for the big update and now it's cancelled...
Nonetheless we have now the possibility to show the stuff of the feature in our way.
As I don't want to simply throw out tons of stuff without any context, we are going to split the content of the feature into several updates.
We start today with a nice new feature of the mod, the tactical mission reports. These screens will become the loading screens of the various tactical missions and tell you, what you have to do and what has happened.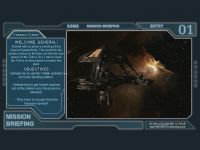 Beyond that, we will deliver a lot of special features with the release. For example the hardpoint layouts of the ships will be published as tech journals, like these.
Last but not least for today, we have another special map for you! This time, a map of the capital planet of a very hostile faction.
For those, who don't recognize it, it is CELESTIS, home of the Ori! ;). As i said, we will split the content of the feature, so this is it for today.
Have fun with the latest stuff!
See you in some days again!