PRERELEASE INFORMATION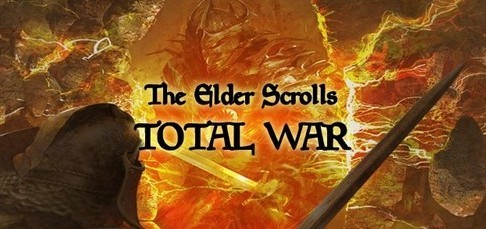 So, before the mod left nothing at all. Recent changes are made, the final touches are drawn, recent proposals appended. DaedraWarrior is almost finished his work, but I'm staying until the end. Okay, let's not dramatize, the first version of The Elder Scrolls: Total War, which we proudly call The Elder Scrolls: Total War 1.0 will be released on Sunday March 1, 2015 AD. How pompous! It is a pity that the date of 11.11.11 failed =).
Now, from the lyrical introduction go straight to the point. Namely - to information about itself first official version of the product.
Required information:
The most important thing - this will be not the final version of the mod. And, I would say, the first release will be a little not the way I would like it to be. This included not all that we had planned. The most important thing that we did not manage to implement adequately: scripts. There are not many small of them, and large are not fully worked out (Maybe this phrase sounded too in Russian). Most likely, the archive with the mod will include additional trimmed campaign_script. Why? Due to untested scripted events are not "crash" campaign. If it is - users will be able to put yourself this "addition".
Second - tactical architecture. Unique cities such as Vivek, Ghost Gate and the Imperial City is still unfinished and unpredictable work. Revised architecture for generic-cities Morrowind fear not, there is not changed plans and animation, so that everything will be fine. So I'm not afraid of Dagoth Ur and Ald'ruhn. Not at all unique cities until there is a gate and not all will. And of course, the main loss - is the lack of stellar quartet of Skyrim - Whiterun \ Windhelm \ Marquart \ Solitude and Mournhold as unique plans.
And one more trouble - we have not yet finalized the features of hiring troops in the fortresses is in the form in which they wanted. And with some unique buildings will have to wait. But I think these little things you do not particularly pay attention, but as for the latter problem - roads, everything will be somewhat disappointing. How Come? Because in all your favorite Skyrim can not be build roads (in some regions the game crashes). This is obviously connected with the peculiarities of the map that I do not understand. With this long just have to deal. But fear not, in most regions of Skyrim roads, anyway, have to be laid, so that in its infrastructure do not be afraid.
And last - minor bugs. Where do without them. In any case, I very much hope that this will not prevent you enjoy the mod.
A reasonable question: why then would set a date so early is thoughtless and embarrassing number? Believe me, all the time, deliberately and convenient number. Firstly, we thought about the date since November. The first option was to become general on February 1 (remember in the teaser inscription "Winter 2015?"), But then we made a schedule of work and realized that it was too early. Moved to the 25th. And only in the beginning of February realized that the best thing would be the first of March. Here, too, a number of conditions: firstly, in March begins the difficult period of my work, as I am a teacher, especially in a country like Russia. So we decided to release a mod at this time to continue to pay more personal problems. Believe me, in this period, we sometimes will return to mod, to make hot fixes and patches.
And most importantly:
What do you see in this release (numbers and statistics):
- More than 300 new previously unseen units that are based on the visual appearance of The Elder Scrolls II Daggerfall - The Elder Scrolls V Skyrim, and The Elder Scrolls Online, Redguard, comics and famous custom modifications such as Tamriel Rebuilt or The Deserts of Anequina. The units were designed by us, though inspired by images from different fantasy close by category.
- More than 22 fractions, of which the 17th you will be able to lead in the campaign. It follows:
- A large-scale campaign with 20 and factions (and 2 technical), 30,000 lines of scripts, dozens of well-known throughout the universe TES characters and two hundred settlements.
- 7 cultures and 8 religions.
- 60 loading screens, fully redesigned UI.
- More than 150 soundtracks of the games universe TES (from Daggerfall to Online).
- 15 new settlements plans. 5 of them - a unique: Imperial City, Vivek, Ald'ruhn, Ghost Gate, Dagoth Ur.
- Vegetation for Morrowind.
- New textures of strategic map.
- Some of the new ground textures.
- A unique video.
- 4 historical battles that are closely related to the events of the main and additional games in the TES serie.
I recall that the mod will be released March 1, 2015. It will be the first release version and not final. Timeframe of mod: 427 y 3E. - 45 y. 4E.
LOOKING FORWARD: In the first major patch we, of course, will try to create some unique architecture and elaborate all the major gaps. Naturally, as soon as there will be new official data on the TES universe, it will be reflected in our mod. This could be, for example, the visual appearance of the Khajiit or Argonian troops, or anything else. We will develop the project as long as possible or interesting to you. Also, you may expect some DLC, adding new units to the battle or campaign, the provincial campaigns of The Elder Scrolls II Daggerfall and The Elder Scrolls III Morrowind, or completely recycling campaign and some factions under the realities of the Great War and The Elder Scrolls V Skyrim. Last idea, anyway, is the place to be.
Always yours, LoRdNazguL and DaedraWarrior. With the support of the administration of the IMTW.RU (Haktar and Dart Kovu Nazgul in particular), as well as its community. Special thanks to Basileus and Prisoner, fellow developers of Morrowind: Total War.
Especially for our foreign fans: - Translation into English of the game will go to a separate file. - There may be some hitch with the time of the mod uploading for you, because of the difference in time zones. We focus on the Moscow time zone. We apologize if you have a mod out, say, the second of March.