Hello everyone and welcome to this development diary!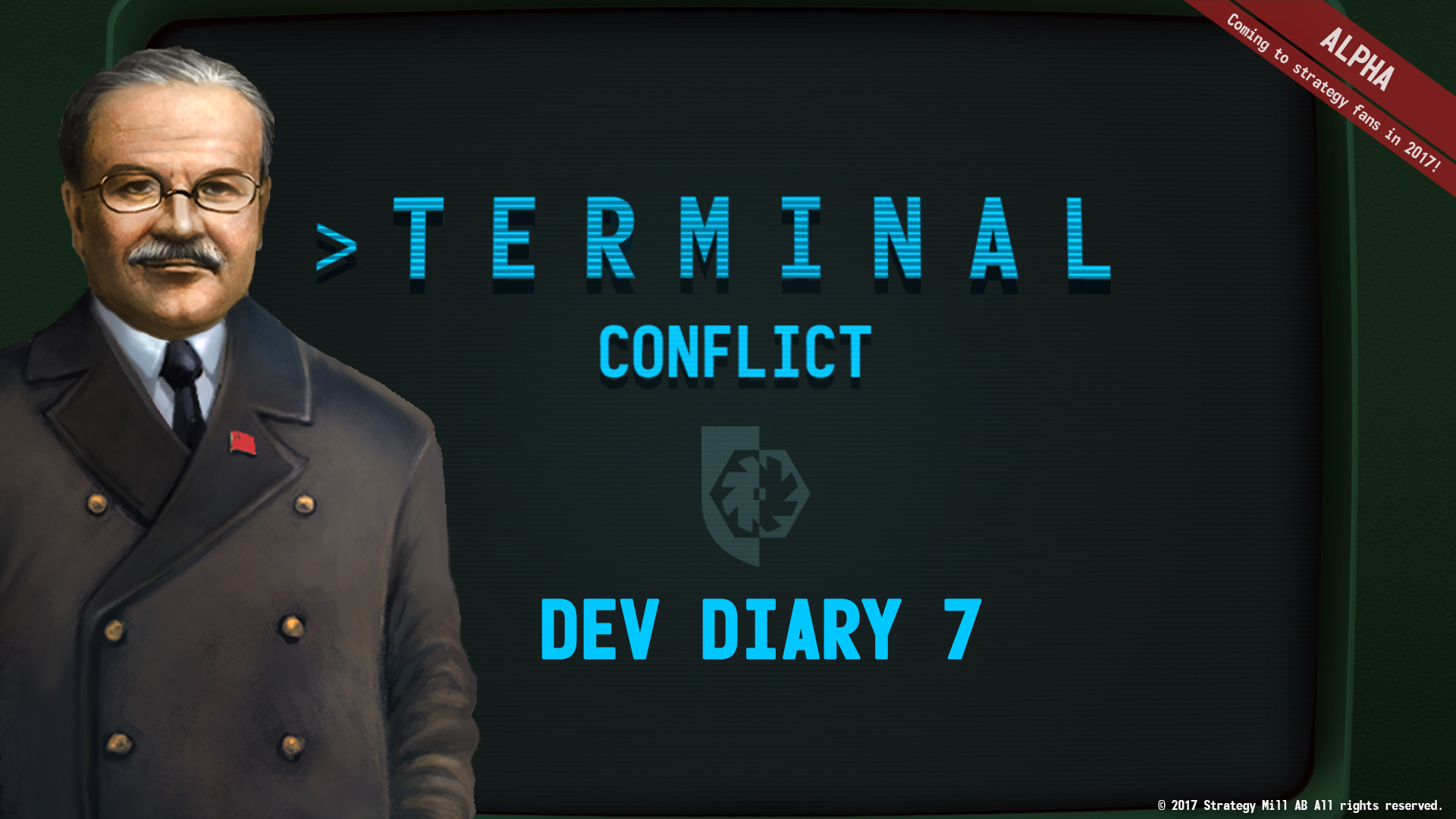 The smell of diesel and burning rubber breaks the morning air as the deafening silence is broken by tanks rolling four abreast. The first shot kissing the pavement, whistling as fire sprays across the square. It has begun. Maps becoming reality with the stroke of a pen, shaping the world in their own image. The "Iron Curtain" descends across the continent. Each side increasing not only influence but in some cases expanding measures of control. In a changing world it is said that "No plan survives contact with the enemy".

Like the great leaders of the Cold War, immerse yourself with access to your very own command terminal. Units move into position as ordered, politics and allegiances change as you see your plans come to life. Anticipate your opponent's intentions, work to counter their next move. What will be your focus?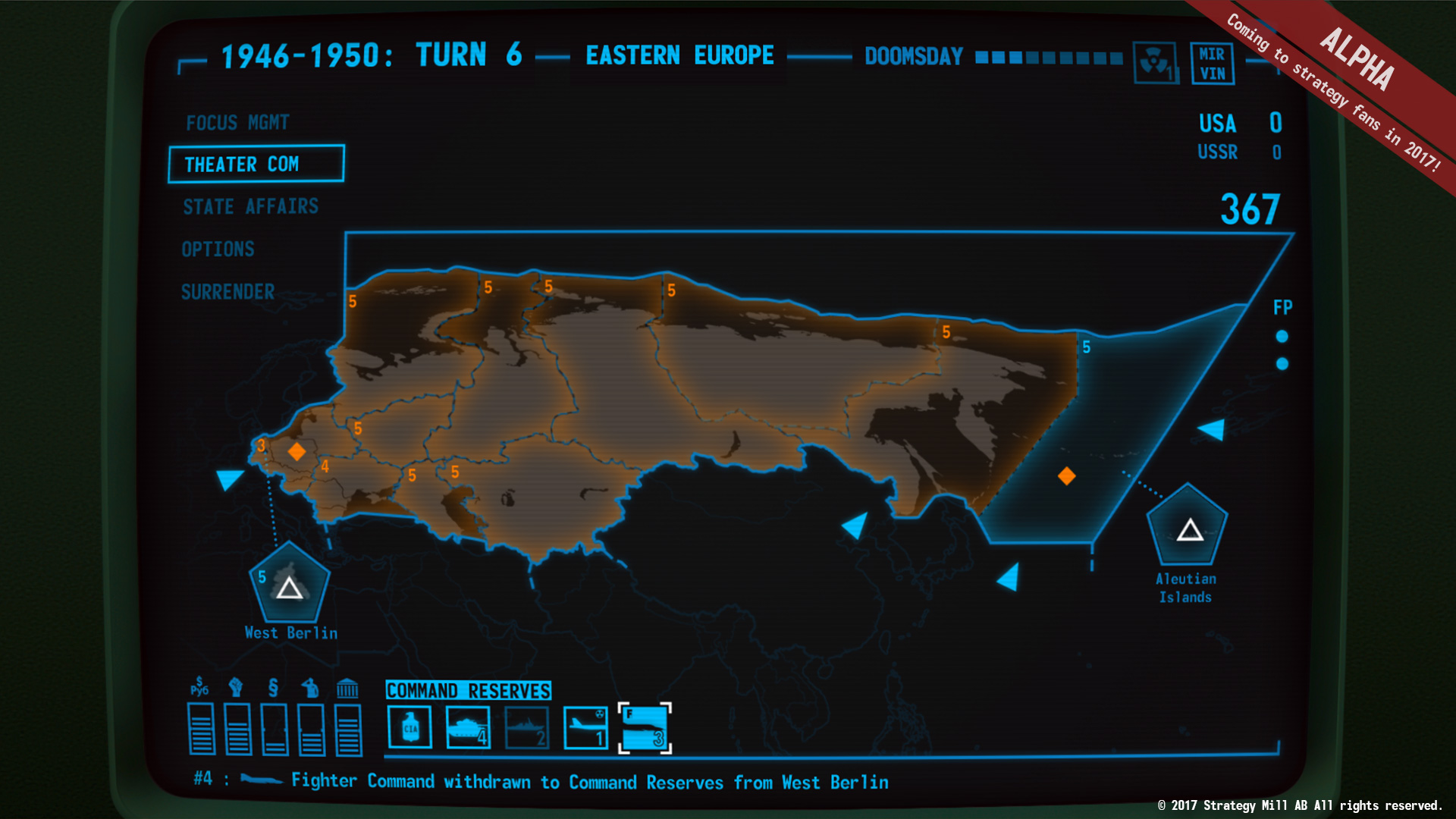 Will you disarm to demonstrate the superiority of your ideals or arm to defend the righteousness of your ideology? Keep in mind that your opponent will choose a focus as well, which can put you on the defensive. Terminal Conflict's map gives you a good flow of information and keeps you informed about global events and decisions open for your consideration. Discover enemy troop movements or witness the dominoes falling as Influence shifts in a Theater. Take full advantage of your opportunities when they arise and push the enemy as far as you dare.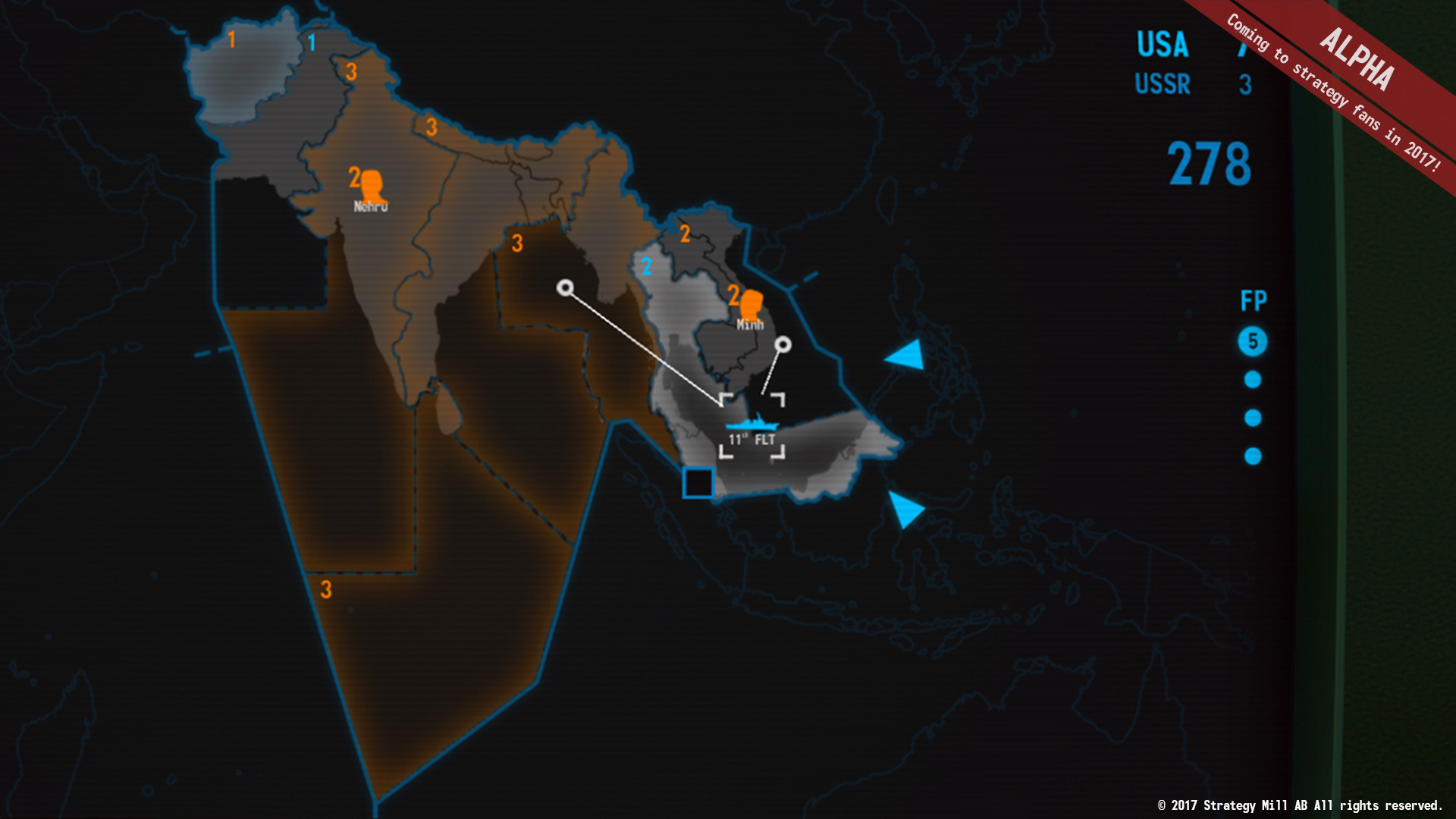 Theaters
There are ten Theaters in Terminal Conflict along with a special Theater, the Arctic. All roughly the size of a continent, these strategic areas of the world are subdivided into Regions. Land Regions and Sea Regions are the smallest map entities in the game.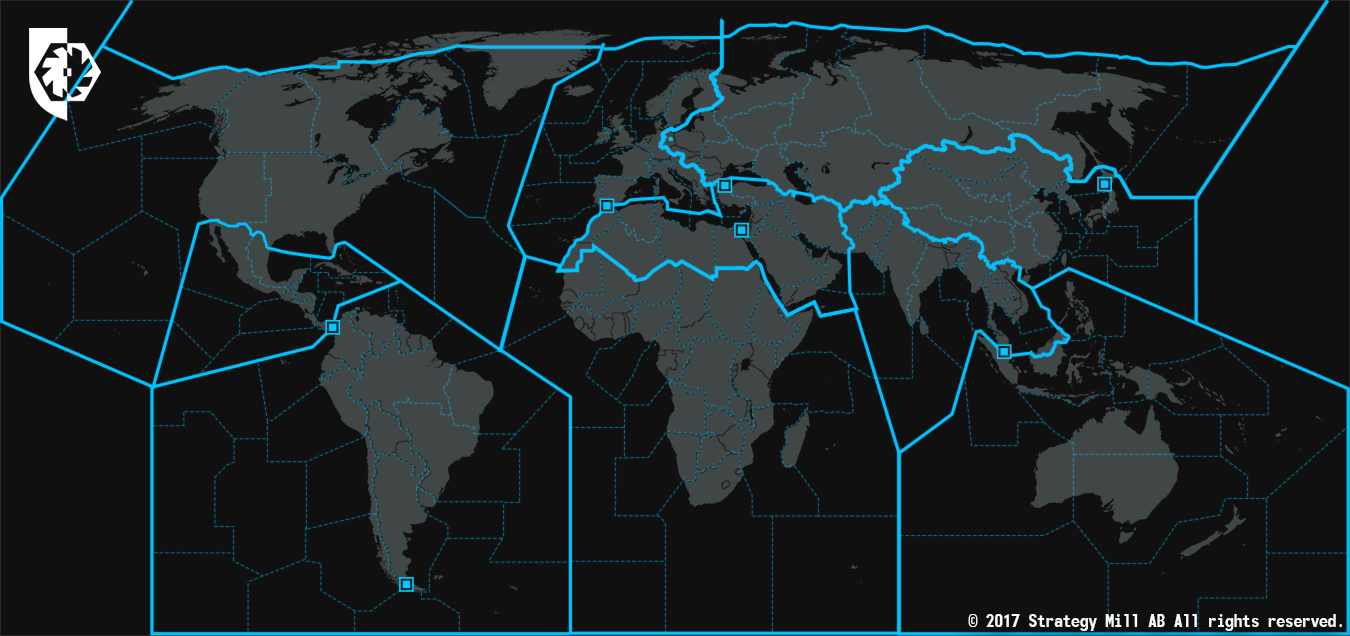 Political Influence
All Land Regions show the dominant Influence of an Ideology on a scale from zero to five. When you gain at least three, you will establish control and the region's color will shift to yours. Here is a more detailed look at regional influence:
Neutral (0 Influence): Grants passage for friendly and hostile Armies and Fleets
Presence (1-2 Influence): Allows deployment of Fleets for a higher cost.
Control (3-4 Influence): Allows deployment of all military units at regular cost. Enemy maneuvering into this region result in a War Zone being established there and will affect the Doomsday Clock
Domination (5 Influence): Same as Regional Control but will shift the Doomsday Clock heavily towards midnight.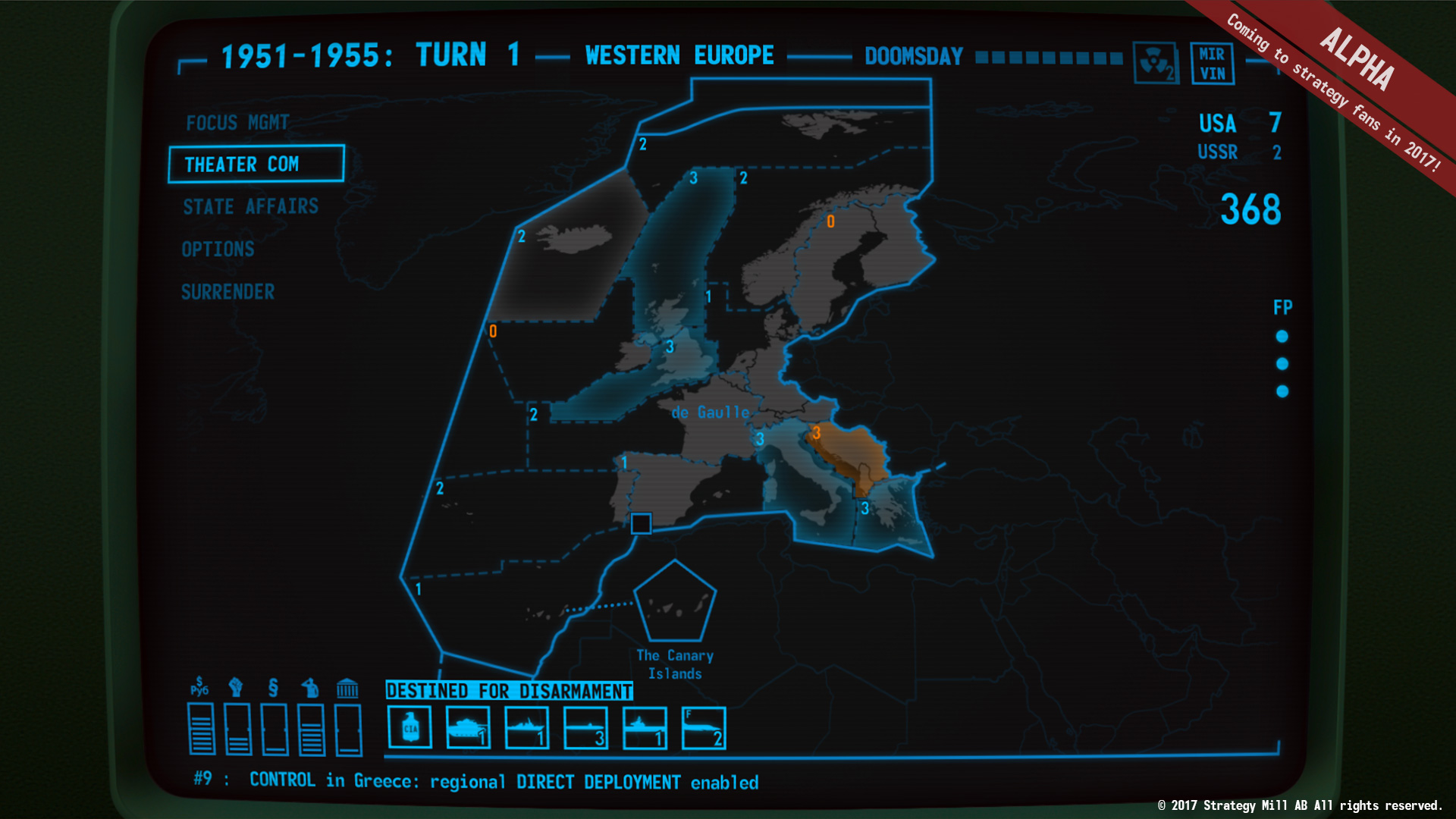 Shape the world in your own image and write your very own story with your Cold War plans. Can your strategy remain hidden until the end of the game? We hope you will not forget to include next week's Development Diary into your plans!

Drop us a message and share on Twitter or Facebook, or write us a comment on Reddit.
Thank you and best regards!