Awakening of the Rebellion Summer 2017 Update
Welcome everyone to another AotR update! It's crazy to think that it's been half a year since our last official mod update. Rest assured there has been a lot of fantastic additions on our trip towards AotR 2.7. I want to officially welcome Maxim, who has joined the SMG team full time to help us towards our goal. He's so awesome, in fact, that most of the update will feature work he has been working on. Maxim started as our dedicated Galactic Conquest specialist, and has since dived into story campaign scripting, infrastructure overhauls, and even overhauling the entire AI. He has become a very valuable team member and it has been fantastic working with him so far. Truly a man of great talents!
We also have a new way to interact with the AotR community, our new AotR Discord server: discord.gg/tCX6Rtf We plan to use this as a more involved forum for the mod.
Come join the fun!
Anyways, there's a lot of things to discuss so let's get to it.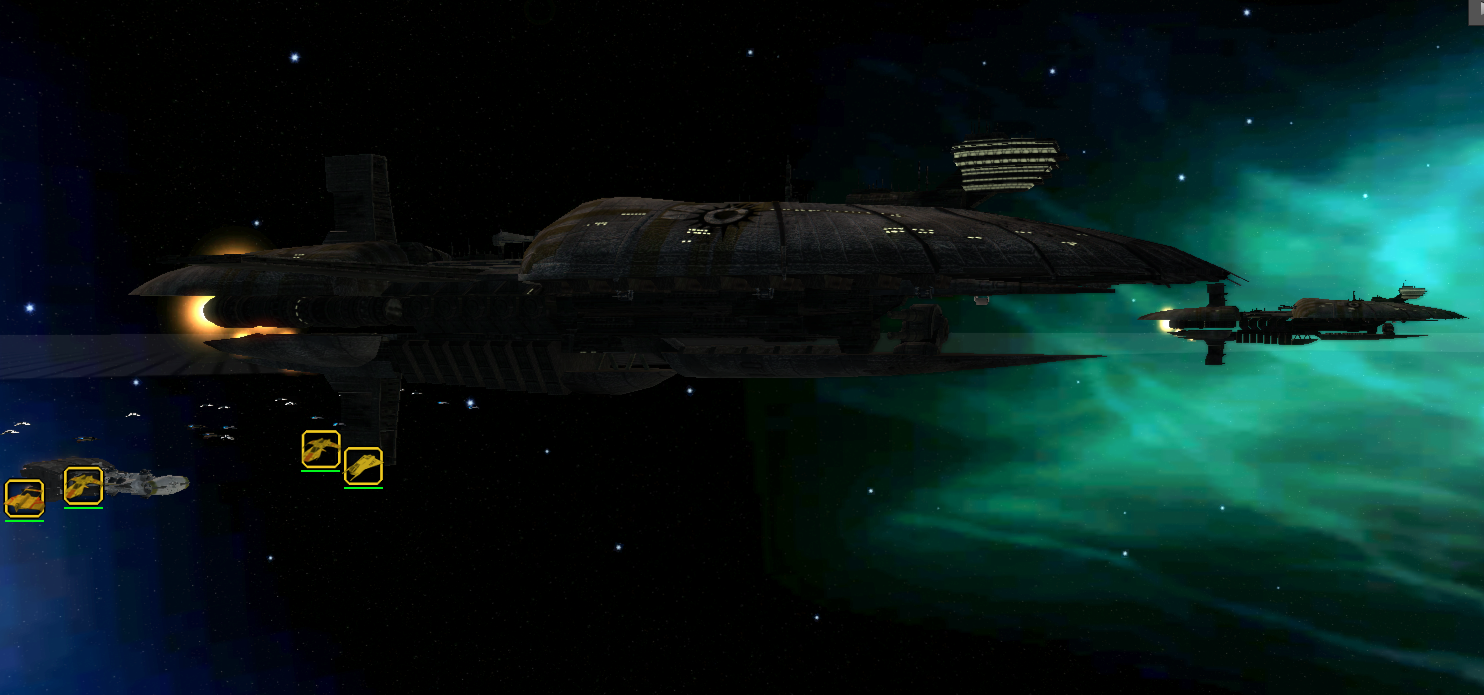 "Wouldn't it be cool if…"
Ah yes, our infamous internal phrase of both wonder and despair. The result of many fantastic planned (but let's be honest, mostly unplanned) things that naturally happened as Maxim joined our team as a full member. With a new teammate come new ideas, and we embraced many of the ideas with open hearts and minds. While Sly and Steinerhave been diligently working on our graphical overhaul, Maxim and I began to dive deep into the bowels of all things design and programming.
A Galaxy Not So Far Away
Before our cartographer Maxim joined on board, there were many requests to have a more canon AotR galaxy. At the same time, however, there was an overwhelming amount of feedback about how amazing the AotR galaxy was gameplay-wise. The web structure and clusters made conquering the galaxy very challenging with many avenues of attack to fend off. The ring of intersections also provided a tactical buffer between the entangled hub of the core and the outer rim strongholds.
At many points during development I had thought about when the right time would be to tackle such a project. There were many concerns to doing such a massive overhaul. We already had a story that was balanced and which relied on our old planet structure. Also, our galaxy was very different from the canon galaxy, which posed many design challenges as well. Maxim came in and showed us that we can have our cake and eat it too.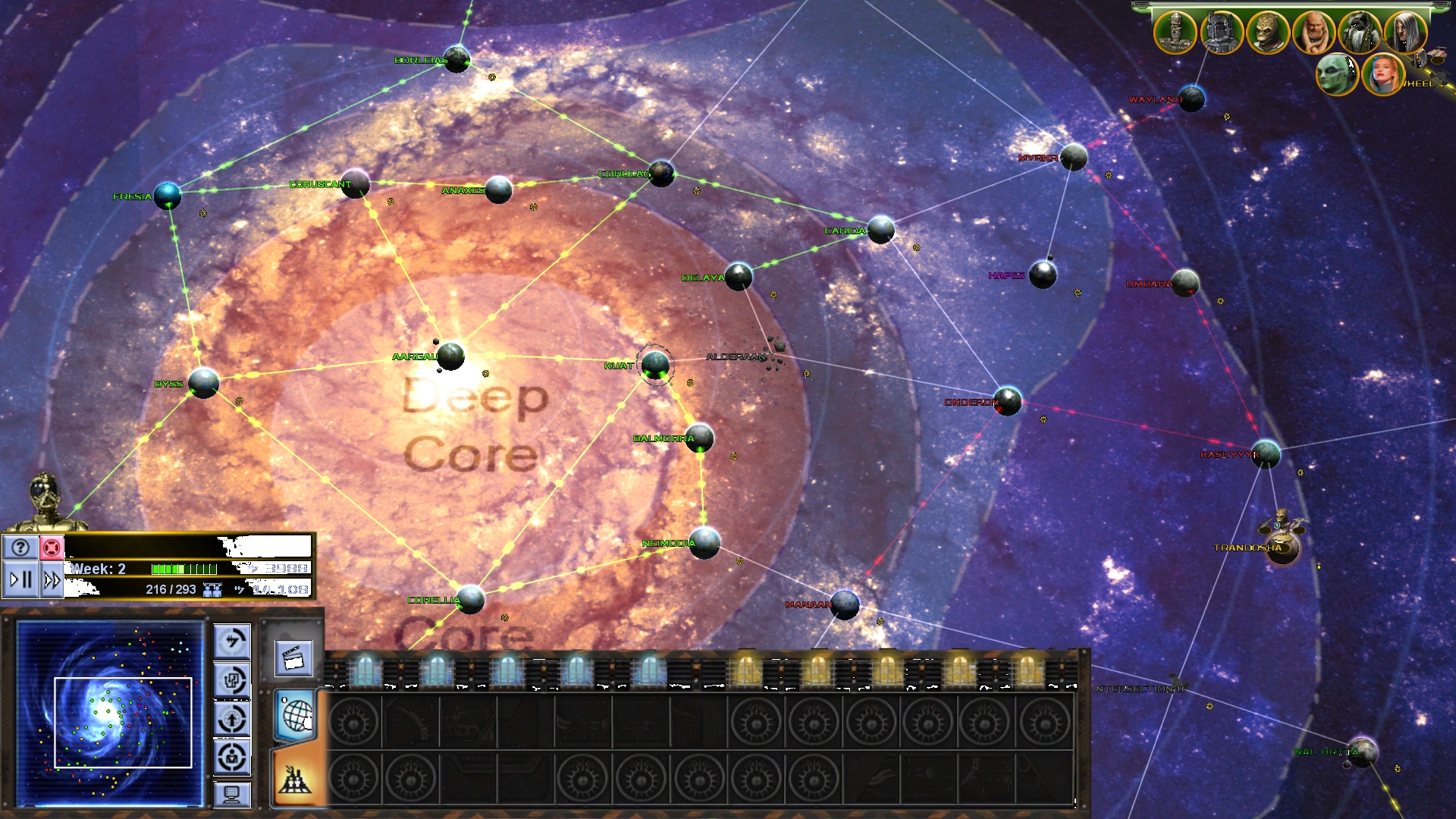 Initially Maxim had created a custom private modification to the AotR galaxy based on the Strategic Improvement mod's galaxy coordinates. While that layout had the canon side of the galaxy implemented very well, it didn't scream AotR to us. After seeing how inaccurate the AotR galaxy was, we knew it was impossible to keep the classic web in the game while also having canon planets.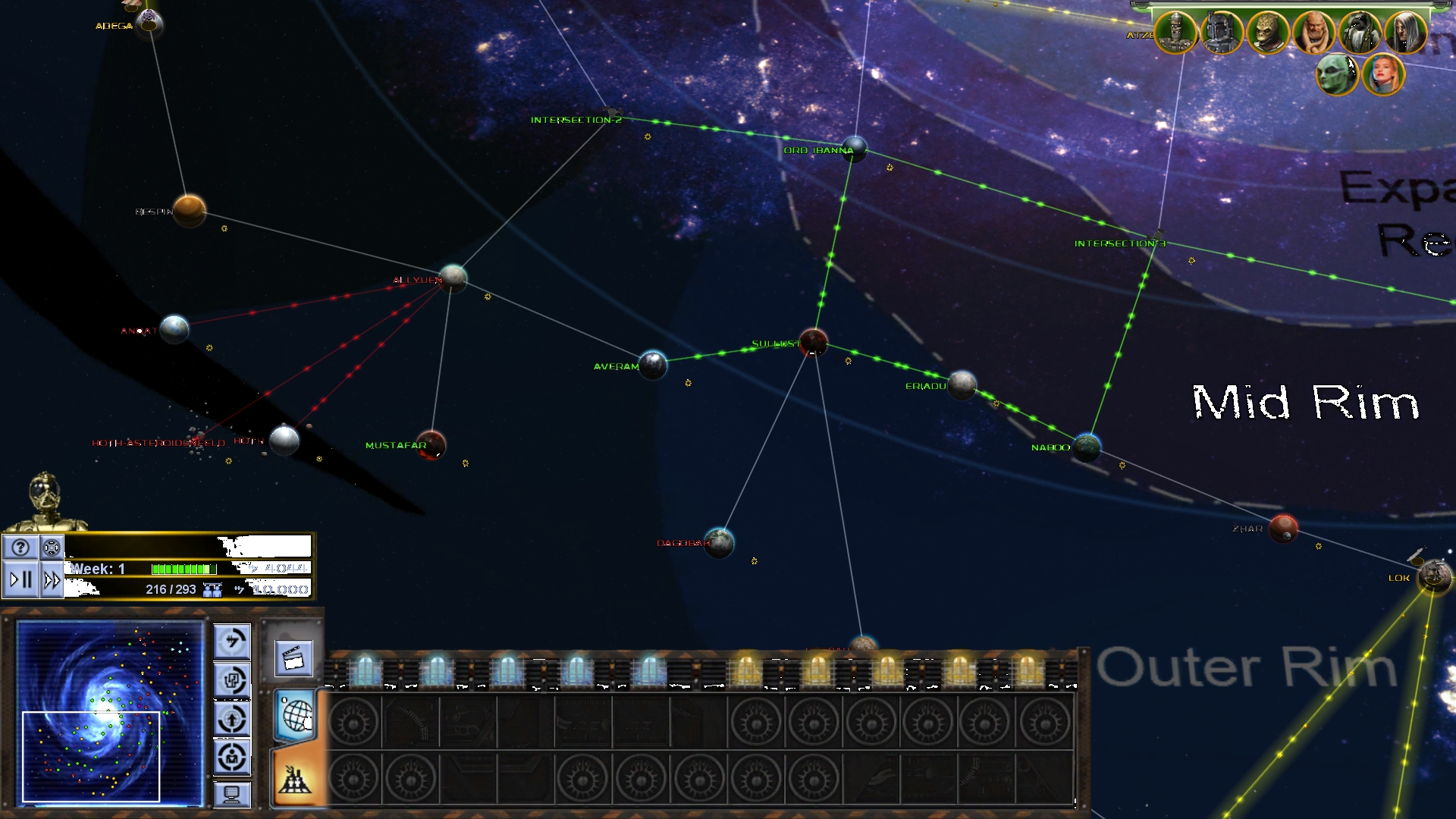 So our entire team got to designing. We asked ourselves, what are the pillars of gameplay in AotR's galaxy? What makes it AotR? We came up with 3 unique design elements for our galaxy: Strongholds protecting Clusters, Intersections protecting the Core, and the ability to traverse the galaxy in a circle around the border. The entire team planned the new galaxy around these pillars, while keeping planets relative to where they would be in canon. We also took into account positions for additional planets planned for our future expansions within our structure. While we break some of these rules due to the limitations placed by the canon, believe us when we say, this galaxy is one of our proudest achievements yet. And while we are sad to see our iconic galaxy web go, we know it is ultimately for the better. Maxim pulled something that was in our minds into a complete playable experience in under a month of work, and for that we are eternally grateful.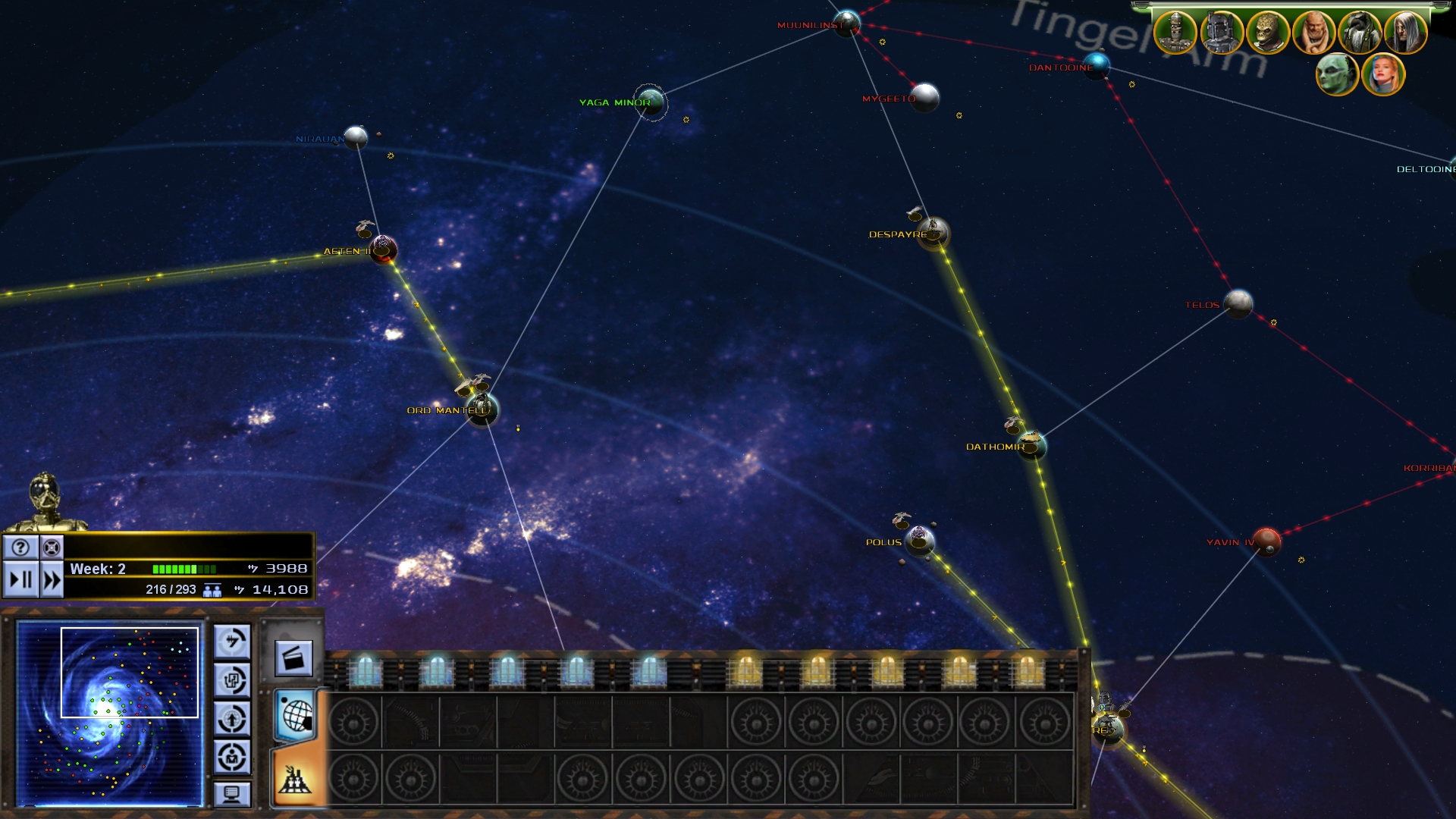 The Empire faction still starts out relatively centered around the core, while also having territories in the new Sullustian stronghold and the mines of Kessel. The Rebels continue to have their Hoth territories and Mon Cal Regions, but are now also a pretty immediate threat in the mid rim. The Black Sun have holds on previous Clone Wars Separatist planets, along with the Mandalorian and Ord Mantell sectors. Each faction is now on the move to try and unify their territories together, but ultimately a player will find it quite challenging to be able to hold everything. The entire galaxy's infrastructure capabilities have also been rebalanced around the new layout, with each sector providing something unique that will make you think twice about letting the bonus fall into enemy hands. Sacrifices will have to be made, and it's your choice to determine which areas are worth giving up.
Infrastructure Overhaul
Another key component of AotR's gameplay is the extensive build tree of ground structures. However, there were some key design points with the old system we were not satisfied with. When playing as the Empire you could have 4-5 building slots completely dedicated to identical looking barracks structures or three consecutive buildings just dedicated towards army posts. For a non AotR veteran, the system to acquiring new ground units would get pretty daunting, with multiple tech centers for factories and barracks. On the other hand, the Rebels and Black Sun were uninteresting to play, mostly offering a linear progression of building ground bases.
At first we began to simplify the system. We figured there was no need for the Empire to have multiple techcenters just to gain access to one new vehicle or infantry squad. After taking a look at our unit lineup, we cut down the building levels to 3 tiers or less. But then we saw another fantastic opportunity. As we began to experiment more with working in Lua, Maxim and I realized very quickly the power of the system available to us.
For 2.7 we have designed a building upgrade system. The idea is fairly simple. Build a Level 1 barracks, and you can then choose to upgrade that building to a Level 2. But here's the kicker, the Level 1 barracks will be replaced with the Level 2 barracks. If you decide you no longer wish to keep a more advanced building facility, you can then choose to downgrade it back to the level before and receive a credit refund for the difference in cost. Each building will now also have a weekly upkeep cost, so you might need to start thinking if you really need an army post on a back world planet.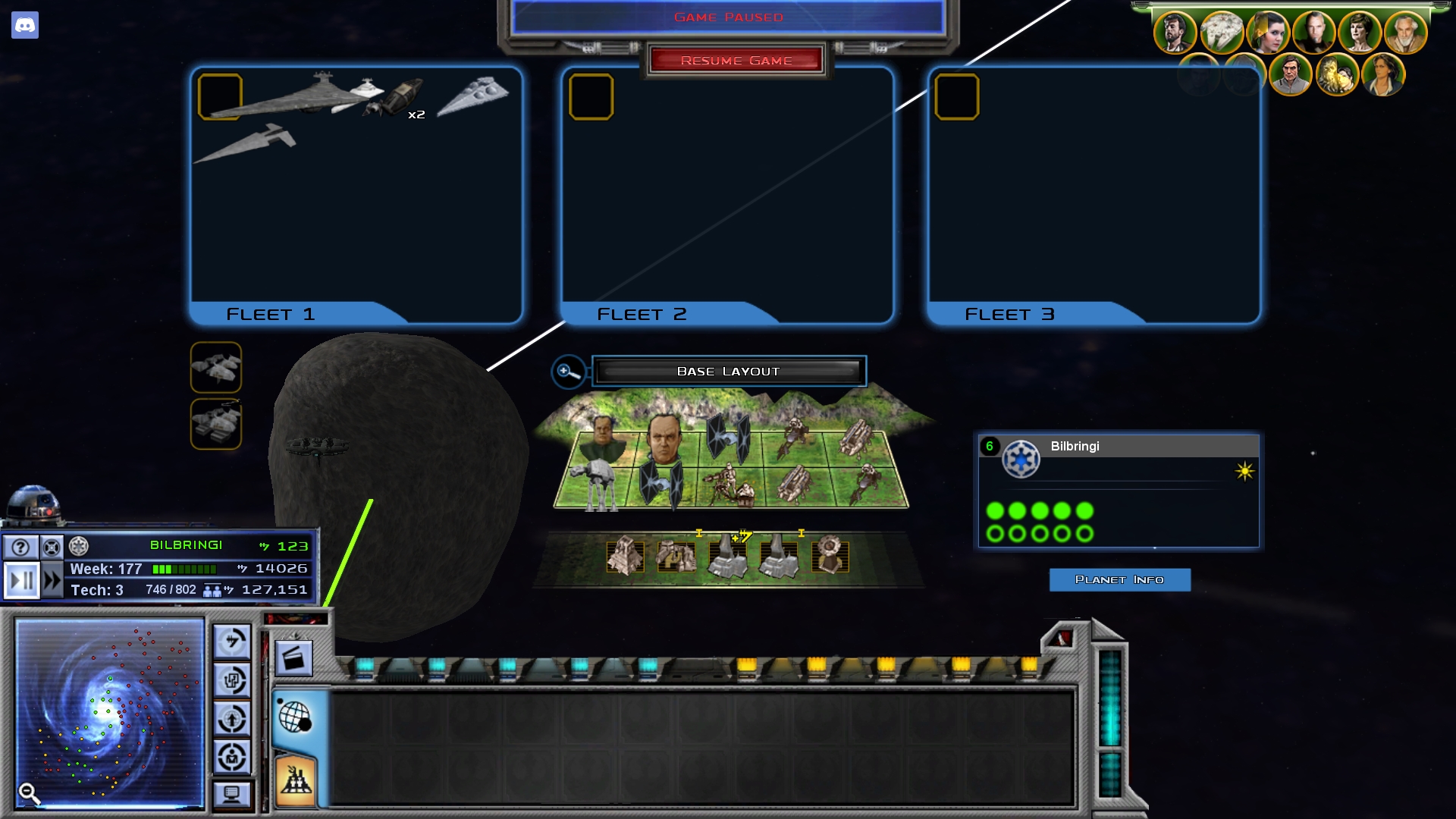 Once we were happy with the Imperial infrastructure, we began to think about how to use it for the other two factions. The Rebels will rely on the level of their main base to determine what other structures they can build. Upgrading a Rebel base will also upgrade the other structures they have built if applicable. Meanwhile, the Black Sun will be the only faction able to build up to three of each building type (except the defensive ones). Each faction now has a unique playstyle, and there are now many considerations a player has to make when choosing how to build up their empire.
There are also some new buildings you can look forward to such as a Shutter Shield Generator, which blocks bombing runs and orbital strikes around a huge portion of the base, but offers no concealment from ground fire. The Black Sun also have their entire ground structure set reworked offering a complete new set of production buildings, a black sun outpost that provides garrisons, and two types of ship traders specializing in either refitted clone wars tech or new free market ships.
Putting the Intelligence in AI
After doing the infrastructure overhaul, we very quickly realized the main problem with all these changes was that the AI was not keen to our changes. We had to rip apart the AI and reconstruct it from scratch. Editing the AI is not for the faint of heart, and we had to learn the entire structure in order to know where to do the changes we needed. There is lots of undocumented behavior (on top of the already mangled mess that was the previous AotR AI). Many long nights were had to understand, reorganize, and implement the AI. I still to this day wonder if Maxim even needs sleep at all.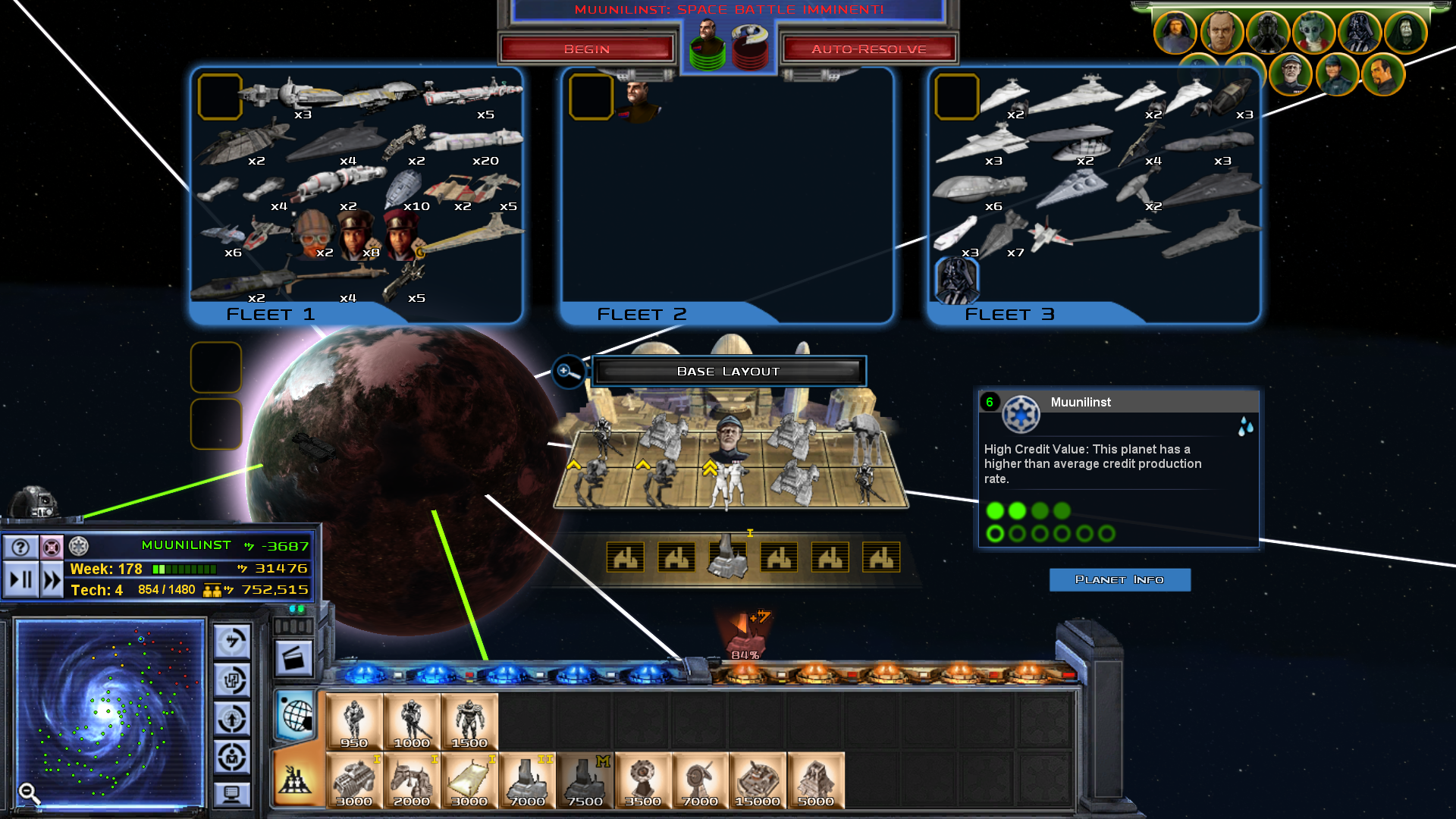 Not only did we add new functionality so that the AI could understand and use the building upgrade system, the entire AI has had a decision making overhaul which was mostly redesigned by Maxim. If you thought the AI was smart and challenging before, you better prepare yourself. This AI is no joke. They know your plans, they know how to beat them, and they are planning for galaxy-wide domination. You have been warned.
Closed Alpha Build
Because of all the advancements made in the past 6 months, we are now at what is considered the Alpha stage in development. For those that aren't keen on software development slang, Alpha basically means we are feature freezing the game. We are at a point where all of our main system overhauls are completed, but we still need to finish some implementation and final polish of the new content. As such, we are sending out builds of 2.7 to a closed participant pool, in order to give us design feedback and stability testing.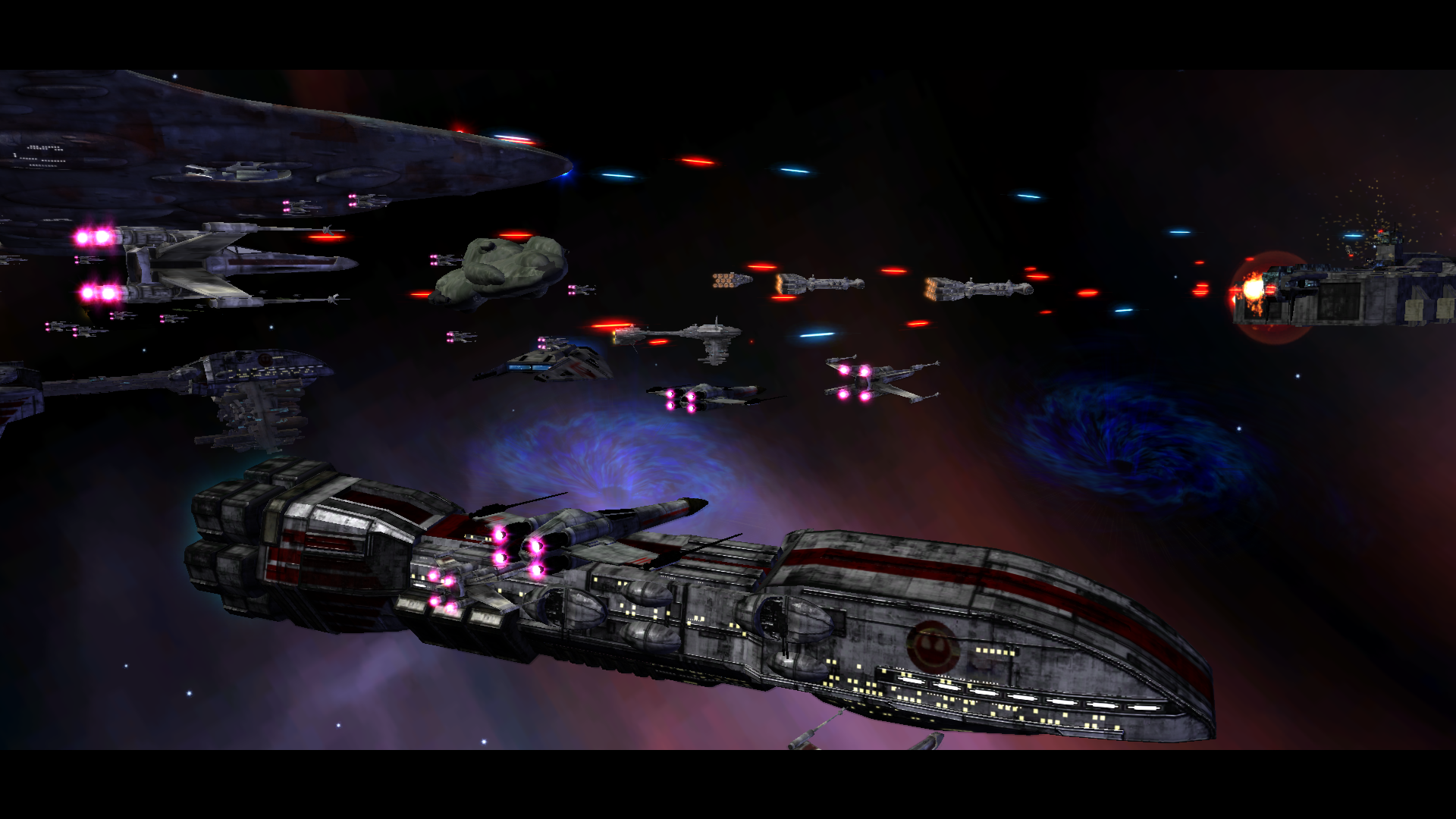 Before anyone starts to ask for a build, please know that asking us for a build will not get you one. Our test pool has been selected by the team, and you will be messaged if you are one of the lucky few. If you are an active viewer of EaW related content on Youtube, you may begin to see some gameplay footage of the new version popping up. We are not at the point yet where we wish to give out a build to the public, as many things are still in progress.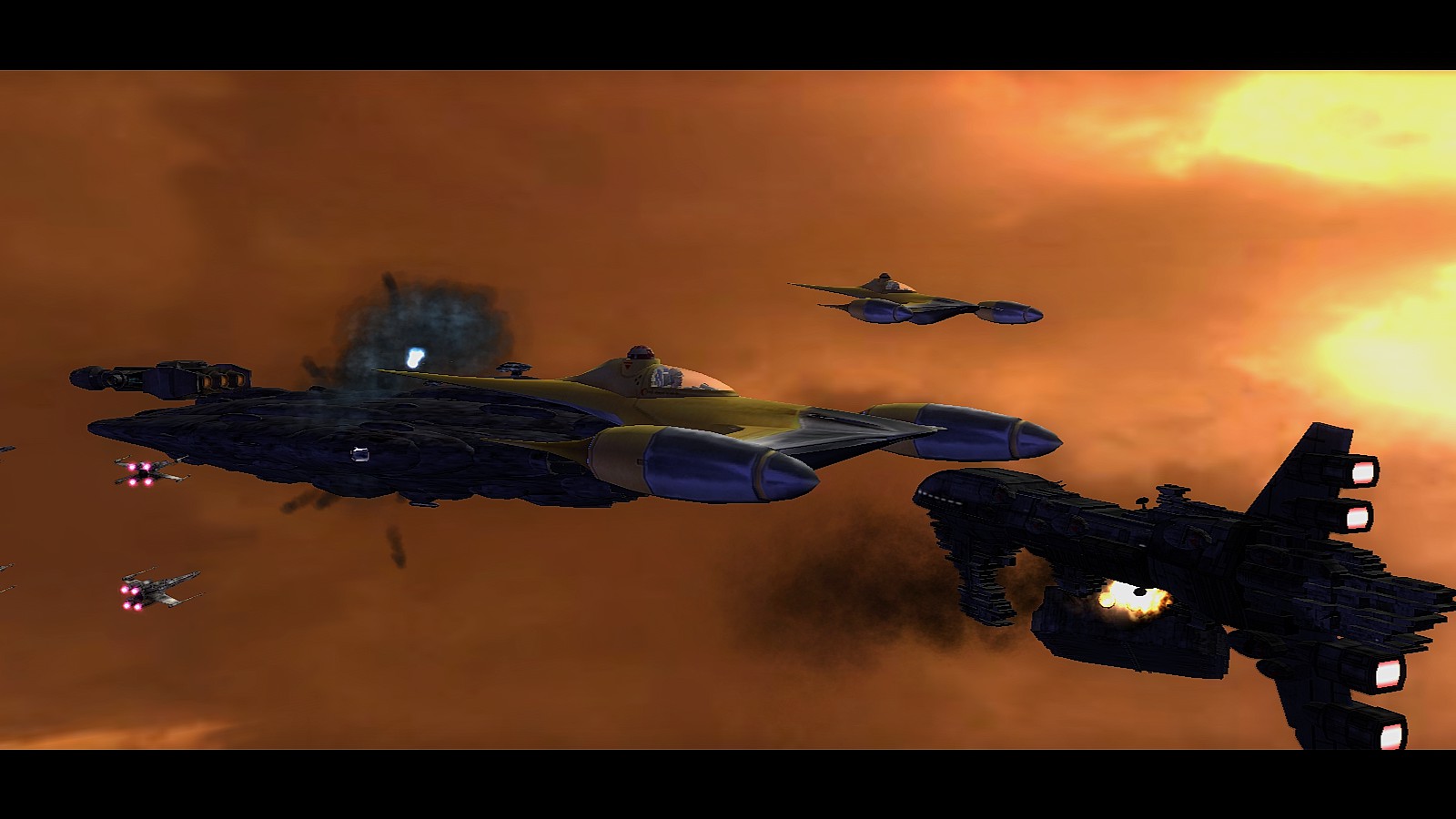 So that about sums up the last 6 months of development time. There is a lot of things I probably missed, but what fun would a new release be without at least some surprises? Thanks for reading and of course for being such a great supporting community.