After a short wait in the review queue Apple have approved Stampede 3D for sale on the iOS App Store, meaning that we can now lock in our release date of 7th February 2013!
From now until we release I have the arduous task ahead of personally emailing all the review sites we can and posting out press releases in an attempt to get some kind of exposure before the game goes on sale.
As indies (and especially on the mobile marketplaces) this is extremely difficult and there is very little you can do to affect the outcome when your game is complete, save for savvy writing skills or being lucky enough to have friends in the press.
Whatever the outcome, releasing a game is an invaluable experience that will only make the next one better.
PS. I hope to write a postmortem for Little Dragon 3D some time to perhaps save other mobile game indies from dampening their first release.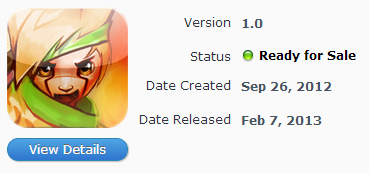 I am really excited to finally have Stampede set for a release and can't wait for people to be able to play it for themselves
So make sure to remember the release date, or if you can't be bothered, I will certainly let you know when the game is up using either;
Facebook.com <-- Stampede 3D's facebook page
or
Twitter.com <-- Stampede 3D's twitter
Will write here again soon to announce the release!
See you then, -Jackson