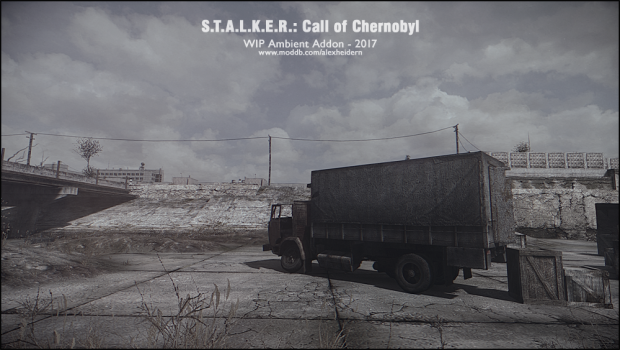 Hello everybody! It has been sometime, I guess.
tl;dr starts here
While perhaps people who know me would likely want this to be an article about HESK: Hyugaren (my mod for ZDoom), this isn't the case. Even though that mod has a lot of progress (no, I'm not talking about more meaningless code this time... I'm talking about some new fully implemented weapons, enemies and a very enhanced gameplay -final version for most of the coding part-), I intend to keep the work on said mod in low light, in silence. I don't want to play with people's enthusiasm further.
This time, I'll present to you with a new concept I'm working on for my favourite game for the past 5 years: S.T.A.L.K.E.R.
After some months of highs and lows in life, I've come to crave for some projection. While S.T.A.L.K.E.R. (along with Silent Hill) was always my inspiration backbone for atmosphere in videogames, I wanted to do the opposite thing this time: Be me who influenced the game.
tl;dr ends here

So, after a very much needed GPU upgrade (I could play games with the onboard card, but at low resolution, and I still wanted to experiment with Reshade, ENB and other things), and after a full upgrade of my Call of Chernobyl version with new mods, I decided to not install Hexagonsphere and make a full new Reshade preset instead.
However, I've come to the idea that if I would play with the atmosphere of the game, I could do it not only with new graphics, but also with new sounds and music. So that's essentially what I'm doing right now: Making new music and adding (new and modified) sounds to S.T.A.L.K.E.R. Call of Chernobyl, to cater with the new game's appareance.
The main idea is that, while this based series has a very impressive and deep atmosphere by default (vanilla), it is thought to be enjoyed. Perhaps you'll think that it is obvious, because a game is meant to be enjoyed. Well, what I want is to give the S.T.A.L.K.E.R. Zone a more realistic approach: That you won't feel entertained by the landscape, excited by the battles, or amused by the monsters. I want the player to feel despaired, hopeless, even worn out by the dead surroundings; resigned to and hurt by the battle; feel a pitiful and even empathic sentiment for the monsters, the zombies.
And I think that is possible to achieve such goal, exposing the right influence through graphics, musics and sounds.
So, as this new preset is in a very good path (I won't say it is finished, but it's in a very advanced stage), and as I don't think I'll mess with native shaders at all (I can't promise anything), I wanted to share some screenshots with you.
With nothing more to add, I hope you enjoy the gloomy captures, and if you would like to say something, you're very welcome to leave some comments.
All the best!
- Alex