Following the Incident at Galinuns Eclipse, Captain Morgan set course for ominous nebula known as the Devil's tongue. The Devil's Tongue nebula is a place the Turanic Clans prefer to avoid. Only the most daring of pirates ever enter this place, known for it's adverse effects on sensors and rumored to be inhabited by ancient powers long since turned immortal.
However on arrival near the edge of the Devil's Tongue Captain Morgan came to realize he was not alone. Apparently some other crazy fool had decided to go to go sightseeing in the nebula too.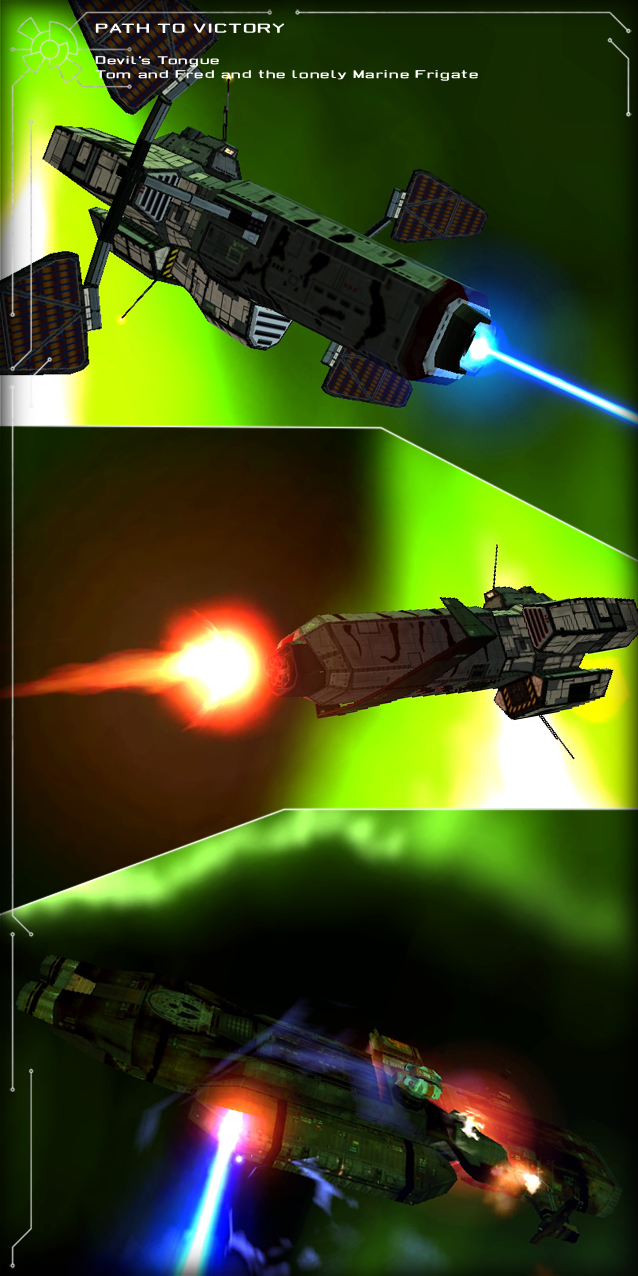 There was no mistaking Captains Fred and Tom. They went everywhere together - Tom in his Ion Array Frigate and Fred in the wacky construct he dubbed the 'Gunslinger'. Wacky was the right word. It was basically an outlaw hull hollowed out with a heavy kinetic gattling weapon inside. Morgan had only witnessed Fred's gunslinger firing once while he was on board. The experience had been... loud... to say the least.
Fred was not a good shot. Tom... was.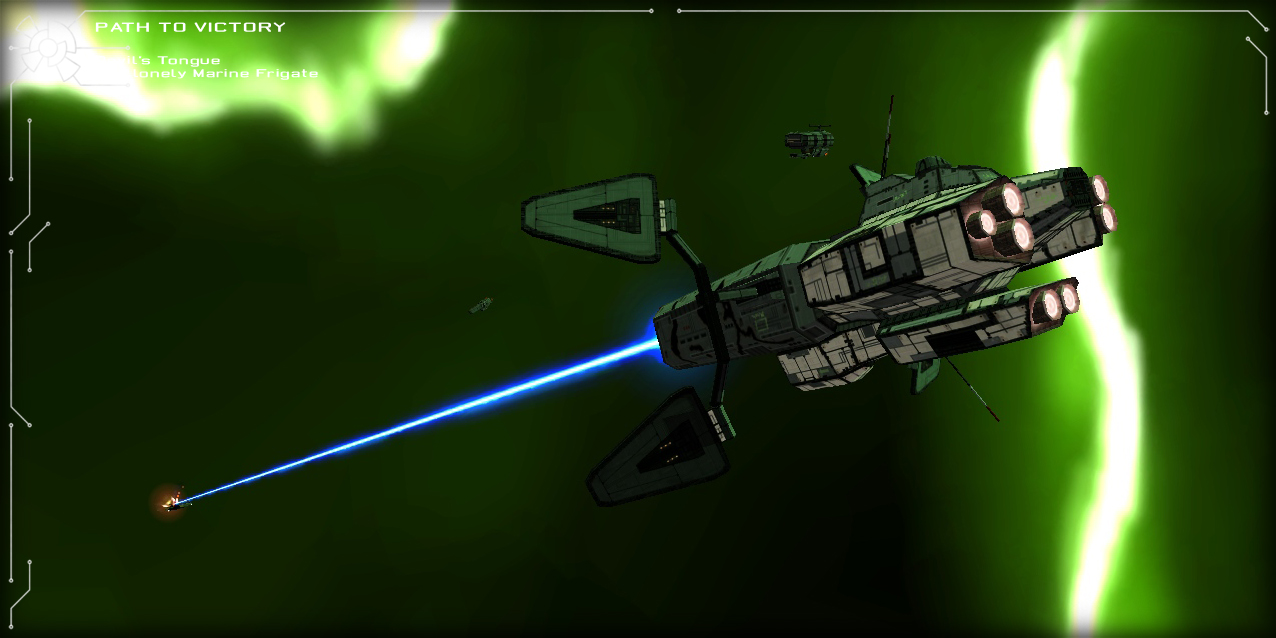 There was also a third ship on his sensors - what appeared to be a Hiigaran marine frigate - minus the marines and crew that was. It looked so heavily damaged it made Captain Morgan wonder if Fred and Tom were just shooting at it for the heck of it - and that thought brought on another one: Maybe there was something useful onboard!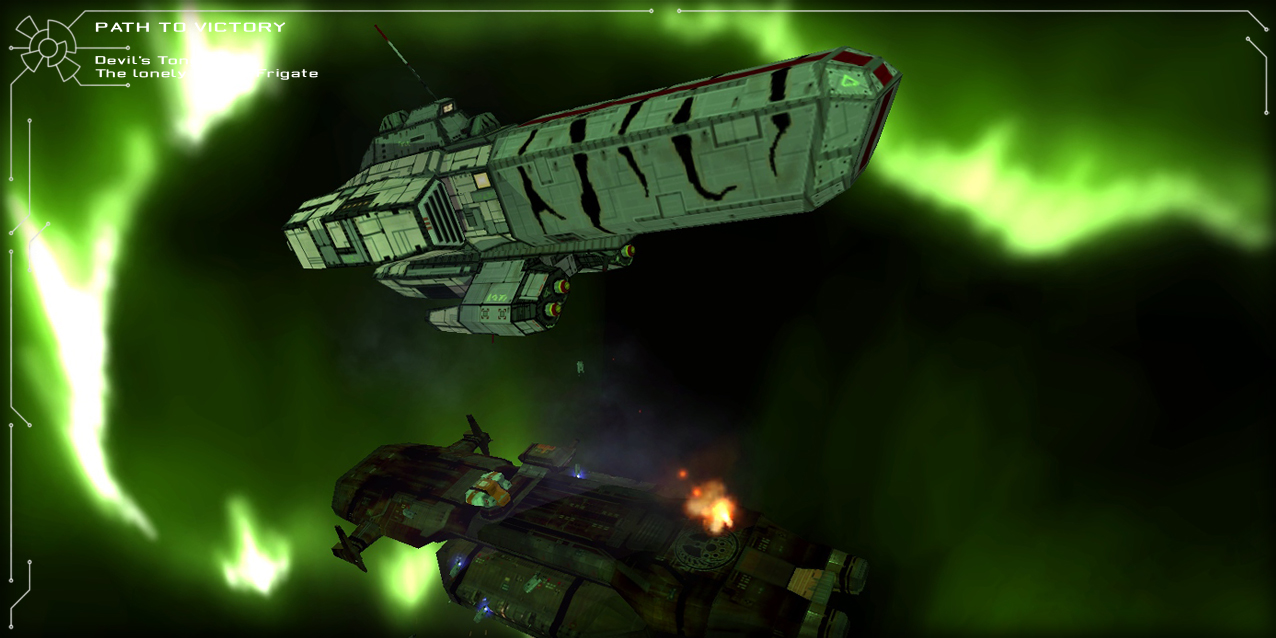 After a fairly brief and curse-filled conversation, Fred and Tom agreed to stop shooting at the crippled marine frigate, allowing Morgan to swoop down and begin boarding.
Slowly getting tired of sitting in the command chair all day and wanting to get out a bit, Captain Morgan decided to join the boarding party. His earlier suspicion had proved correct. The marine frigate was so full of holes that there was more hard vaccuum inside it than frigate.
It only took a few minutes to get to the bride (usually this would take two to three hours depending on how dedicated and willing to die the marines on board the frigate were) - only to find a large portion of the bridge missing too.
There were however some documents lying around and an odd crystal that looked a little like the lights in the Devil's Tongue Nebula. Captain Morgan ordered his men to gather everything up they could. He himself began fiddling with the ship's systems. Most of them were dead but he did manage to call up a self destruct protocol - which for whatever reason decided to start counting down the moment he accessed it. With no time to waste and only a few minutes before the ship decided to blow up.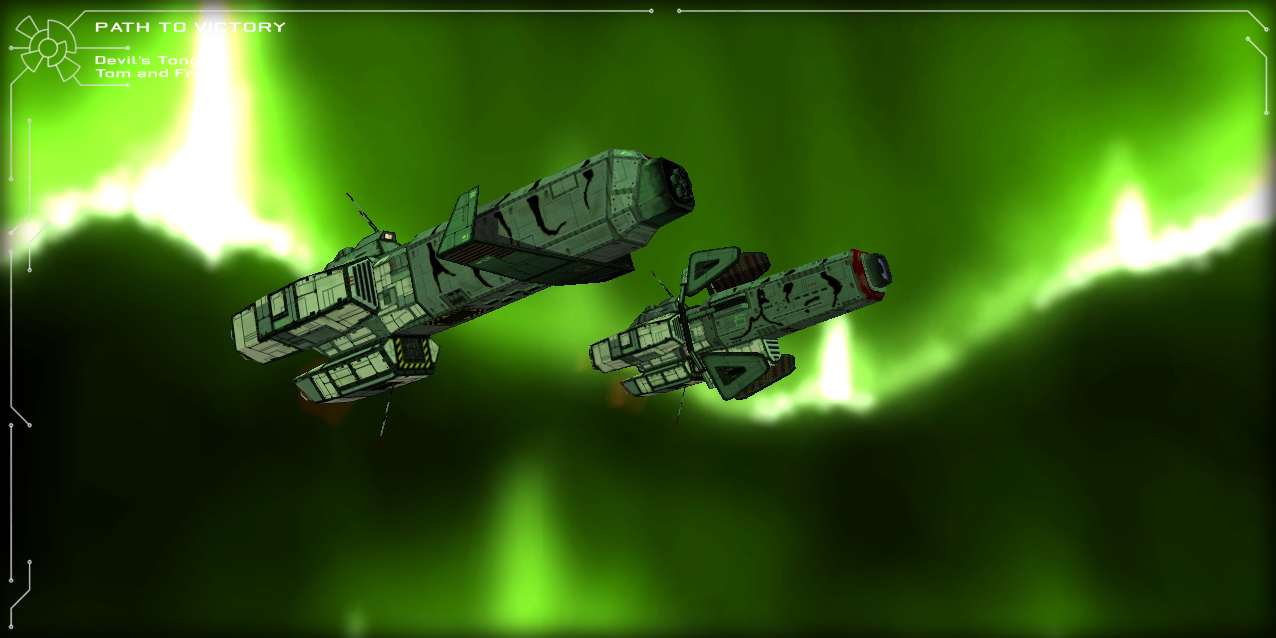 There was really no reason to stick around anymore. With Fred and Tom in tow, Captain Morgan reformed his now ever so slightly larger fleet again and headed deeper into the Devil's Tongue nebula. Lots of pretty lights there... maybe they'd find something else interesting - and not quite so dead...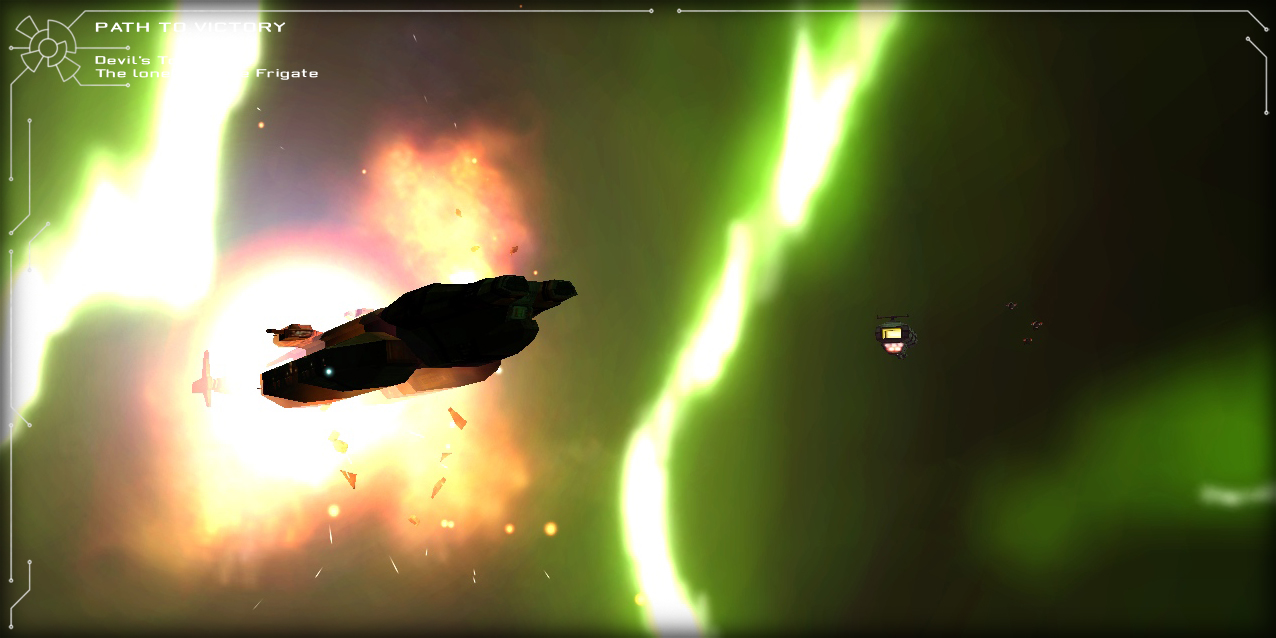 After all, you couldn't have fun wasting bullets on something already so full of them you couldn't even hit it, could you?
Screenshot Competition
For anyone coming late to the party, Path to Victory has opened a more or less official 'screenshot contest'.
The corresponding thread can be found here: Moddb.com in the Path to Victory Forum. Pretty much everything you need to know is described in the first post.