The MOD is making good progress. Damien, the 3D modeler for the team, almost done Crash and texturing. So you can soon see the first images of bandicoot blue shorts!
Regarding the animation, we are always looking actively one or more hosts. If possible, 3Ds Max, for convenience when exporting. Alternatively XSi.
In terms of gameplay, we begin to better understand what direction we take. The levels are not yet all created, it is difficult to say if the levels are open or linear. Of course, you can give your opinions, it will be greatly appreciated!
Also, I recall that the proposal I made regarding ideas for levels of the mod will end tomorrow. To my astonishment, I received only one entry. So I hope some of you will send me other ideas before tomorrow night, midnight.
Link to article: Moddb.com

The Warp Room is at when it finished. The 3D interface was corrected at the request of some of you, hoping that it agrees this time. Also, the backpack has been finalized and will soon Max, the hedgehog ninja. Finally, some questioned whether it would be Tiny Tiger in the game. Rest assured, it is well planned for the MOD.
I also hope to add Ripper Roo and why not N. Gin :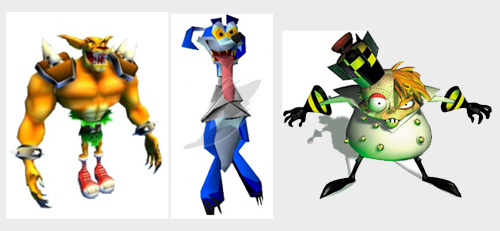 So I started working on the music of the game This is in itself an enormous technical challenge because the license has a special sound quality. The mixture of musical genres has made the force. I'd do my best to keep the musical atmosphere of the original game in this mod.
Here's a little music would reminisce to those familiar with the series :
Finally, here are some new images of the MOD. This time, on a completely different type of landscape :