The armies of Chaos are seductive to almost every single type of people. From the poor inhabitant of the lower levels of a hive world to the rich and powerful planetary governor, the influence of the Dark Gods always finds a way to corrupt those that are not dedicated enough to the service of the Emperor.
Chaos as race provides some freedom in terms of gameplay ideas since the origins of its warriors are many and some may bring their expertise from being in Imperial Guard or other military force.
Lately I've been working on some Renegade related concepts, both visual and gameplay concepts although obviously most of what I will show here is the visual part.
Exalted Champion - pretty much a veteran version of a renegade champion with improved combat capabilities. Possesses a trophy rack to demonstrate its rank among renegade forces by displaying the results of his combat capabilities.
Renegade Medic - the name says pretty much everything. This guy is a renegade with a medkit and probably some experience as battlefield medic.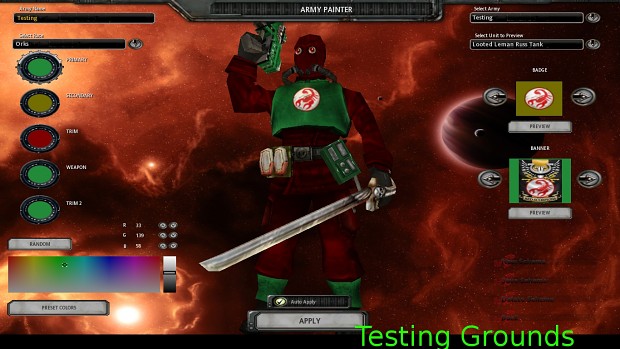 Renegade Vox - a renegade operating a vox, likely a guard once with some knowledge about IG communitcation procedures and probably capable of deceiving IG air support or artillery to hit their own soldiers or at least capable of transmiting orders from one renegade group to another.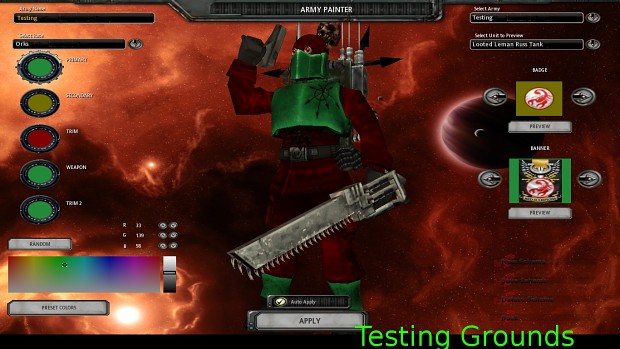 Renegade Champion with Banner - a champion carrying the banner of the chaotic force it serves, inspiring renegades nearby to fight harder (banner changes according to banner chosen in the army painter just like it happens with aspiring champions).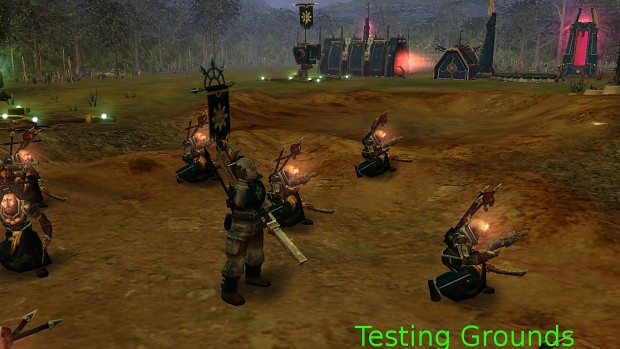 Preachers - filling the role of IG priests preacher in renegade armies would inspire the surrounding troops in a similar way.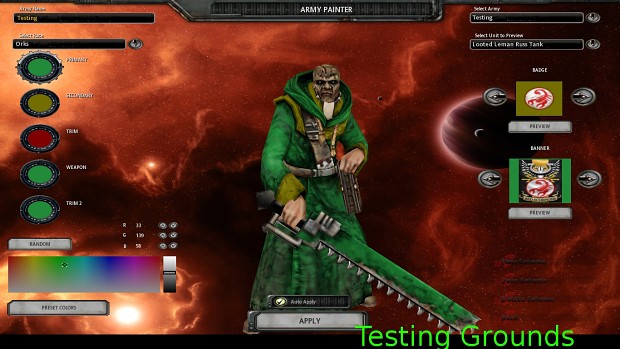 Disciples - the most dedicated renegade forces, the disciples would be the equivalent to IG stormtroopers/kasrkins or veterans.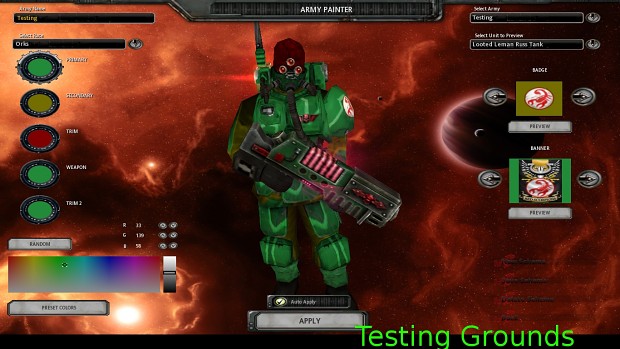 (check this for more images Moddb.com )
Most of these concepts still need some texture work and some fx work to get them to look a bit more chaos like but are functionally working which was the initial objective.
Some more chaos concepts were also done related with cultists, including the "heavier" melee version of the cultist. Based on a renegade champion conversion with cultist parts, this concept is related with the creation of an heavier melee variation of the cultist that can do serious damage to enemies before getting killed. As with the basic cultists these guys will likely serve as a fast moving meatshield mostly useful at eliminating long range specialists or occupy units so heavier chaotic troops can take them out.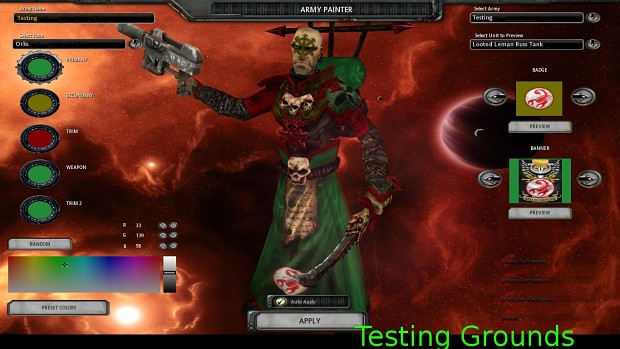 More images of the melee cultists Moddb.com
An heavier ranged variant of the cultist was also created based on a conversion of the renegade militia. From autoguns/lasguns, passing through plasma guns and going to missile launchers, these cultists can be equipped with a great variety of weapons.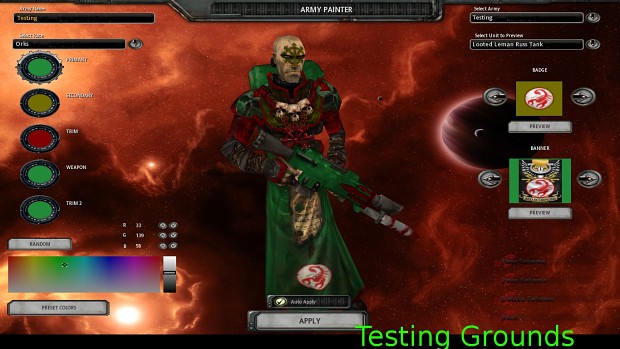 More images of the ranged cultists Moddb.com
Ingame comparison of "traditional" cultists, renegades and the ranged version of the cultists.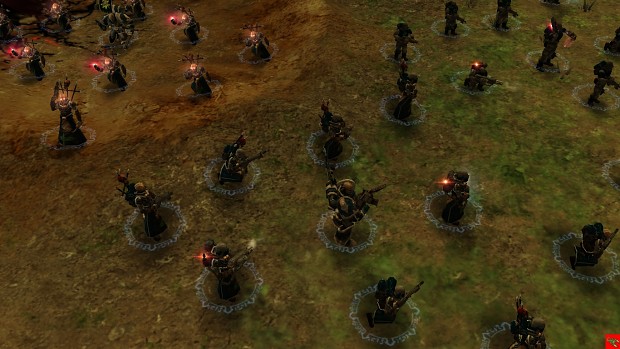 Renegade putrid projection
Pretty much the nurgle related renegades are intended to have an explosion on death kind of thing healing allies or hurting enemies (because of how explosion on death works it is only one thing at a time, either it would heal or it would cause damage with 50% of chance for each one). I based the associated fx on an already existing blood fx mixed with the plague cloud usually seen on the nurgle champion while breathing. What do you think? I must say i am not a fx expert. Weapons fx still need to be changed (i may have changed it and then forgetting about it didn't convert the whe again before going to object editor, will have to check) and will be changed when the rest is working as desired.
WARNING: THIS VIDEO MAY CONTAIN CULTISTS SCREAMING LIKE GIRLS! (one of my watchers at my moddb profile requested me to put this kind of warnings)
On renegade based concepts i would like to thank meloo who created the renegades militia and champion models and RT2 who did some body synchs that allowed me to do some of the conversion concepts based on meloo's work.
Not all is chaos though and other armies have also received some work like IG for example:
IG Defensive bunker concept
How it works:
It begins with 3 basic weapons available, namely wall mounted lasguns, plasma weapons and missile launchers. The north weapons are being used by the bunkers own soldiers but external squads are required to man the south, east and west defenses (check the bunker more to the right it only fires from one side until its is garrisoned by some squads). This means this is a directional defense, which is not that useful if your manned weapons are not pointing in the direction where the enemies come from but with a few additional men inside additional directions are safe from enemy interference.
It can be upgraded with additional weapons through add-ons (banners indicate bought add-ons), first with flamers for close ranged defense against infantry and later with heavy bolters for long range, low reload time anti-infantry capabilities.
Two additional add-ons will cover other areas than adding weapons, providing passive defensive bonus to nearby troops, making it easier to mount a strong defense with the Imperial Guard.
Banners are currently not implemented but will reflect the nature of the add-on so it is easy to notice what building has certain add-ons available and which are lacking. This modified infantry command is based on the already modified DoW Pro infantry command bunker with 4 add-ons available with respective banners.
Lootas choosing their own weapons
If you check the video you will notice those lootas change weapons up to 3 times after spawning. This random weapon choice is as much a visual change as it is a stats change as every weapon they may choose has different stats. This was possible using a version of the lootas with some OE code done by GrOrc and an interesting detail that exists in jONES's Black Templars mod.
Your lootas will be fighting way happier now that they have weapons of their own choosing! First 2 weapons will of course appear more easily than the last 2 as it is probability related.
As always feel free to comment below. Thanks for reading and seeing the images and videos above.