For the last 9 Months I worked on this mod, it has been started over a few times and a lot of the maps were scraped. But right now I am very excited to show you the progress that has been done, so with no long intro's lets get into the screenshots already!!!
Starting with my favorite area, where you will be settling in the gained bhop skills. You can spot a red token on the screen, that is a collectable for a 100% run category, that is very challenging and optional.
Continuing with the BunnyHopping, you will practice it here too. From now you will be able to see a progression screenshot at the bottom left.
Moving on to something safe. Here you can warm up before your training, this room is perfect for it. Notice how many routes there are.. Multirouting is what I want to maintain throughout the levels, this takes lots of testing and fixing but it's worth it.
I thought you would find this interesting.. I broke up some of the dull and boring areas with something much wider and brighter. It's the same place, you can tell that by the green grating in the screenshots.
Part of the same deal, was a borring and narrow corridor, became interesting and wide. Definitely an improvement.
At this point if you are going fast it was hard to maintain the speed, so I made it wider and added details.
Lets have a look at an actual training room! In the middle here you can see a crusher that will teach how to Wall Strafe the hard way. Just behind it you can learn how to climb ladders faster.
This is very close to a start of the training and here is a bridge that I have made an "S" shape just to implement to a player what sort of movement bhop is.
Some of the area's simply became brighter and got more details done to them. Also a new route has been added in, that is done with Object Boost (a trick that you will learn how to do just before this). The routes that are harder to do always reward the player with a better time.
Please have a look at both of the screenshots here. At the smaller one you can see that there was no other way to get across unless you go on the blades. Which some of the testers found challenging, so in the new version you can see that you don't have to go on them at all. However the fastest way remains to be over the blades.
This place gained some new routes and generally became better looking with all of the details, I personally like the waterfall part.
In the whole of Sewer map there are located various types of damage sources which makes health management a thing. This becomes challenging, but achieveable with all of the health sources aroud. Also, all stairs are clipped meaning that you will be able to bhop on them. Clipping generally been kept very clean, it only helps. No annoying invisible walls included!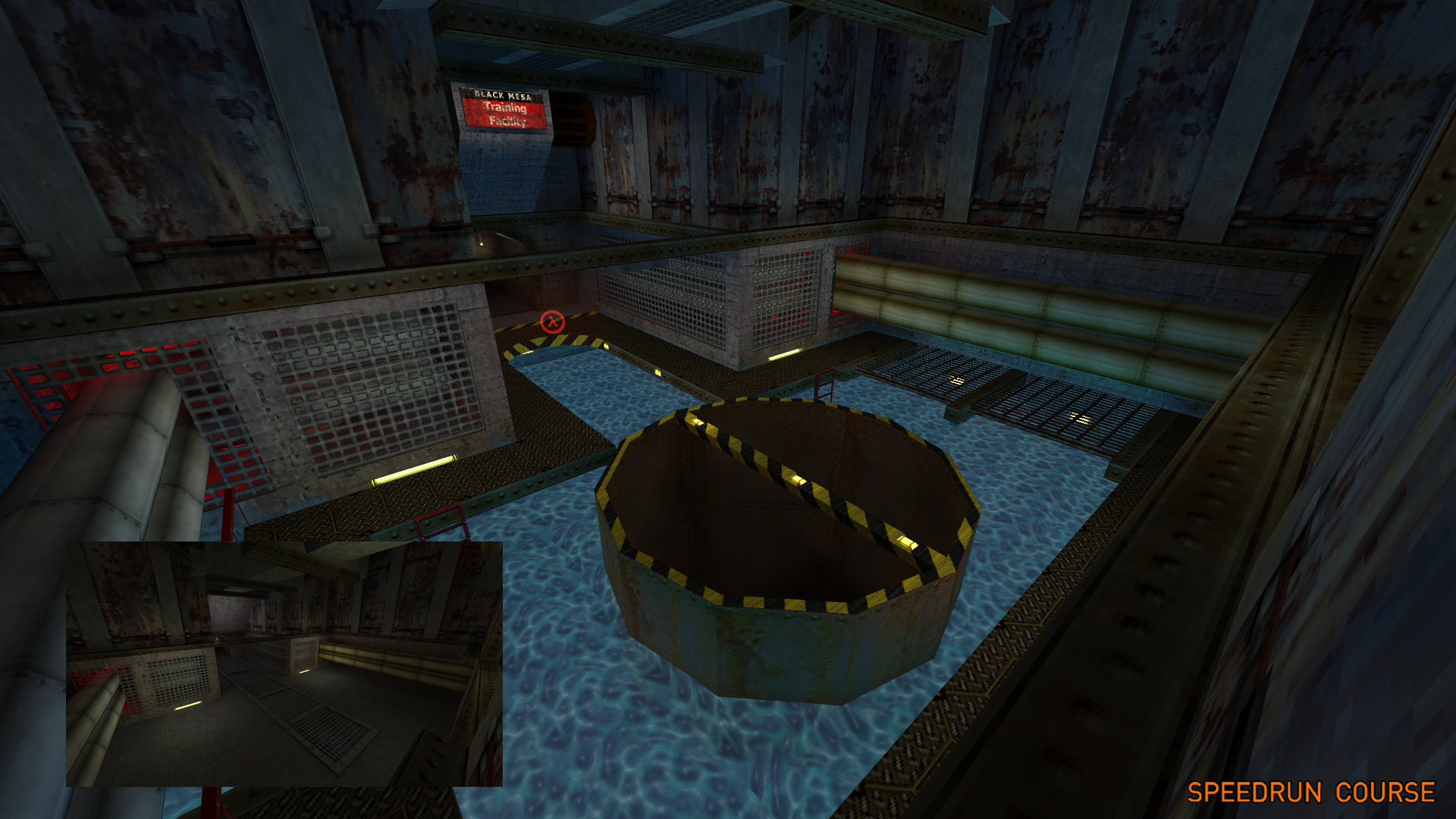 Sewer Exit
This is just when you quit the dangerous sewers.. Just look how much fresher this area looks with the water! That slippery water tank in the center will kill anyone who will check how deep it is.
I have previously said that I want to keep the mod fully Vanilla, but during the development I understood that making little changes is necessary for the mod to be successful. I have tried to keep it as close as possible to our loved Half-Life (I don't like out of place models just like you). So here are some things that I have added to the mod.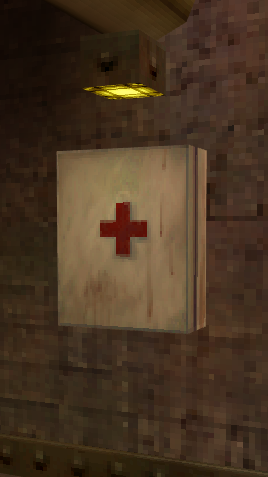 Health Station
This is a great source of Instantaneous Health. Gives the player +25hp on any difficulty, has single use.
Made with unused HL textures.

Another thing that has been added is a holographic robot instructor. That will have its own voice lines and 2 buttons, one to repeat the instruction and second to give you a tip that you might find helpful.
Has been made with a censored German Human Grunt model.

This is the last thing that has been customised so far and it's the player model. Now you are wearing an H.E.V Suit's Helmet like a sensible scientist.
Has been made from original Gordon's player model.
I would like to touch on the possible upcoming changes:
Jump pads - to be able to create more Vertical levels, or do you like the ladders so much?
Push pads - to give the mod even more drive and speed, why not add some fun?
New health/armor sources - something that gives you a lot and straight away, who likes waiting?
I can assure you that you will not have talking heads that will make you wait forever. Of course, there will still be dialogue. But the door will always be open, you will never be Forced to listen to the dialogue without being able to progress forward.
I decided to ignore common sense sometimes and make structures that don't make perfect sense in the real world. But just for the fun of the movement and cleaner gameplay, this decision has been made. Honestly, I don't regret it.
Now you have seen some screenshots, but the most beautiful thing about this mod is the gameplay. I focused so much on it being enjoyable and replayable that it's the biggest thing I am proud of in this mod. So for you to see it, the Trailer will be published showing of some of the amazing levels and satisfying gameplay!

Few words about releases.
I hope to release a playable version of just a course somewhere in 2021. However, depending on the feedback, if a lot of people will want to play this, I will publish it before it will be fully complete, because it's already very fun to play:) And don't you worry about it not getting completed, trust me it will, can take longer but I will finish it.

That is all I have for now, I want to post updates monthly from the next year, so stay here if you want to follow along with me on this development.
Thanks a lot for your time I hope you like what you have seen so far;)
I wish you all to have a lovely Christmas and a warm welcome from the upcoming New Year!!!