First up is the Horsa. It was modeled by Toddel and Lobo and skinned by Toddel.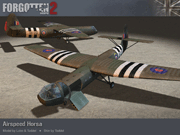 The Airspeed Horsa was designed in 1940 - a reaction to the Germans' excellent use of gliders during the invasion of the Low Countries and France. Its first flight was in September of 1941, but it wasn't used in an actual operation until more than a year later. The Horsa was one of the largest combat-gliders of world war 2, with a capacity of as many as 25 soldiers (compared to the Waco's 13 and the DFS 230's 9). Nearly 3800 were built.
Next, we have some screenshots of the map 'Operation Goodwood', which was made by Knoffhoff. As usual, you can find the minimap and loading screen in the map section.
July 18th, 1944 - 0745 hours. The battle for Normandy is drawing on slowly as with every major operation the Allies advance only a few kilometres at a time. Even after six weeks, the city of Caen is only partly in Allied hands. However, things are about to change. In the west the Americans are about to launch a major breakthrough attempt and in the east the British and Canadians aren't giving the Germans a moment's rest. During the past week, preparations have been made for Operation Goodwood, a major attack east of Caen, designed to tie down the Germans to ease the American operations in the west. Now, after this morning's massive aerial bombardment, 60,000 British men and 760 tanks advance under cover of heavy artillery fire. The attack goes well, but things change when it runs into the German positions at Cagny...
That's all for now, but be sure to come back next week for another update. Until then, feel free to visit our IRC channel and our public forums to discuss this update and other news.