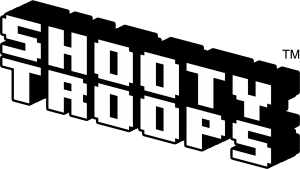 Salutations once again from the land of the 804. Before we start, Nǐ hǎo to the thousands of Chinese Players that downloaded our game over the past weekend. We heard you were competitive. Hope your thumbs can back it up.
This is Tom, AKA the Bush Wookie, AKA your friendly neighborhood Community Manager bringing a quick, but oh so important update from the developers of SHOOTY TROOPS™.
As the countdown to SHOOTY TROOPS™ ticks down to the scheduled release date of July 1st, the developers here keep cranking out new content (Some for now. Even more for later) and have taken out the polish (but not the Polish, if you check our languages) to get your favorite endless arcade shooter into pristine condition. 804 proudly unveils the tiny digital miracle known hence forth as v0.8000.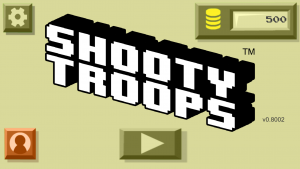 Besides proving beyond a reasonable doubt that the 804 listens to each one of you guys input by reformatting and ripping out a few minor bugs. This update is a little different.
Have you ever had someone change the entire world ... Just for you?? 804 has done just that ... and only for you. The 804 studio has replaced our existing texture shaders for mobile performance increases.
So, what exactly does that mean? I didn't know, so I asked and they told me in small words and diagrams. It means the fastest shooting pixels on the net just got faster.
Trust in the 804 ... This is a GOOD thing. We didn't feel you were playing or slaying up to your device's real potential. Grasshopper, the console has made you soft, and we will remold you in the old school thumbs of steel.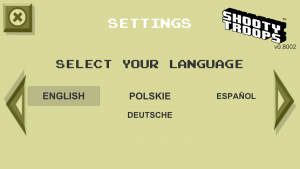 SHOOTY TROOPS™ has also decided it was time to Habla and Sprechen with the best of them. For those keeping score at home, that means we have added Spanish and German to our language options. Now enjoy all your thumb crushing digital workouts multilingually. So please get out and share this with your Deutch and Espanol speaking gamer brethren. What language do you think is next?
Finally, the rag tag development team seems absolutely obsessed with new characters. The character selection page has been updated and even more characters have been added.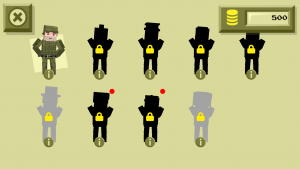 BUT WITH LAUNCH .... There's a small twist. We know you love the zany antics, shenanigans, hijinks, and general tom foolery of the Shooties™, but starting now ... Each Troop character is about to start having their own abilities. Each having their own little secrets.
Any one of them could be that one character that you bond with perfectly to get that victory count you've been craving. BUT REMEMBER!!! A lot of the characters can only be accessed by promotion codes, be it outright shown and advertised .... or fun, clever, or silly words hidden in dev blogs .... words like Espanol ..... but that is a hypothetical example and not a real promotion code. Put it in and see. you'll get nothing from it ....
The promo board looks like this for when you want to use it. Not a clue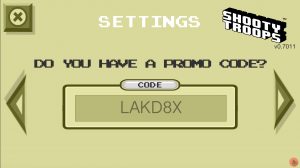 Seriously .... I don't think I could make this easier. Stop writing me for codes .... a little effort here.
And never forget that the gift box button is your friend when it comes to our characters. Whether it is hitting the jackpot and getting the free character of the month from the gift box, or simply building your phat stack loot to buy a new one of your choice.
Bush Wookie leaving until next time ... Keep your inner gamer happy …
Subscribe to the 804 Game Studios™ Development Newsletter or follow us on your social media platform of choice.
SHOOTY TROOPS™: Shootytroops.com
804 Game Studios™804gamestudios.com
804 Game Studios™ on Twitter: Twitter.com
804 Game Studios™ on Facebook: Facebook.com