Hello ShockWave fans,
It's full steam ahead now as we edge closer to the release of the new version. To ease the time between waiting, today we are take the wraps off of one of the new units and and an upgrade that we are sure you're going to have a blast - or dare I say many blasts? - with.
Time to put on your lead underwear. Fresh off the production line and first up is the new Tactical Nuclear Missile upgrade for General Tao's Overlord.
This upgrade was developed in response to a case our Balance Team put forward regarding the lack of customisation for Tao's Overlord. The Tactical Nuclear Missile upgrade will equip the Nuclear Overlord with a sensor array and two large missile hatches on its back. This new M.A.D. weapon will allow the Overlord to spread deadly levels of radiation across considerable distances, while the array will assist the Overlord in the detection of hidden enemies.
Next up is the GLA Demo General's long-awaited Toxin Tractor replacement.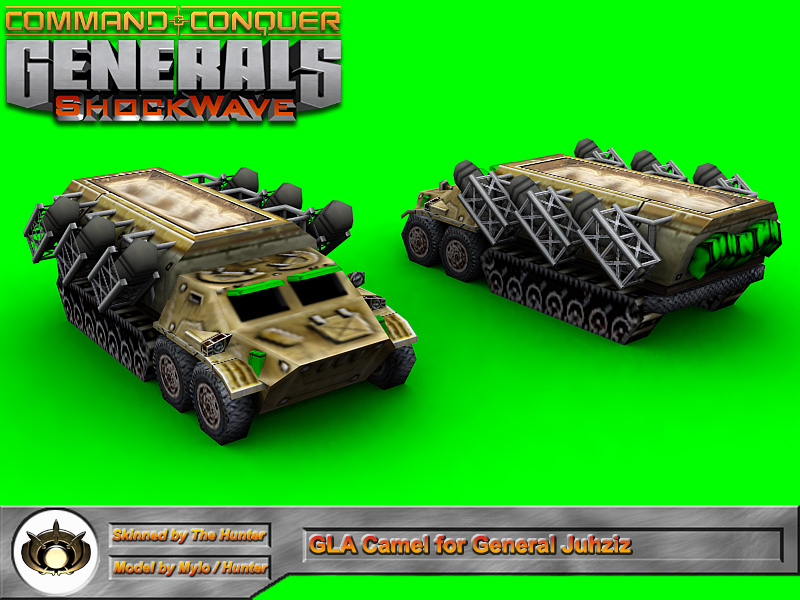 The paradoxically named Camel shrapnel launcher is not as innocuous as its name suggests, and is not one to be mocked or trifled with. Like its predecessor the Camel will have a specialised role in the General's arsenal. Field tests show the unit to be competent at dispatching infantry out in the open and in garrisons with relatively no resistance.
As always we are as excited about the prospect of getting all of the new content into your hands as you are and remain committed to delivering a quality product. With that said, that just about wraps up this update. We hope you enjoyed it.
Till next time, General.

- SWR Team