It's been some time since we showed off new content, so in order to change this, that's exactly what we're going to be doing today with a "mini media-update".
In this article we'll mostly be going in-depth on some additional weaponry we have implemented in the past few months in addition to explaining how we've slightly reworked the melee weapons from vanilla Day of Infamy. At the end of the article we've also put in a nifty video for you to enjoy The first thing on our list for today is to show off the Lange Pistole 08.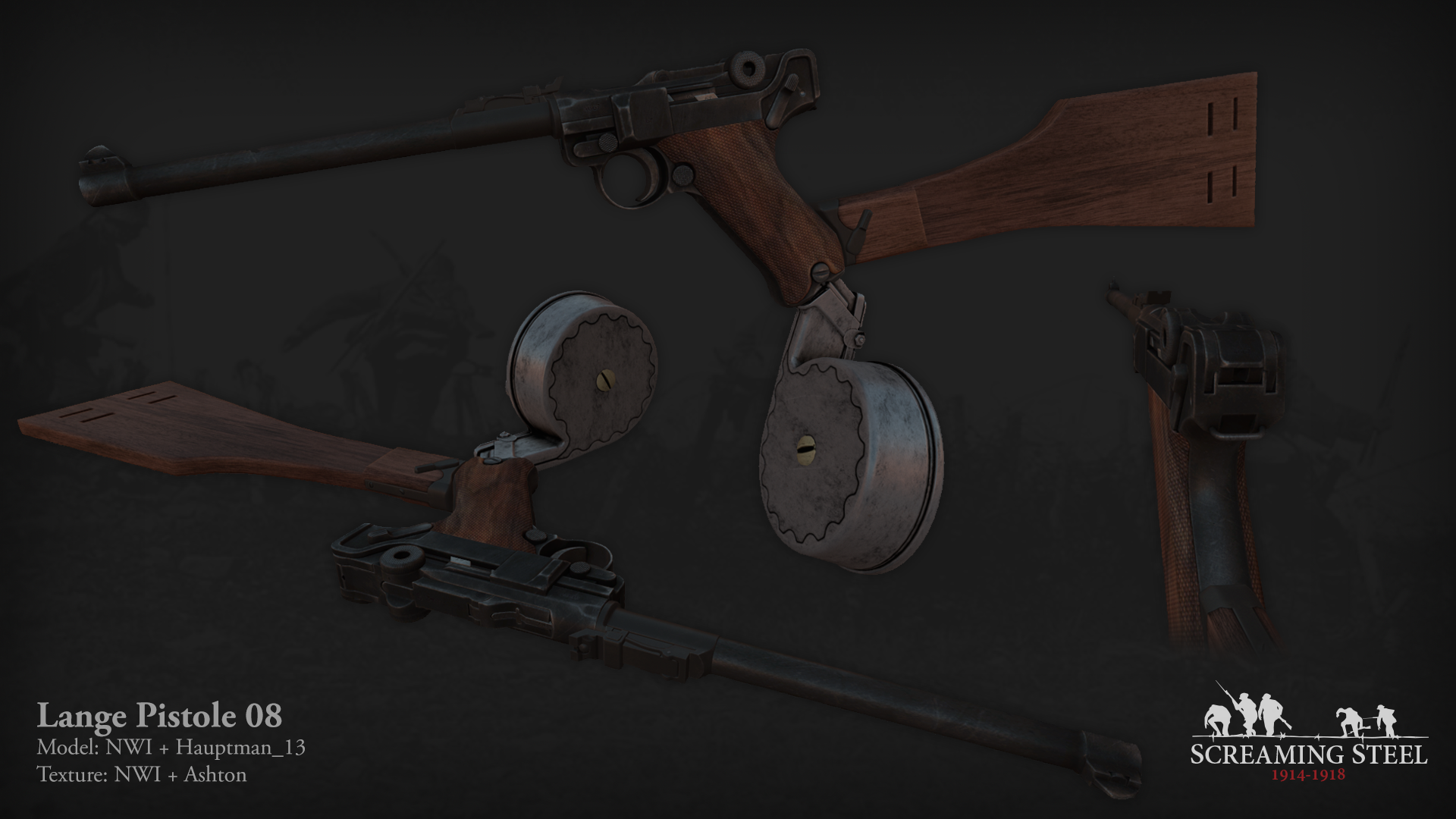 In real life the Lange Pistole 08 was developed by the Germans to serve as a backup weapon for artillery and machine gun crews, as rifles and even carbines proved to be too cumbersome for men filling these roles on the battlefield. The weapon uses the normal Luger P08 pistol as a base, but with a few key differences. The barrel was lengthened to 200mm, a rear tangent sight was added, and a shoulder stock was also designed for the weapon. These changes essentially turned the Luger into a rather effective "pistol carbine". Eventually a new magazine was also developed; the Trommelmagazin with a 32-round capacity and a striking visual silhouette. The Lange Pistole 08 combined with this magazine saw extensive use by German Stormtroopers throughout the war, with the compact shape and large magazine size resulting in a perfect weapon for assaulting trenches.
In Screaming Steel, the Lange Pistole 08 (or LP08 for short) is the primary weapon of the German assault class on our maps set between 1914 and 1917. On maps set in 1918 the role of the LP08 as the primary weapon is filled by the MP18 submachine gun, although it can still be equipped for those who prefer the LP08, thus sacrificing fully automatic firepower for spending less supply points on a primary weapon.
Next up is a weapon which is quite an oddity; The British No. 12 "Hairbrush" grenade.
The No. 12 was in real life one of several early-war grenade designs used by Commonwealth troops before the Mills grenade was introduced in late 1915. The grenade itself was rather simple in its design, as it was essentially a big metal box containing a pretty substantial ammonal charge attached to a wooden board. It's shape earned it the innocent nickname "The Hairbrush grenade". Eyewitness accounts tells us this grenade was a hefty bit of equipment, being quite heavy and unwieldy, but making up for it with its explosive power.
In Screaming Steel, the No. 12 "Hairbrush" grenade takes the role as a heavy grenade/demolition charge, being available for the Commonwealth bomber and assault classes. The fuse is set at 7 seconds, giving you enough time to steer clear of the gigantic blast (or for an enemy toss it back at you). Due to its weight, the grenade has a much shorter throwing range than the standard hand grenades, so getting in close is necessary for a well placed throw.
The next thing we'd like to show off are some environment/map assets which Hauptman_13 on our team has been putting together during the past few months, they'll for sure be a big help in making our maps feel convincing and period-correct.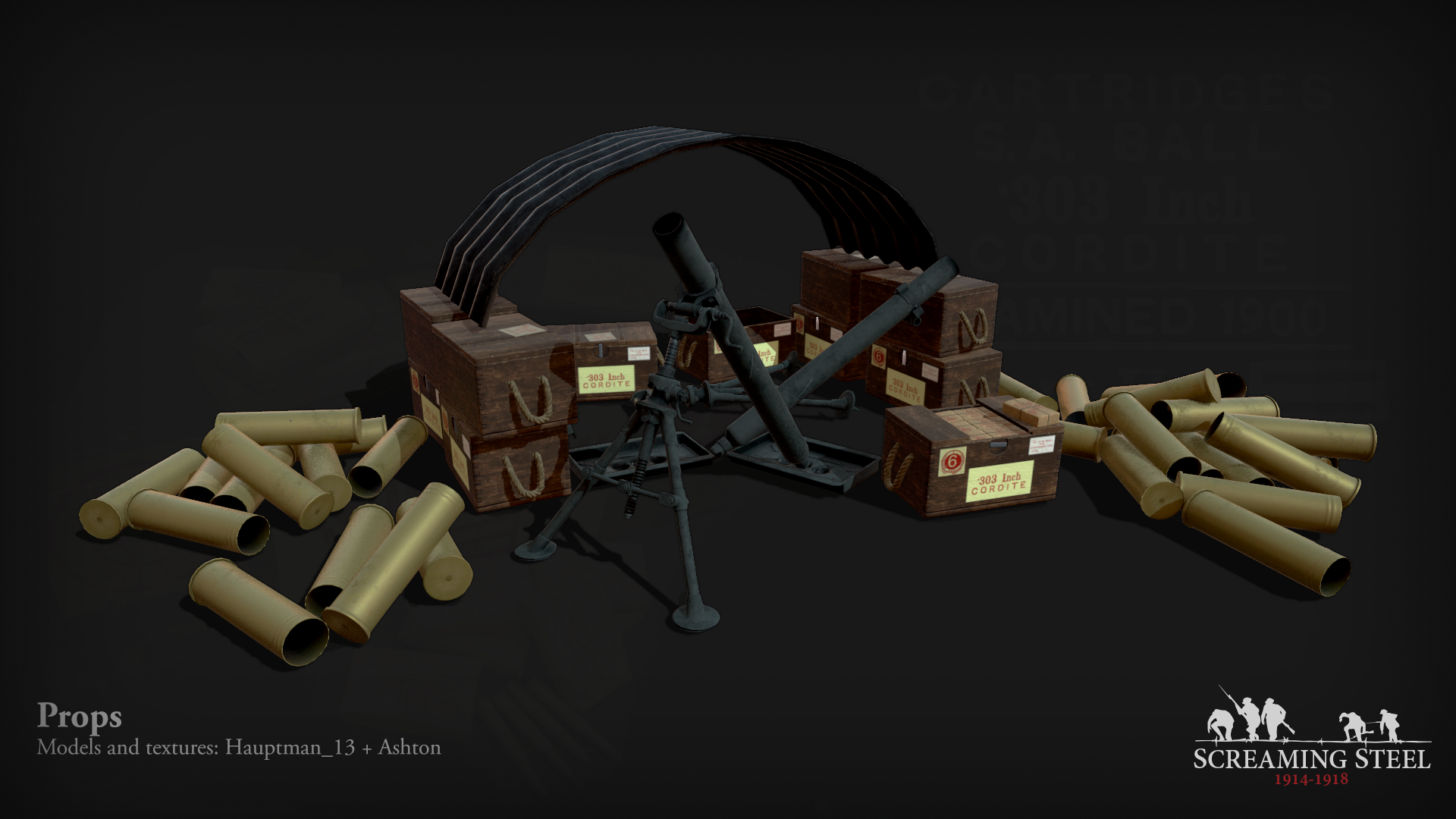 The last thing we want to show off today is a gameplay snippet recorded during an AI-match on our map "Valenciennes". In it you can see the German MP18 in action, and you can also catch a glimpse of a small but pretty big impacting change we've done to the melee weapons of Day of Infamy. In Screaming Steel, two-handed melee weapons like shovels and trench clubs will kill in one hit, regardless of where you strike the enemy. This adds a bit of depth and difference to the melee combat, hopefully making you think twice regarding what melee weapon you choose to go with. Two-handed weapons will cost a single supply point, but one-handed weapons like the detached bayonets are free and also the default starting melee for most classes.
That's all for today! Many of you are probably eager and keen on knowing more about a date for the eventual release of the project, but this isn't something we are ready to present quite yet. We want you to know that we're still hard at work on making this the best project we possibly can, but unexpected issues or bumps in the road can still occur, making it difficult to give a precise estimate. We are however working hard towards a goal of releasing a version of the project right before or during the early part of summer this year, something we feel is very achievable.