You might have noticed, that the voice of the major character EasyRider and his companion HappyJack have a german accent. Simply because it was my own one, not because this robots are german. There are german robots, but they mostly build cars. And do not talk.
To get rid of this accent a native speaker has to be involved. And it's even better if you work with a voice actor like Ross Scott.
Ross Scott is a well known author, director and machinima artist of the comedy series "Freemans Mind" and "Civil Protection". Have fun watcing his movies on Accursedfarms.com
It's always easy to work with professionals. So it was very pleasant when I did recording plenty of lines
with Ross for the voice main character EasyRider and his companion HappyJack. His voice acting enhanced the personality of the two characters enormously. Thank you Ross!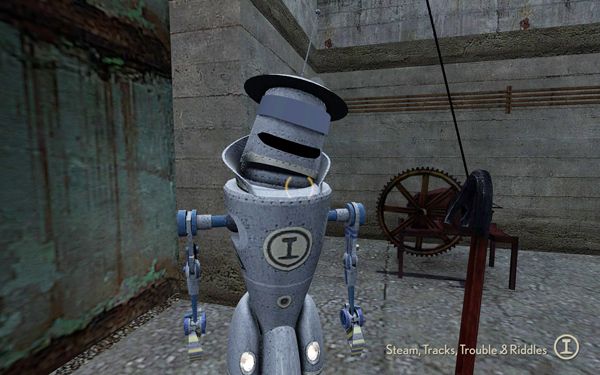 More good news:
I could recover this mod for Source SDK 2013 SP and the recently changed format of EP2 Content to vpack. Have the tutorial here Moddb.com
This may be lead to the some goodies: This mod might be played with a Mac or with Linux. Even more exciting it might be possible to have the Oculus Rift VR Specs, when they will be avaiable. Oculusvr.com Engadget.com
Despite of a C-partition crash in May 2013 I am keeping on working on the beauty pass of the LAST room of Chapter One. See light at the end of the tunnel ;-)
Some things have still to be done until release:
- Beauty pass of the last room.
- Credits
- A score has to be composed
- Sound Editing, including the ambience and effect sounds
- Intro-Sequence has been drawn but has to be animated
- Last beta-test and last not least
- Fixing the bugs
That's why I can't give any timing for release, but maybe in the next news I can post an estimate. Thank you for watching and your patience