Hi, with pleasure I want announce about resume development work on Game about Vehicles. Break was really long, mostly because lack of time and lose vision about future development, but I'm back with idea, experience and game, created from beginning. In most basic element new version will be similar to previous but editor, GUI, integration with avatar, saving format, multi-player will be new. In Christmas I have some free time so I want release new version on end of this year.
Most important changes in new, recreated version (probably 0.5) will be:
-make vehicle building easier, faster and more intuitive
-expect editing mode will be only visible plates and single bars, edges of plates will join to their neighbors to make much more smooth shapes
-thickness of plates can be changed
-editor will have two layers, one to edit only hull and other for modules, also will be option to hide some elements or make it transparent
-nodes, bars and plates can be moved, scaled, cloned or removed as one object
-option to mirror element editing
-all build operation will be view from perspective of avatar (FPP/TPP like in Space Engineers for example)
-plates and modules can be damaged and destroyed by weapons, after that braked element (or group of elements when the be not connected to vehicle core) will separate from rest of construction
-performance with lot of element (especially none modules) is much improvement
-new water, underwater and terrain look
-mechanics of transfer things like torque, fuel, power will be remodeled, current system is complicated and not effective, in new transfer will be applied by transfer line visible only in editor
-in longer perspective i want add inventory to avatar for gathering material for us it to build or crafting modules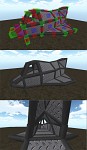 It's screen from prototype of new editor, still without any GUI. As you see in edit mode each element have own edit handle, green for point, red for bar and blue for plates. After select handles can be move, scaled or copy+move. Creation from selectin multple points from old editor also works.
I'will try add more screns from editor developing soon
Best regards.