Greetings once again, everyone!
Another month, another update. Rise of Three Kingdoms is now at version 4.4 and brings with it a bunch of updates to the mod, but it primarily focuses on improving the soldiers in all of the Han factions. Prior to now, all tiers and upgrades of Han units resulted in similar looking soldiers of the same tier/upgrade - a light swordsman at armor upgrade 1 looked the same between factions, a base heavy crossbowman looked the same same between factions, etc. Now is no longer the case. While the base light soldier will look the same between factions (leather lamellar vests, light clothing and armaments), once light units get their first armor upgrade you will see what this new patch changes. Specifically soldiers will wear different armors based on their region of origin, in addition to normal variations in robe and cap color and scarves. Below you can see three sets of regional units (Left to Right: Jingzhou, Yong-Liang, Zhongyuan) that exemplify the regional diversity explained above.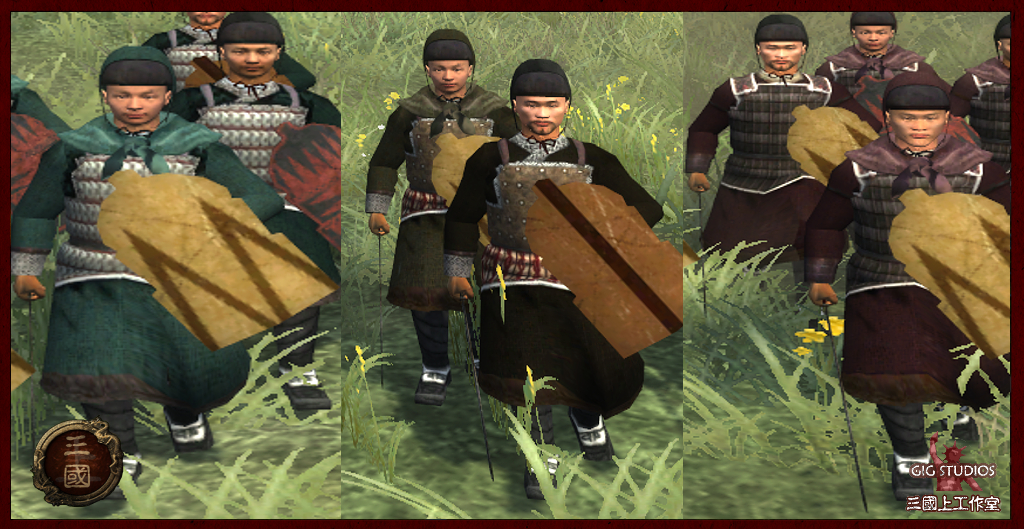 The heavy tier of Han units received the same treatment, but also received much more attention to create regional diversity amongst the Han factions. I would argue that this was highly necessary as, even though it was a civil war, smith would create regional variations of arms and armor which soldiers of those regions would then wear to battle... plus, for gameplay purposes, it breaks up the monotonous nature of all similar soldiers looking the same. Diversity in such instances is good. Along with new regional armor variations, heavy units also received new shield patterns, helmet types, and a new crossbow model. So now, instead of the region of a heavy unit only able to be deciphered by their type of helmet, their armor and overall appearance makes them highly distinguishable from one another. Below you will find several images: first is a group of Jiangdong Heavy Crossbowmen (note new crossbow), followed by Ba-Shu Heavy Halberdiers, and then an image of combat between Yong-Liang and Jingzhou troops. In the last image, make note of the three variations of helmet of the Yong-Liang soldiers (center and background).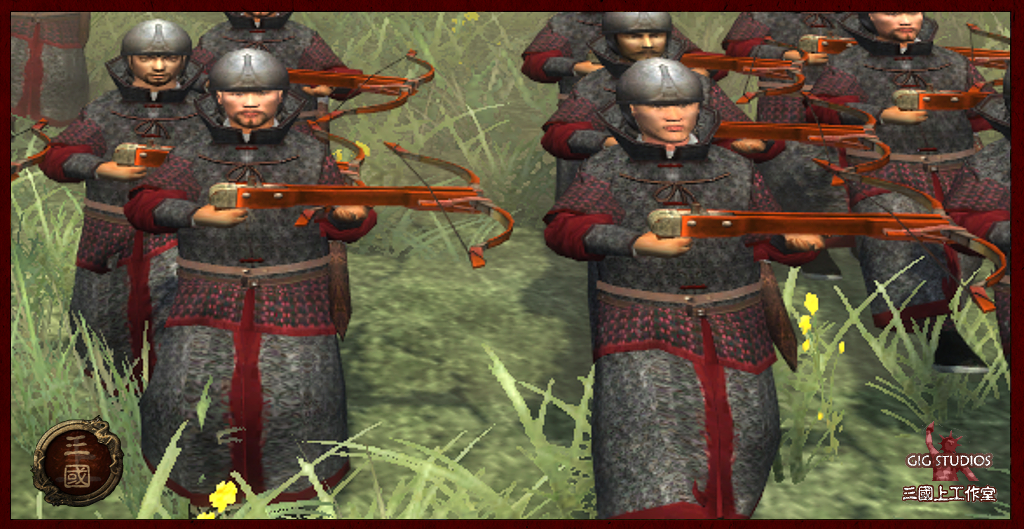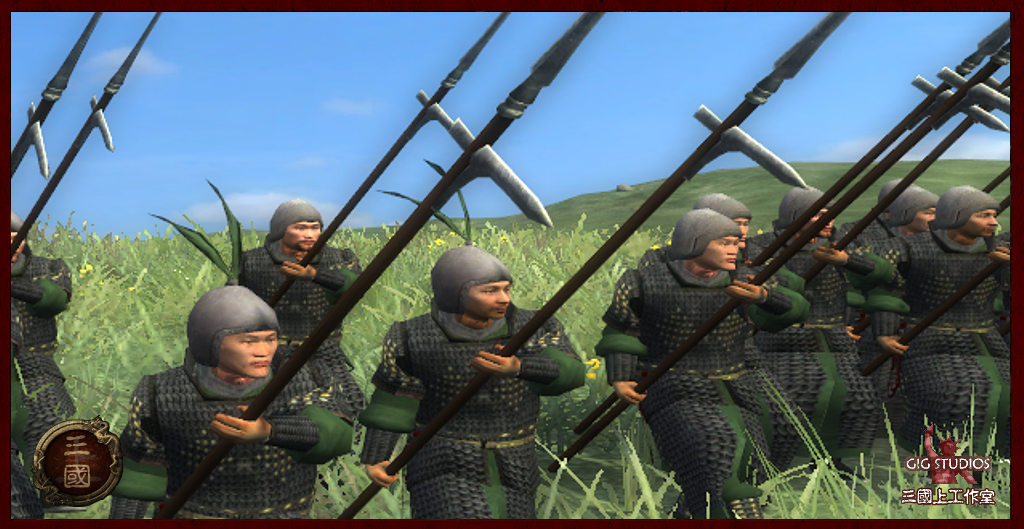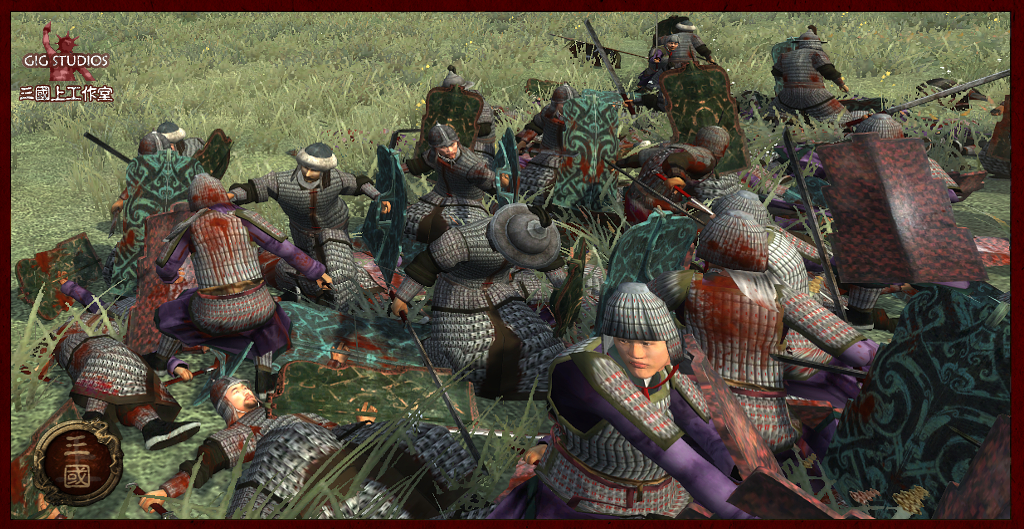 While the diversity of the basic Han units was the main point of this update, I also upgraded the models and textures of several other units. Liu Bei's Shock Brigade, the White Horse Fellows, the Flying Bear Army, and Yellow Turban Bandits (the latter two can be seen below) were all completely changed from their previous appearances. While nothing was particularly wrong with these units, I guess they just no longer stood up to my high standards and I needed to improve them. The Yellow Turbans I paid special attention to, with three different types of headwear, new swords and two variations of shields. Now, as one of the most common mercenary troops, you might not mind having them in your army.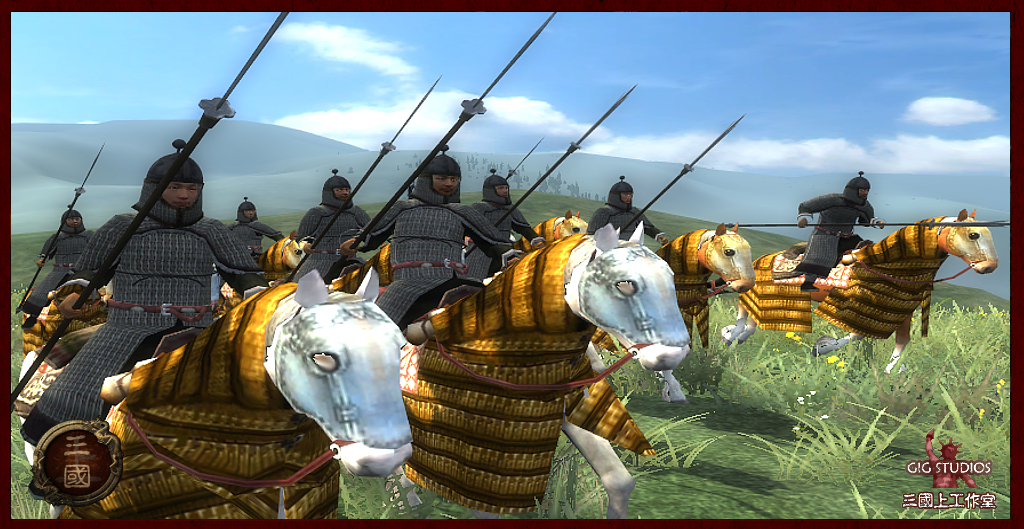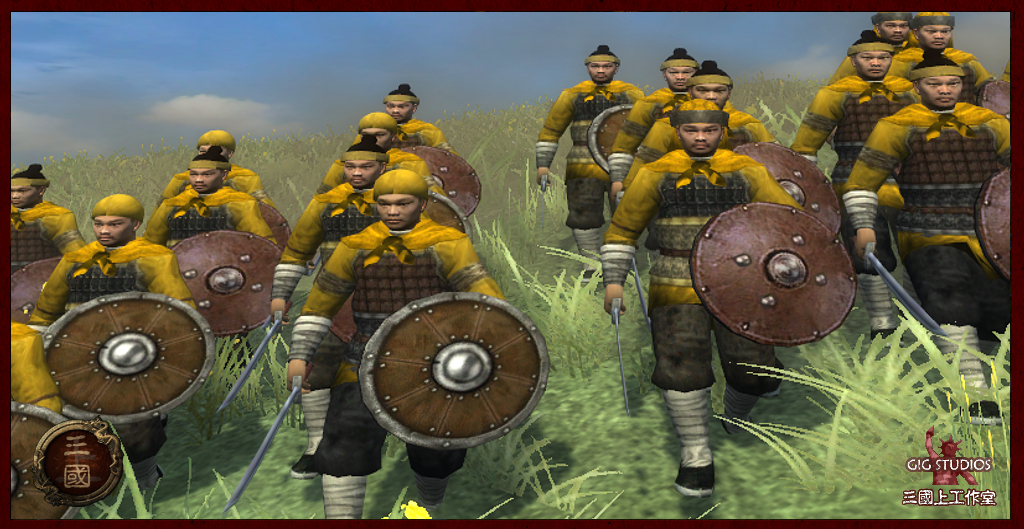 Outside of the enhancement to regional diversity in Han soldiery, a ton of other minor changes were made for the version 4.4 Update. Unit cards and info pics were updated for all of the units that had their appearance changed, Hereje's beautiful High Quality Sky Textures Project 1.0 was incorporated as some good eye candy, diplomacy values were modified to make the AI accept becoming a protectorate under dire circumstances, a script was added to make the Xianbei more active (than sitting around doing nothing all game), starting rebel garrisons were overhauled by region, and Han captain strat models were recolored to make them match their associated faction. All-in-all a lot of quality of life improvements were included and can be found throughout this update.
The version 4.4 (Diversity) Update can be downloaded here and has instructions on how to properly install the patch (point installer at Medieval II Total War folder).
IMPORTANT NOTE: You must have both the Rise of Three Kingdoms 4.0 Full Release & RoTK v4.3 Update installed prior to installing the RoTK v4.4 Update. Also, as usual, the patch is NOT save-game compatible.
Happy gaming!