Spain, 2039
Good afternoon, ladies and gentlemen. This is Eric Brice, reporting live for ECAN News from the sunny province of Granada, where we are about to witness a truly historical moment. The large peculiar building you're seeing behind me is Europe's first solar-fusion reactor, which will be ceremoniously activated by Adriana Menendez, the President of the Spanish Government, within the next minutes. But before we get to that, please allow me to give you a quick 'tour' of this magnificent facility.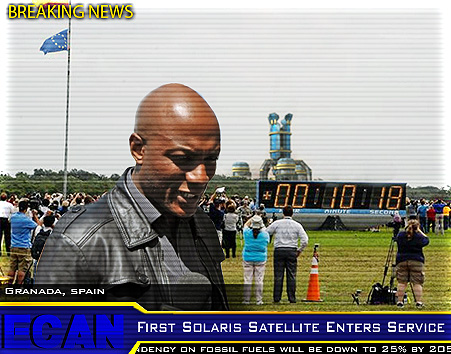 Dubbed 'Ciudad del Sol', City of the Sun, by the locals, the Granada power station is a marvel of modern engineering. Several hundred kilometres worth of road infrastructure and an even greater length of high-capacity power lines have been laid out around the facility, which consists of more than twenty individual buildings that contain control stations, research laboratories, offices and staff quarters. Deep down, in the shielded underground centre of this imposing structure lies the heart of the entire complex: The solar-fusion reactor. Professor Herbert Lasche from the university of Munich is one of the senior advisors of the Solaris project. He gave me a brief explanation of how it works earlier today:
"When Mrs. Menendez pushes that symbolical button, we in the control centre and our colleagues over in French Guiana receive the green-light to initiate a three-stage-process. Stage one: The ESA folks activate 'Comas Solá', the first Solaris satellite that is already placed in orbit, and use its collector mirrors to focus a sharp beam of highly concentrated sunlight directly onto our facility. Stage two: The beam enters the ground station through the large shaft on top, which is lined with solar panels all the way down to the core. Those alone could produce enough electricity for the entire province. Now, stage three, that's where the real miracle happens: The energy produced by the panels is then used to power our fusion reactor. That's basically a large, doughnut shaped ring wrapped in electromagnetic coils. Inside that chamber, we create a plasma field at extreme temperatures and pressure and use these conditions to fuse hydrogen isotopes into helium, whereupon an even greater magnitude of heat is produced, which we then transform into useable electricity via a set of special turbines that runs underneath this entire area. In layman's terms, this isn't just a powerplant that feeds sunlight into solar panels...It is essentially a miniature version of the sun itself - on Earth."
You referred to this machine as a fusion reactor. But Professor, how is this different and more advanced than the cold fusion reactors that the United States have been using for several years at this point?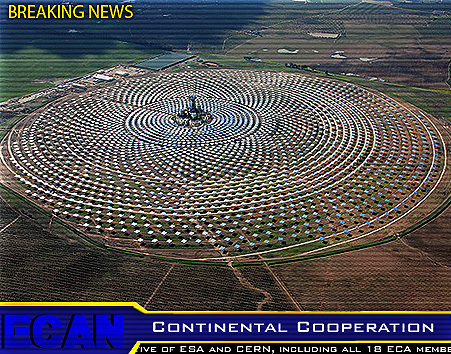 "I get that question quite often. You see, without wishing any offence to the American colleagues, the system that they created is not exactly 'cold fusion' as most people would imagine it from sci-fi shows. That was one of those catchy PR terms that the folks at National Atomics decided to throw in there for marketing purposes. Every American scientist worth his salt cringes at the use of that term just as much as we do. No, what they basically did was build a much smaller 'doughnut' that runs on the most basic hot fusion reaction, at the lowest possible temperature and pressure, that is sustained by a regular nuclear fission reactor. Those so-called field generators that entered service with the US military decades ago are actually just feed stations containing a truck-sized replaceable battery that is merely charged by one of these reactors safely behind the frontlines, but I guess the idea that this is actual cold fusion just caught on, kind of like that whole 'god particle' thing..."
Once the facility runs at full steam, it could theoretically produce enough energy for the whole Iberian peninsula. But instead, the electricity will be fed into the joint continental power grid and spread across the entirety of Europe. In the long run, the Solaris project entails the installation of one such facility in every larger European country. ESA is optimistic that, should 'Comas Solá', the first satellite, enter service without incident today, the next two satellites, dubbed 'Cassini' and 'Kepler', will also be launched this year, with another batch already under construction. Over the coming years, the Solaris energy project will achieve nothing short of total self-sufficiency for the nations of Europe thanks to this virtually limitless supply of highly efficient, clean energy. On top of that, the scientists are already exploring the idea of using modified satellites to project sunlight onto large, fully automated farms for an increased agricultural production and there's also the possibility of 'lend-leasing' Solaris' services to countries outside the ECA such as in Eastern Europe or the North African protectorates...
Okay, I just got the word that President Menendez is now going to push the button. This was Eric Brice, reporting live from Granada, Spain for ECAN News. Let's conclude this exciting moment by letting the pictures speak for themselves, ladies and gentlemen...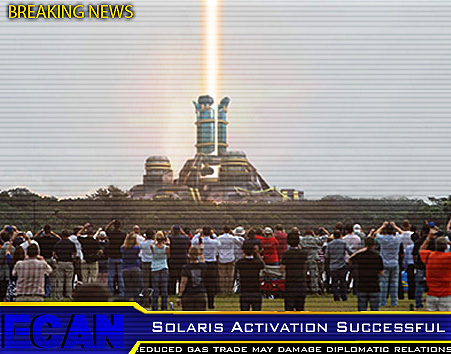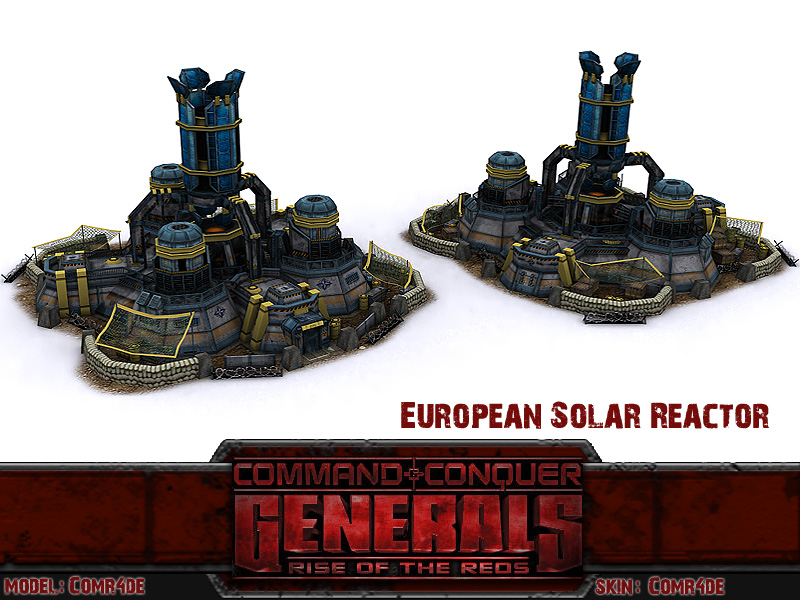 This structure houses a more compact version of the ECA's world-famous solar-fusion power plants. Heavily sheltered under multiple layers of lead-reinforced concrete lies the reactor which receives its operating power from what was originally a downsized 'lend-lease' model of a Solaris satellite. While not quite as powerful as the full-scale civilian reactors, a single -one- of these power plants produces enough energy to sustain -every- European structure in an entire front sector. Therefore, the construction of multiple reactors at a time is neither necessary nor feasible since a single reactor alone still requires a rather large crew of professionally educated technicians, many of whom aren't entirely willing to operate these facilities in the middle of a raging battle. In order to protect them and the equally vital structure they reside in, the outer shell of the Solar Reactor comes equipped with three hardpoints that can be used to mount defensive weapons, for the loss of this vital structure may result in blackouts across the entire sector.