Hello everyone,
I'd like to report that due to the size of changes of our new patch and the fact that some of our developers have had RL stuff to take care of outside of modding we've experienced a few delays for development of the patch.
Because of this we decided to do another public beta testing round so that we can iron out all the problems (like we did before shortly after the 1.8 release back in 2013).
What does this mean?
Basically everyone on the forum will be able to access a new section in our main forum (when it comes online) in which you can download a "Test Build" of our new patch.
In this new forum you can also post feedback and it will likely receive regular updates every few days to fix errors and adjust gameplay to how we feel is most appropriate.
We've put together a basic FAQ here which we hope would answer most of your questions regarding public testing:
Q: When does this public testing phase begin ?
A: Although we cannot answer exactly when, the expectations are sometime next week (first week of May 2015)
Q: How long will the building beta testing phase be?
A: As long as it takes to iron out most of the problems and ensure that all features are working and used as intended.
Q: Can I still get the Test Builds If i'm not registered on the forum?
A: Technically not but you could always ask someone who is registered to give you a link or download directly. (although we would appreciate if you do register since otherwise you will not be able to give feedback)
Q: Are the Test Builds standalone or do i need any other files ?
A: Although the Test Builds use their own launcher and files it still requires the latest public release of Rise of the Reds V1.85 to work properly.
Q: Will these Test Builds mess up my regular public release of Rise of the Reds?
A: No, they shouldn't do that but as with testing early products there may be some problems that aren't ironed out yet so use it at your own risk.
Q: If I want to play multiplayer will I run into problems because other people will not have the Test Build installed?
A: No, the Test Builds will run on their own separate version of SWR.net and you will not end up in the same lobby as other people (this version of SWR.net is temporary and will only be used during this phase)
Q: When the proper version of 1.851 is released do I need to uninstall the Test Build of it?
A: Technically not but its still recommended as its no longer of further use.
Now thats out of the way onto the good stuff for this update: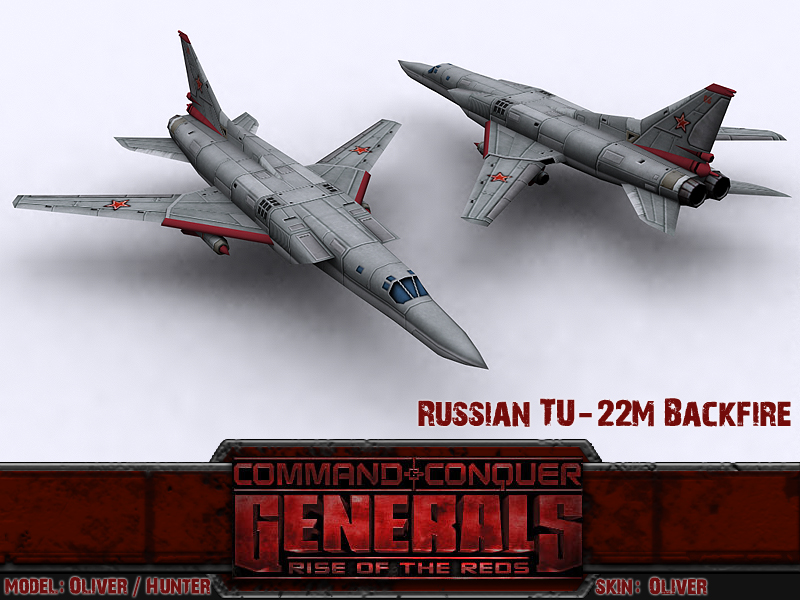 Introduced in the early 1970s but perpetually modernised over the decades, the Tu-22M serves the Russian Air Force as a strategic strike bomber. Its variable wing geometry and powerful engines allow the Backfire, as it is still called and feared by the Americans and Europeans alike, to reach the battlefield upon a General's request very quickly, where it then delivers its deadly payload of cruise missiles in order to punch a hole into the enemy line. During the first days of the Russo-European War, several squadrons of Backfires, escorted by Berkuts and Sokols, bypassed the inadequate European air defences on the Scandinavian peninsula and raced across the North Sea, towards the strategic port of Rotterdam. What followed was an attack that would attain infamy as the 'European Pearl Harbor', as the Backfires obliterated much of the port together with the multinational fleet that was still preparing itself for deployment: When the Russian planes made their get-away a mere half hour after the first volley of missiles had struck into the French aircraft carrier Villeneuve, the Europeans had effectively lost three of their Sovereign-class battleships, several destroyers, frigates, corvettes and submarines as well as a half dozen supply vessels, painfully proving that the Backfire would remain a force to be reckoned with as the war exploded across Europe.
We actually wanted to give you a visual update for the Backfire with the release of 1.85, but the model was not finished in time. Now, you can expect this beauty to make an appearance in the upcoming patch.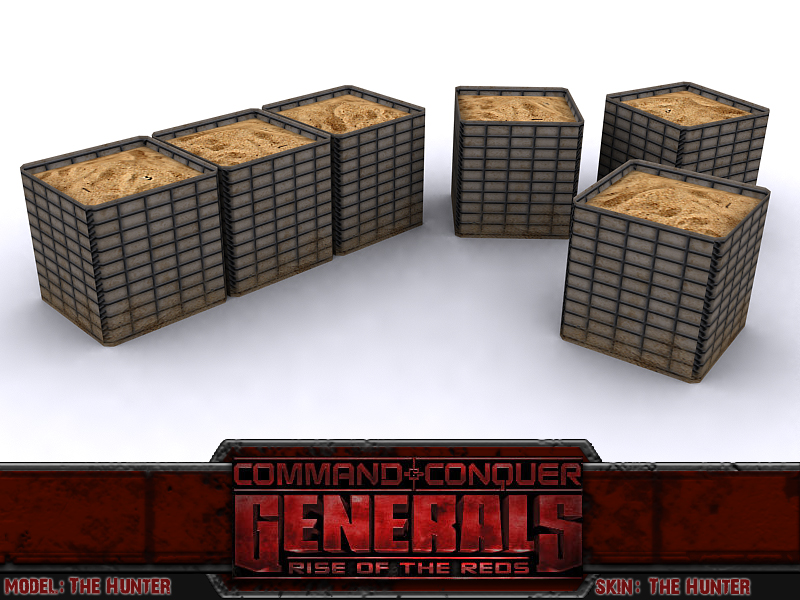 Upon request by the community, we have decided to add these deployable sand bastions to the Worldbuilder. These objects are completely inert and purely cosmetical, but should come in handy for those interested in depicting a large military base on a map of their own design.
Also this upcoming sunday we will be doing a special stream featuring the internal version of Patch 1.851 rather than public games.
We will also likely disscus some details about the public testing we mentioned earlier and you are also welcome to ask questions in the chat regarding it.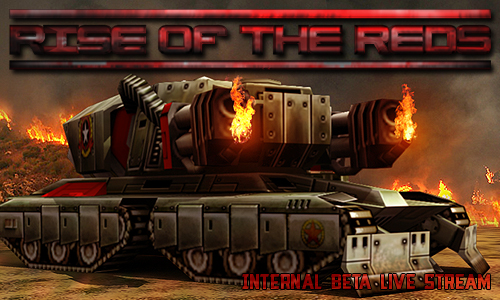 Countdown until the stream starts
Also, in case you missed last week's stream, you can check it out on our Youtube channel here and here