Okay, so, I didn't mean to lie about frequent updates, that just kind of.. happened. Returning to Mod DB frequently proves to be a hassle and Discord became incredibly convenient and as such that is where every further update has been dominantly showcased.
To make up for that, though, this article will serve as a mega-post detailing every major event that has happened with the game since the last post of March 29, 2019 (2.73 years from today), in chronological order.
Let's get started.
---
Ray Gun
Captured on 10 Sep 2019
In September of 2019, the Ray Gun was (mostly) fully restored, with a new model made by @DerpedCrusader. There has also been some attempt made at faithful FX, though this is currently only in the PSP builds of NZ:P at the moment and is currently unfinished.
---
Zombie Improvements and Parity
As of October 2019, zombies were brought up to snuff across all platforms (meaning on PC gibs properly work). Efforts were also made to target accuracy with spawning rates, spawn delays, health algorithms, etc. to fix an underlying issue with NZ:P's difficulty curve.
---
Better Custom Maps Menu & Menu Parity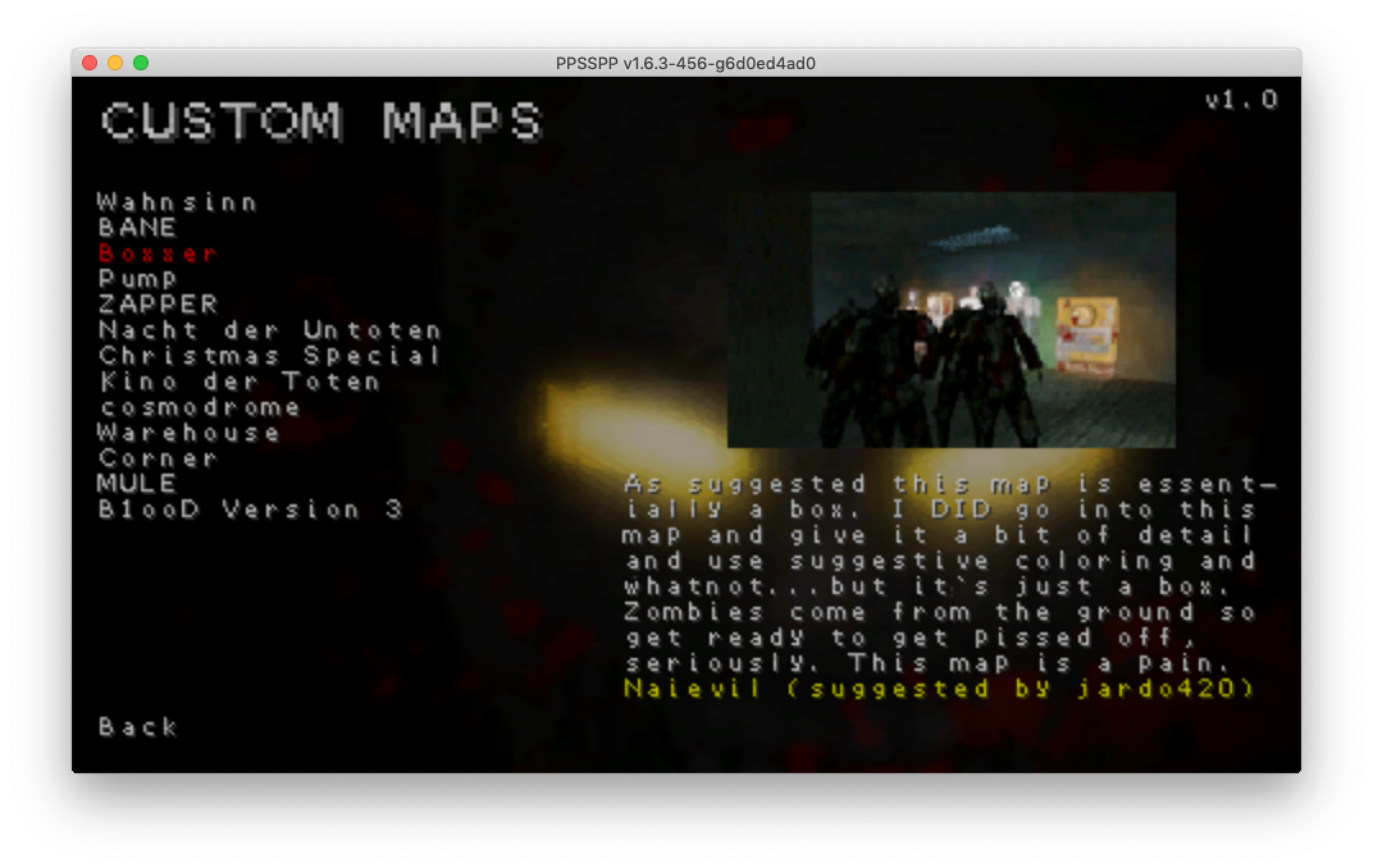 Taken on 26 Apr 2021
Starting in February of 2020, effort on menu parity across platforms was made, as well as work on a new Custom Maps menu designed to allow for mappers to have a custom map title, description, thumbnail, and self-credit section drawn when highlighted.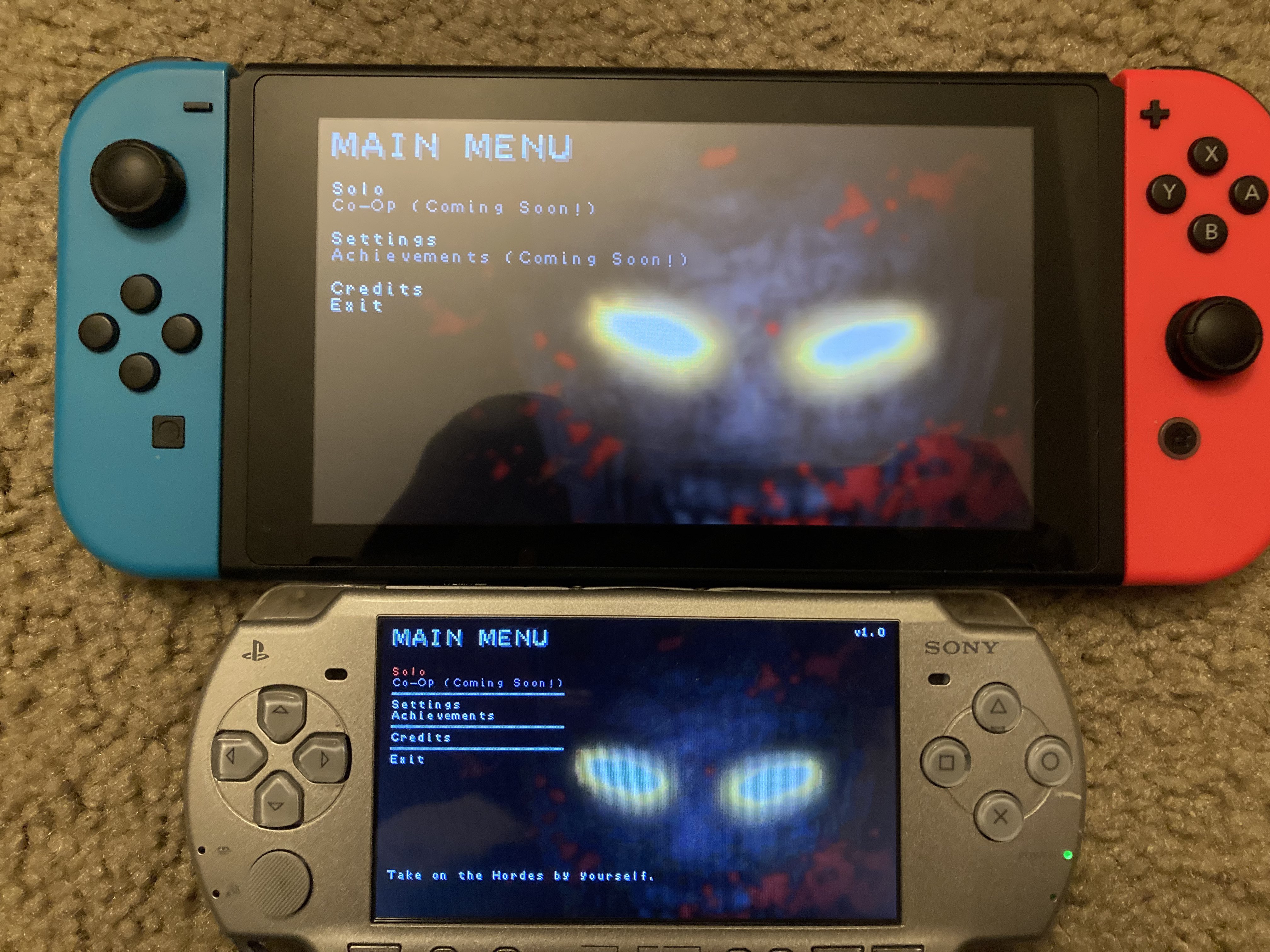 Taken on 22 July 2021 (Unfinished at time of photo)
---
Mule Kick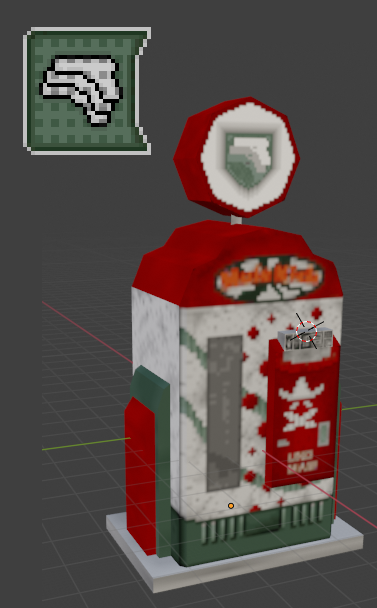 Taken on 23 Mar 2020
Mule Kick was added, completing the line-up of perks from World at War and Black Ops! This brought the total perk count up to 8. Not much else to say really, lol.
---
Hellhound Restoration
Captured on 12 Apr 2020
In April 2020, Hellhounds were added back into NZ:P Reboot! They are pretty much accurate to World at War, including round rarity and the 'fire' variants.
---
M2 Flamethrower
Captured on 13 Apr 2020
Also in April 2020, the M2 Flamethrower had its functionality added, and unlike in NZ:P beta, functions near identically to how it does in World at War! Choose to create a ring of fire on the ground or blast Zombies directly. Framerate may vary.
---
Wunderwaffe DG-2
Captured on 12 Apr 2020
The Waffe also got some love in April! Not much to say about this really.
---
Achievement & Loading Tip Competition
In late April of 2020, a "competition" (most entries were added) was hosted for Achievement and Loading Tip ideas. Most have been added but work on this is still on-going.
Full Loading Tip Entry List:
Removed Herobrine
Pack-A-Punch the Kar98k to get to Round infinity
I feel like I'm being gaslist
Heads up! You will die if you are killed!
Zombies legally can't kill you if you say no
Please help me find the meaning of :awoo:. Thanks.
MotoLegacy, or "Ian", is from Ohio.
Get rid of the 21% cooler tip, it's an MLP reference.
You're playing on a <Switch/PC/Vita/PSP>!
Don't leak the beta!
Full Achievement List:
Ready.. - Reach Round 5
Steady.. - Reach Round 10
Go? Hell No.. - Reach Round 15
Where Did Legs Go? - Turn a Zombie into a Crawler
The F Bomb - Use the Nuke Power-Up to kill a single Zombie
No Perks? No Problem - Survive an entire Round without Perks on Round 15 or higher
Dipsomaniac - Hold all Perk-A-Colas at once in a single Game.
Oops! - Die from fall damage
Abstinence Program - Survive to Round 10 without taking any enemy damage
Pro-Gamer Move - Die on Round 1 with no Ammo remaining
Spinning Plates - Keep entry points Barricaded all the way to Round 10
Unlucky - Have the Mystery Box move 10 times
The Collector - Buy every weapon off the wall in a single Game
Barrels 'o' Fun - In Nacht der Untoten, kill 15 Zombies with Explosive Barrels
It's a Trap! - In Kino der Toten, kill 5 Crawlers with the use of 1 Trap
Up-Link - In Kino der Toten, teleport to the Pack-A-Punch 5 times in a single Game
Undone - Survive a total of 150 Rounds on Nacht der Untoten
Moviegoer - Play 10 total Matches on Kino der Toten
C'mere, Cupcake! - Kill yourself with your own Grenade
Orbital Strike - Kill 5 Zombies at once, with the Panzerschreck, while in the air
A House Divided, Multiplied, then Subtracted - In Nacht der Untoten, reach Round 10 without going upstairs & without fixing Barriers, then go upstairs & allow those Barriers to be Destroyed
Colt-Hearted Killer - Reach Round 10 using only the Colt M1911
Cannot Cache and Carry - Collected a Max Ammo power-up whilst already being at fully ammo capacity
Divide and Conquer - Turn all Zombies into Crawlers in a single Round
Touch Luck! - Die before reaching Round 5
All are one with Greg! - ???
Slasher - Perform 100 total Melee kills
Made by Children - Get a Zombie stuck for 5 minutes
Increase Your Firepower! - Use the Pack-A-Punch for the first time
Kraut Got Your Tongue? - Get 25 Headshots
Mindblowing - Get 250 Headshots
Big Thanks to Explosions - Kill 10 Zombies with a single Grenade
Mystery Box Maniac - Use the Mystery Box 20 times in a single Game
Instant Help - Get 100 total Kills with the Insta-Kill Power-Up
Blow the Bank - Earn 1,000,000 Points
..Why Are We Waiting? - Stand Still for 2 minutes
One Clip - Survive a Round using the MG42 and without Reloading
Twenty-Twenty-One - Land 20 Headshots, with 20 Bullets, with one Clip
Getting Warmed Up - Earn 10 Achievements
About Half-Way - Earn 20 Achievements
I mean.. it's Passing - Earn 30 Achievements
Over-Achiever - Earn all 42 Achievements
Big thanks to the following people who made this happen:
Derped_Crusader
TheSmashers
Chyll
mfFlamist
mario135790
Mission
RedneckHax0r
Revnova
EpicFoxx64
Detwyler_
DisrespectfulOtter
xnick2222x
greg
Omar Alejandro
Cosmicrush
blubs
Bernerd
BCDeshiG
yasen
Aidan
---
Nintendo Switch (NX) Build
Captured on 05 Oct 2019
In May of 2020, the Nintendo Switch build of NZ:P came out of a hiatus and received several polish updates and came to a state of near-playability. Work is still being done on the port, but it is available in it's entirety on the NZ:P GitHub page. Big thanks to Naievil for having maintained and being responsible for the NX build for so long.
---
HUD Improvements
Captured on 03 Jun 2020
June of 2020 began some OCD-level improvements to the HUD. Including restoring the world and 'Round' text added in the Unofficial Patch - Crosshairs now color red when facing an enemy, and slowing fade out when moving.
---
Entity Expansion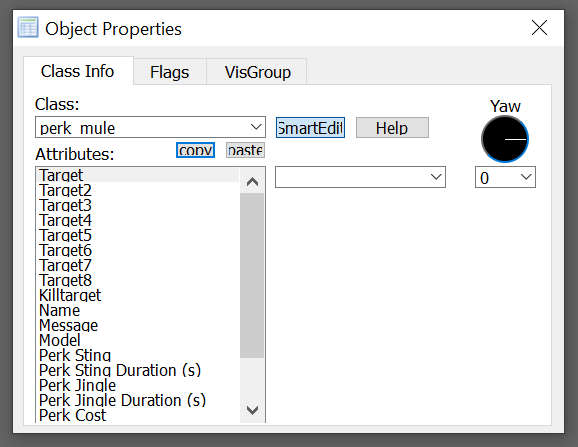 Taken on 07 Dec 2020
In late 2020, efforts began on allowing for mapper-led customization of various entities such as Perks, the Pack-A-Punch, and Barricades. For example, mappers can now change the model, cost, and animations for Perk machines, and even add custom jingles.
---
This concludes every major feature update that is currently fully implemented into the project. Below are features that are currently being worked on and not yet finished and pushed to the master GitHub branch!
---
Navmesh Pathfinding Generation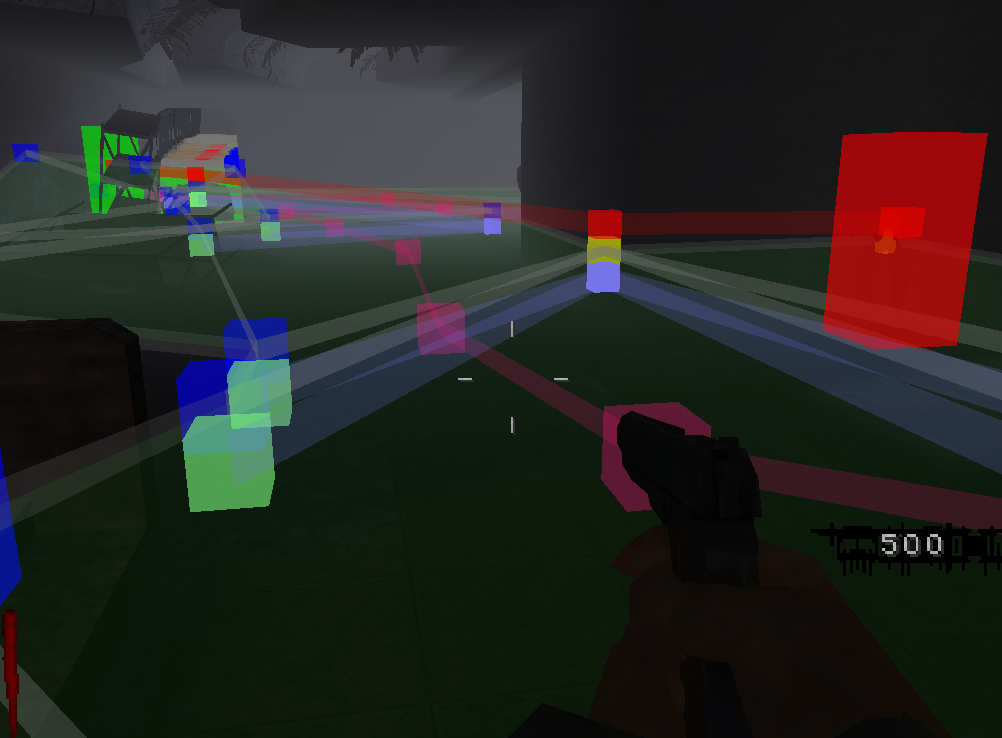 Taken on 16 Oct 2021
Auto-generated Navigation Meshes are a proposed successor to the current manual way-point style of pathfinding existing in NZ:P. Handled by blubs himself, the hopeful end-goal is to have fully-automated generated navmeshes on PC that can be used on all other platforms. Currently there are only a few remaining bugs before it is considered completely functional on PC, then progress will be made porting it to PSP and NX.
---
Data-Driven Weapons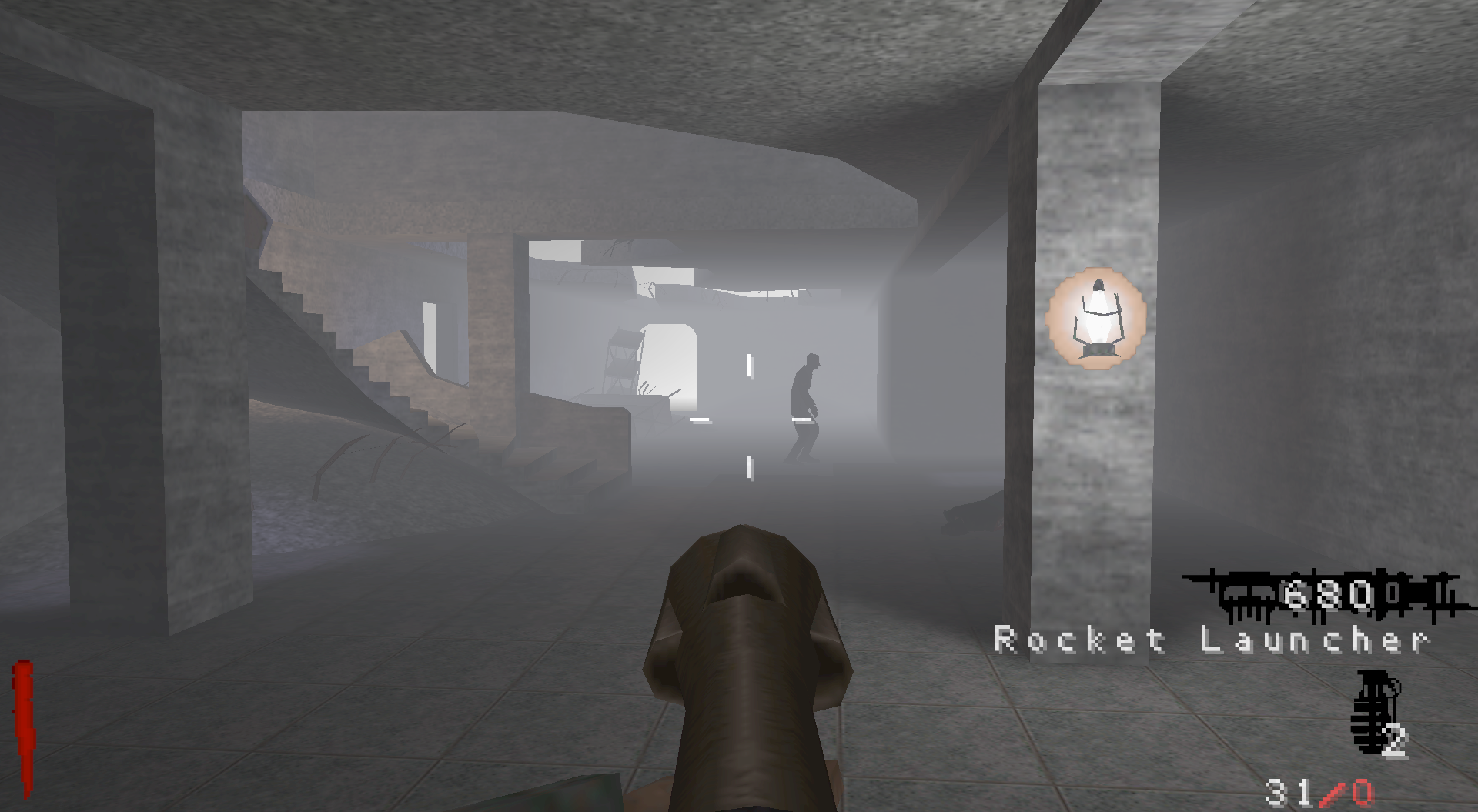 Captured on 11 May 2021
Data-Driven weapons are, put simply, custom weapons that are read from a file when the game/map starts up. This will allow for mappers to have any weapon they'd like in their map (provided they have the assets made, of course). Whether that be an idea from an existing game, or a new unique weapon entirely, it should be possible here (with some limitations, that will be open to lifting upon initial completion).
---
.NZD Files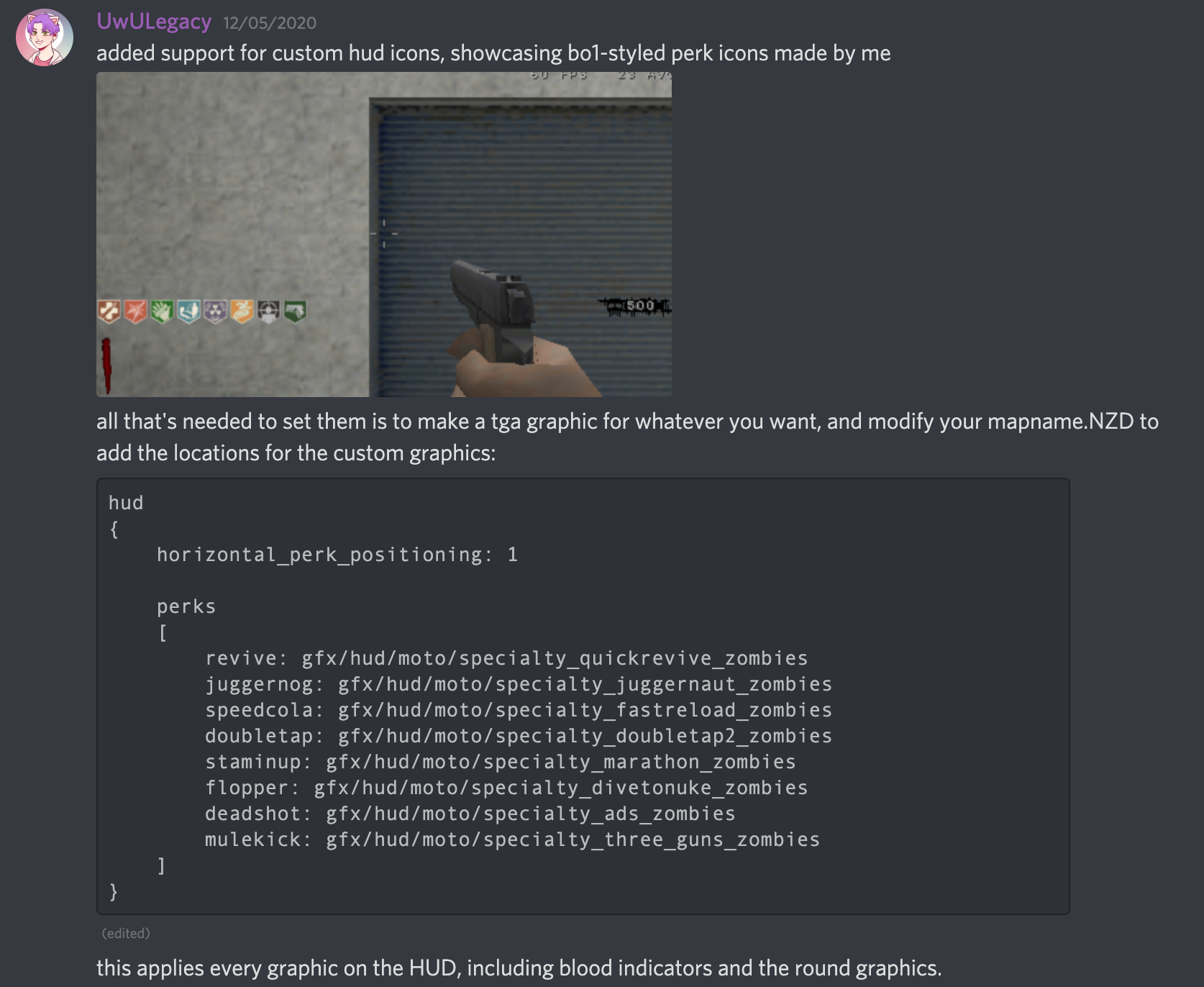 Taken on 05 Dec 2020
.NZD files are another new play-thing for mappers to experiment with. They provide the ability to change most things about the game, like zombie health/speed, Power-Up rotation, starting points, and even some HUD customization abilities. Beyond this, there is still much more to come in the future!
---
NZ:P Beta Map Compatibility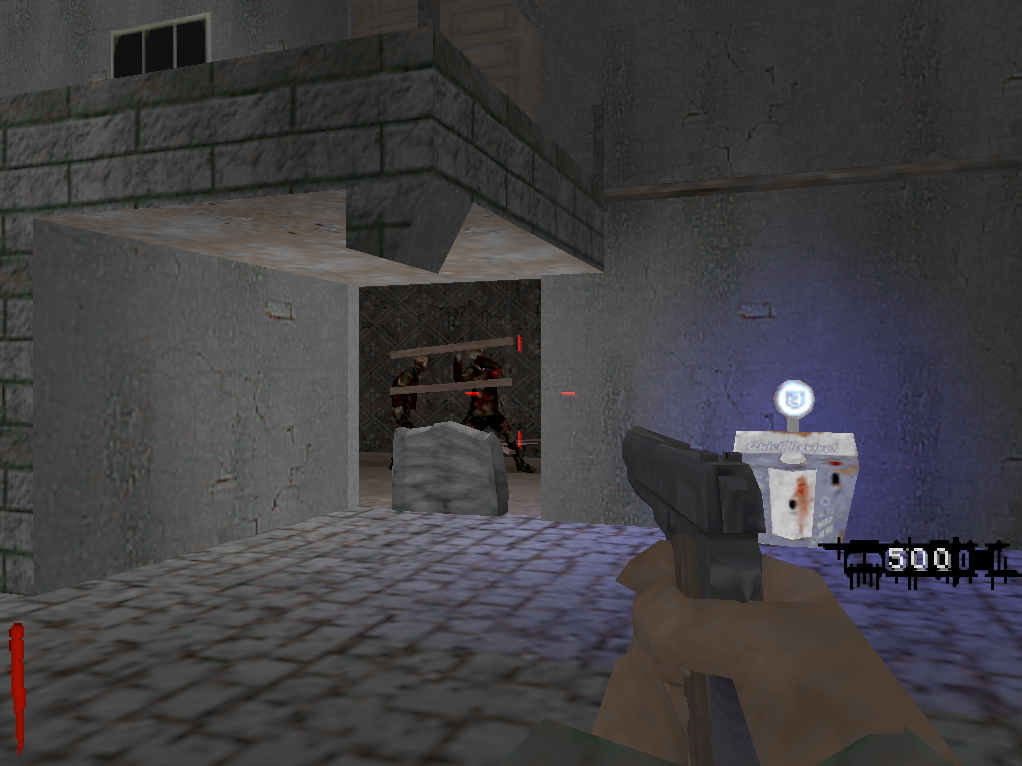 Taken on 03 Oct 2021
Efforts are being made to bring compatibility with NZ:P Beta maps to NZ:P Reboot! Player size, old entities, etc. are all adjusted and converted on-the-fly in an effort to have seamless support for both old and new map styles!
---
Maps, Maps, Maps!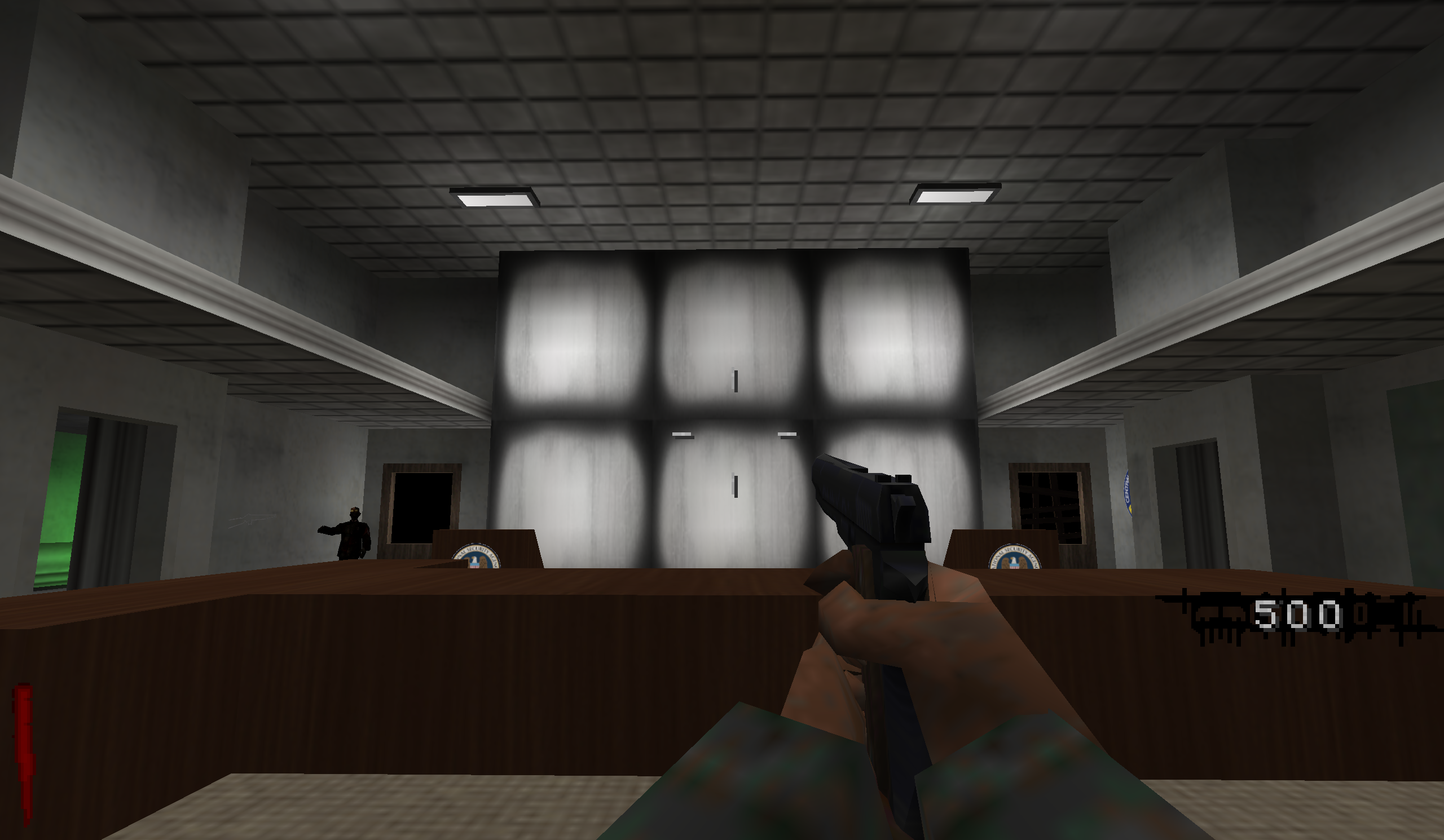 Taken on 25 Sep 2021
New maps are being worked on! Efforts are being made on updating Nacht der Untoten, Warehouse, and Kino der Toten, as well as the development of Shi No Numa, Five, and Verruckt. Progress has been slow as getting the game itself ready is of a higher priority, but the developments of these maps is still worth stating.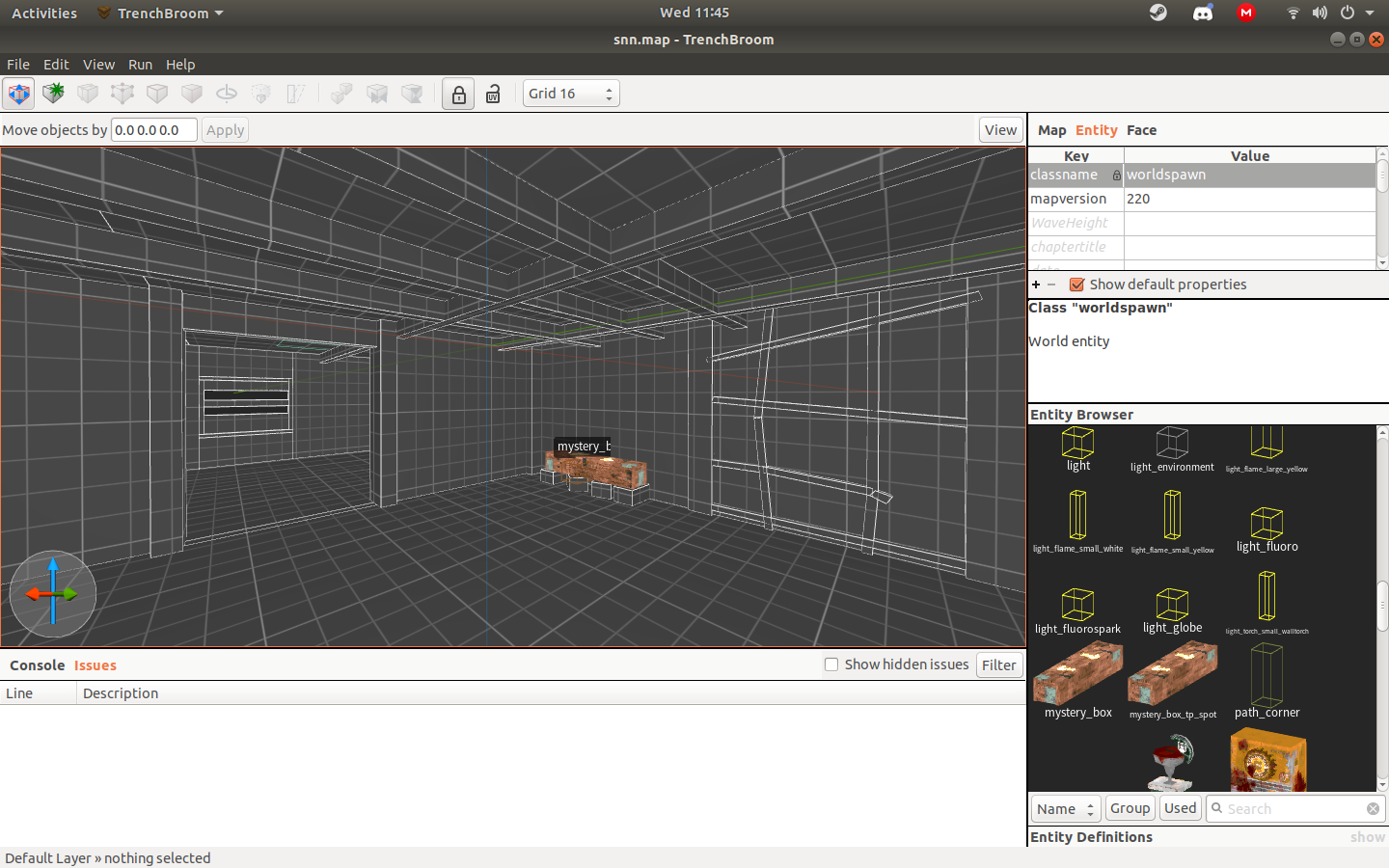 Taken on 25 Aug 2020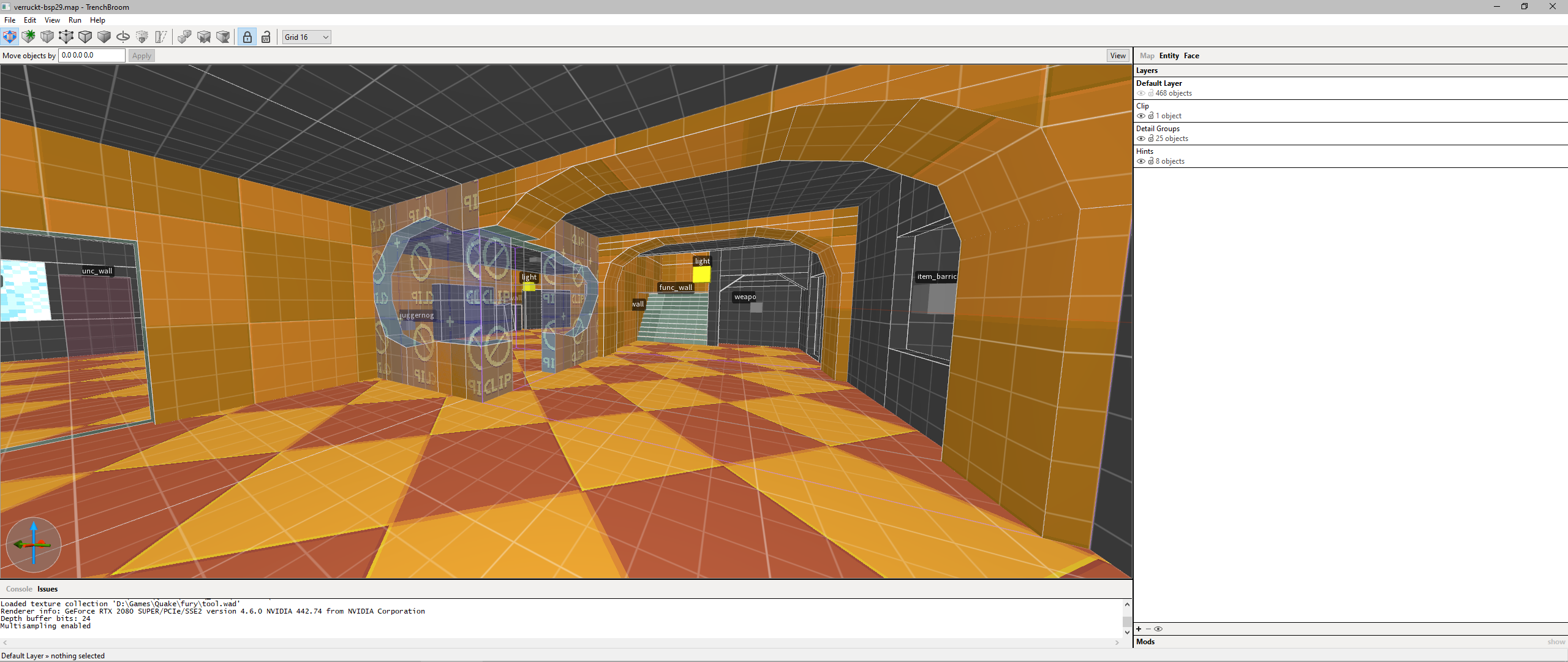 Taken on 20 May 2020
---
That is pretty much everything of importance you, as an end-user/fan, would care about revisiting this project. It is important to note though that there have been a lot more changes to the code including bug fixes, optimizations and general re-writes to make it easier for someone new to understand coming in.
There is one more thing to discuss, though.
---
WhErE iS tHe ViTa PoRt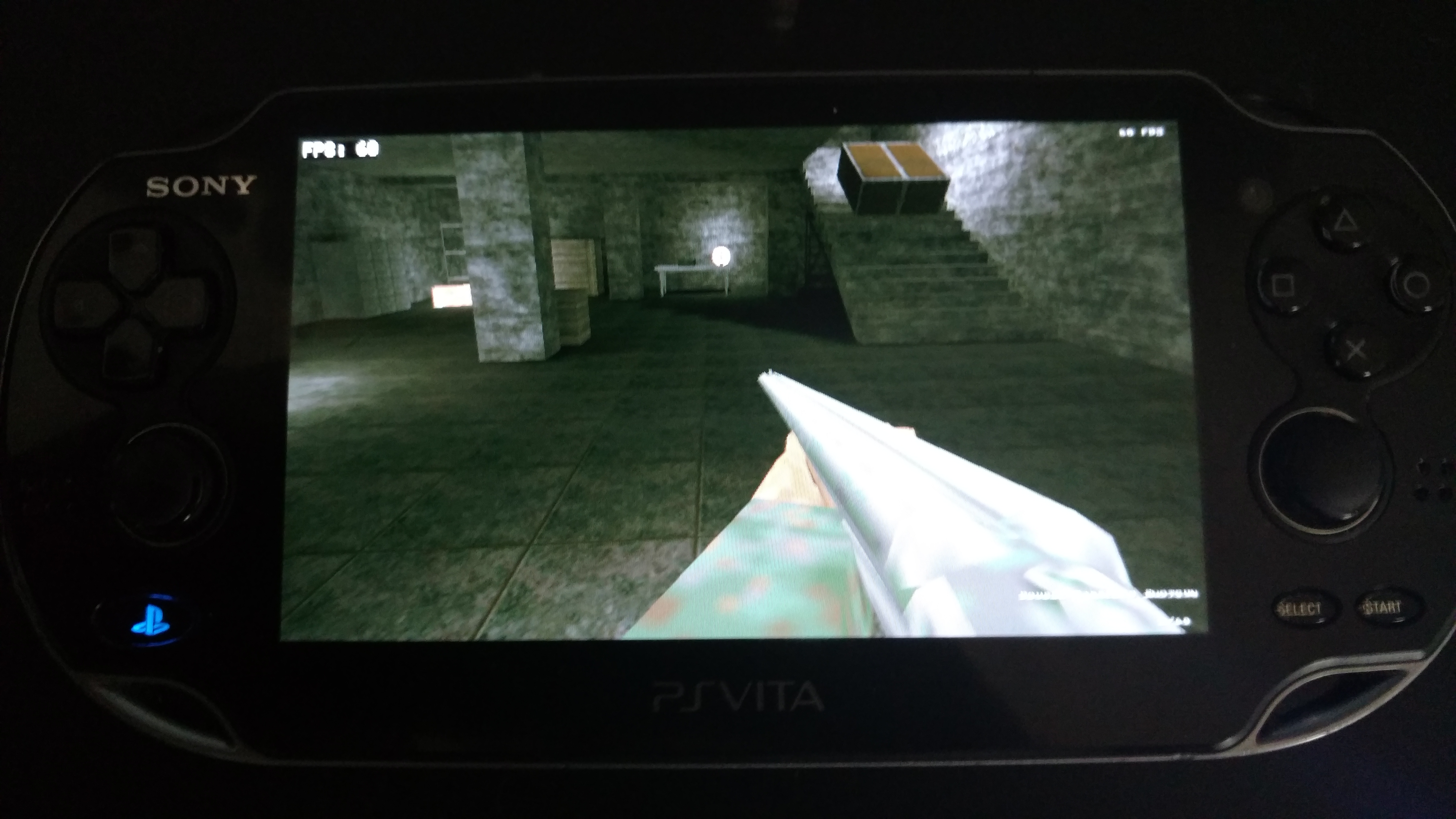 Taken on 20 May 2019(?????)
It became increasingly clear while working on the Vita port of NZ:P Reboot that I personally was unqualified at the time and working on porting a project while it is in rapid development is not a good idea. With that said, the Vita build stopped receiving attention shortly after the progress post was made.
Regarding the Vita, the current plan is to get the PC, PSP, and Switch builds of the game on-par with each other and near a state of completion. At that point, instead of going back to port a native Vita build, I decided attention would be better suited toward adding support for the Vita's features to the PSP build itself (such as the resolution bump and support for the second analog stick).
It may be that later down the line a proper PS Vita build will come, but it is not a card in my deck at the moment.
---
Closing
I'll try harder to update those of you on further updates to the project. Though I won't make promises, I am clearly really bad at those, lol.
I once again recommend that if you'd like to stay up to date on the project, to join the Discord. Everyone there is really cool, and we have a channel linked to the GitHub that'll have a message posted whenever an update has been made. No pressure, though.
- MotoLegacy