All fans, pay attention to this! The RC Mod will have an easy way to let you choose which mode of gameplay you want! We know some prefer BFME 2 and some BFME 1, so we combined the two! Just at the click of a button you can choose either mode!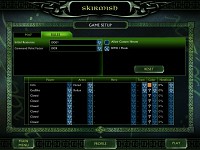 In the BFME 1 mode you will have buildplots and expansions and all the stuff you had in BFME 1. BFME 2 mode will be the game mode you are used to, the normal way of playing in BFME 2.
You start with nice Castles or Camps in BFME 1 mode!
The 4 basic faction's camps and castles have already been made! In the next release all the other factions will have camps and castles too! To finish off here is a nice movie to look at the Gameplay!
Xfire.com
So... You all have seen what the mod's new gameplay will be like... Lets see if you can wait till a new release!
---Other News----
Men of the East

And here's a video showing the Improved CAH System
Xfire.com