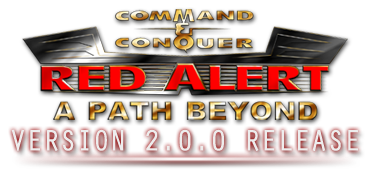 Red Alert: A Path Beyond, after a couple years of development, has published another major release, called Gamma. Many of the things you have come to know from our previous versions will be new and different. Gamma has quickly turned out to be one of the most popular versions we've created.
In order to play Red Alert: A Path Beyond, you should run the "Red Alert - A Path Beyond Launcher" tool from the Start Menu (or, if you didn't install Start Menu shortcuts, you should run apblauncher.exe in the main folder of the game). There, you can adjust game options and browse for servers, as well as view the manual and latest news about the game. The desktop icon, if you chose to install it, will also run the launcher.
Major Changes in Gamma
-The Tech Level system has been implemented. As a game progresses, you will gradually gain access to new infantry and vehicles to purchase. Please read the manual for more details.
-Engineers can now detect nearby enemy mines, which they will hear pinging.
-All semi-automatic weapons (the Makarov PMM, M92 Beretta, Silenced Beretta, Colt .45, and Dragunov SVD) now require you to click for every shot.
-The Spy is now armed with a Silenced Beretta, which is similar to the normal Beretta but is much quieter and does not display a kill message.
-Several support and commando infantry have been equipped with binoculars for long-range reconnaissance.
-It is no longer required to kill Ore Silos or Tesla Coils to win a match by base destruction.
-Medics can now heal other Medics, but not themselves.
-Mechanics now repair at a constant rate; they repair vehicle health much more slowly than vehicle armor.
-Mechanics heal any vehicle they occupy at a slow constant rate.
-The Mobile Radar Jammer now produces ear-splitting sounds when jamming the enemy's radar. Fun!
-New unit: Soviet RPG Trooper. Available at the start of the game for $300. His RPG-7 has two firing modes: anti-vehicle, which fires in an arcing trajectory, and anti-air, which travels for a long distance in a straight line. Anti-air projectiles do not damage other units very well.
-The Tesla Tank and Shock Rifle must charge up for a short time before firing; hold down the mouse button to charge.
-Every single projectile and explosion in the game has been redone.
-Many of the sounds in the game have been redone (and new sounds have been added where there previously were none).
-Most sounds in the game can be heard from much further away, especially helicopter engines, sniper rifles, and explosions.
-Completely new HUD that features a longer-range radar.
-Every map has been redone so that the terrain looks smoother and has much more vegetation.
-Many projectiles can be heard as they whizz by.
-Most of the base defenses have been redone and now feature elaborate destruction animations.
-23 maps, including 7 brand new maps.
SYSTEM REQUIREMENTS
In order to play Red Alert: A Path Beyond, the following system is required:
Pentium III 500 Mhz or equivalent
RAM: 128 MB
Video Memory: 32 MB
Hard Drive Space: 900 MB
In order to play the game at full detail (but with shaders disabled) the following system
is recommended:
Pentium IV 1.5 Ghz or equivalent
RAM: 512 MB
ATi x600 or nVidia 5 Series
In order to play the game with shaders enabled, the following system is recommended:
Pentium IV 2.5 Ghz or equivalent
RAM: 1 GB
ATi x800 or nVidia 6 Series
CONTACT INFO
Questions? Comments? Log on to Apathbeyond.com and sign up for an account! We can always use new members, and are (generally) a pretty friendly bunch. Be sure to NOT ask us to delete your account when you sign up.