For those who missed it, our last update showcased the upcoming UN Peacekeepers faction. Our next update will show off even more of the UN. This update, however, is all about what's new for the 'Guardians of Islam' in Release 2.
Before we get into that, we've compiled a handy reference list of what'll be in our upcoming release in a Release 2 Preview article. Note: It doesn't include any of the UN additions (which are substantial).

The Ifrit Tower
One of the main wishes people have had is to give the GOI better base defenses. In addition to buffing the GOI Flame Turrets, we've implemented a new one...the Ifrit Tower. This is a high cost (both in money and fuel), high tech requirement (needs both Internet and Guerilla Centers), toggle able defense structure.
In its initial wireless mode it cannot damage units at all. It does cast a short-term Mr.Stop on incoming enemy units. We're still testing exactly how it'll work (how long its Mr.Stop lasts, how many units it can Stop at once [its not AOE], etc.). The core idea will stay the same; in this mode it fires Mr.Stop shells.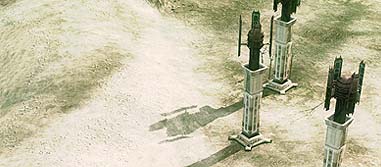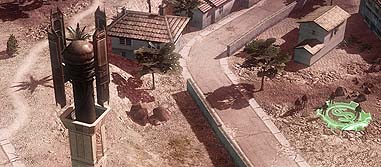 The Ifrit Tower's secondary mode allows it to deploy into a powerful missile turret. As of right now, both modes can fire on land and air.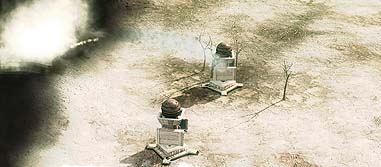 GOI Subfactions
GOI players can now select 1 of 2 subfactions from their Command Center, each representing a different political party. In the image blow, the top shows the default GOI Command Center and Warfactory. The middle of the image shows when you've selected the Progressive Party. The bottom shows when you've chosen the Remembrance Party. Here is a breakdown of what each subfaction does;
Rememberance Party
Unlock and allow the use of Martyrs
Unlock and allow the use of Demo Trucks
Allow use of a special power that turns all Jihadists in a small area, into Martyrs.
Progressive Party
Allows the use of the Jinn power
Allows the use of the Jinn's Wireless Tower bonus (still working on that)
Unlocks the Tunguska ability, an area Mr.Stop (when used, all nearby enemy units are hit by a short-term Mr.Stop)
Yes, this means if you pick Progressive you cannot build Martyrs or Demo Trucks...and if you pick Remembrance you cannot use Jinns.

VR Tags
The screen below showcases 3 changes over MEC2's first release;
"Target" tags, will appear above all enemy units. This was done specifically to help distinguish enemy and friendly units in mirror matches (GOI vs GOI, IDF vs IDF).

Veterancy is in, as well as the tags for it.

VR Tags are implemented. In our first release, when units were affected by the Jinn's debuff they had an icon pop up above them. We've expanded that system to include over a dozen buffs (shown as green icons) and debuffs (shown as red). We've found this to be extremely useful to know when say; your infantry are in medic range, when (as shown in the screenshot) your T-90's are in death hand range and when Desperate Measures is in effect.
Overall, these changes have given players much more information on hand about the units. Not only that but visually it ties into the whole "augmented reality" theme very nicely.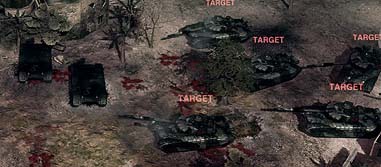 Upload your MEC2 Replays!
We've recently added a forum for users to post replays of their MEC2 games. Post your MEC2 replays up to show off your skills or get some tips from other players!
Forum member ProudTurtler has actually commentated a couple of the matches and uploaded them to youtube. Click here to check them out.