The Pre-Alpha Build
At Playthrough, we showed off a Pre-Alpha Build of the Apartment, Basement, and Roof Levels. These three environmental areas complete the first level of the INT Public Demo and introduces the player to the story of the INT Universe.
The build begins with a short prologue which explains the state of the galaxy in 2249. It is our intention to have a more engaging and cinematic opening for the final release. Following this, the player will experience a tutorial which introduces the player to our game mechanics, camera system, and movement controls. While this was not present at Playthrough, it will be introduced prior to our launch. After completing (or skipping) the tutorial, the player will meet their first companion and begin exploring the Apartment Level. The main goal of the level is to find an exit to the city streets.
The video of the build that we have uploaded runs for 8 minutes and only covers a portion of the level. Subsequent videos will be released at a later point which show greater amounts of gameplay. For this video, we wanted to show our fans who were not able to come to Playthrough, where we are at in terms of gameplay. Even in this early state, the game has a lot to play around with. In the video, you will see me testing some of the mechanics, looking over terminal entries, demo combat, engaging in dialogue, and demo a quest encounter. I hope you enjoy this first look at our gameplay.
Check out the gameplay video here:
Please leave feedback below on what you would like to see next and if you would like for us to release a test build for community feedback.
The Panel
At Playthrough, Dave and I (Justin) not only exhibited, we also had an hour-long panel about world building for a Sci-Fi universe. In the panel, we talked about creating an original Sci-Fi setting, plot/narrative, factions, planets, and characters. We have also discussed how you could approach this on your own if you wanted to create your own universe.
Unfortunately, due to a technical delay the panel video is unavailable at this time. We will try and have this ready for a subsequent blog update.
The Tubes: A Look Ahead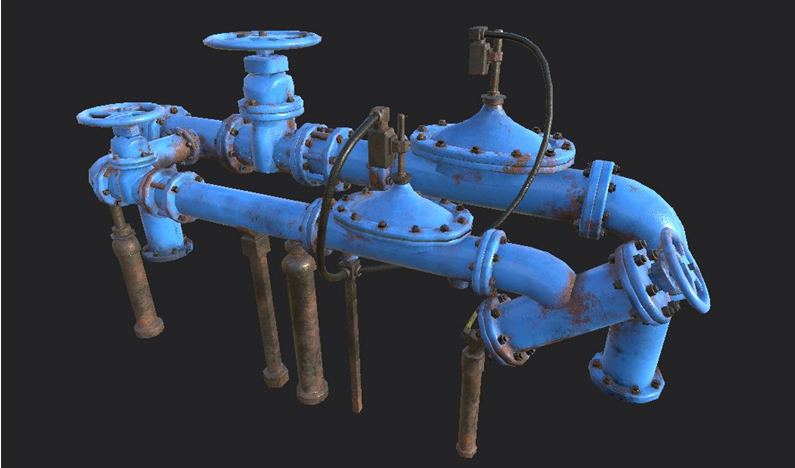 The Tubes is our next major level and with work being wrapped up on it we will soon be able to incorporate that content into our internal builds for team testing. While we do not have gameplay footage of the Tubes at the moment, we do want to show you what it looks like. Below you will find a video of the Tubes and you will be able to see how the environment has come together to form a dilapidated and broken down sewer system, which will be full of nasty encounters!
Check it out here:
Model Pack #1
In addition, to showcasing our new content at Playthrough and writing this update, we have also begun selling items on our Starboard Games LLC storefront. If you would like to support our development and developers, please check out some of our amazing products by following this link.
We have the Initiation comic (link) and Model Pack #1 (link). The model pack comes in two different formats, basic and deluxe, but either will allow you to purchase assets necessary to begin creating your own Sci-Fi adventure. I want to thank Monte for developing these files and the Starboard Games LLC team for being able to put them up on our website. Over the coming weeks we will begin uploading these assets up on other outlets including the Unity Asset Store and Blender Community.
Furthermore, please check out the Initiation comic which is for sale as well on our website and the third party vendor listed below.
Community Manager
With another major convention under our belt and new content being created on a daily basis including purchasable items, the need for a Community Manager has never been greater. If there are any interested individuals in the community who would like to work with us in the development of this IP and the creation of our indie title then please contact John (email below) for immediate consideration.
We are looking to schedule another con in the near future, as well as provide major content updates for the community on a timely basis.
Email: johnhr@int-game.net
Conclusion
I wanted to thank everyone for following us. Our updates have been sparse, we have been in the midst of preparing for the con, developing the game, and busy overcoming hurdles as they arise. The future is bright here at Starboard Games LLC and we know that Project INT will be a success. Please follow, subscribe, and join our community. Let us know if you want us to release something for the community to test and what your thoughts are on our major content updates in this review.
Thank you,
Justin
Project Lead
Starboard Games LLC