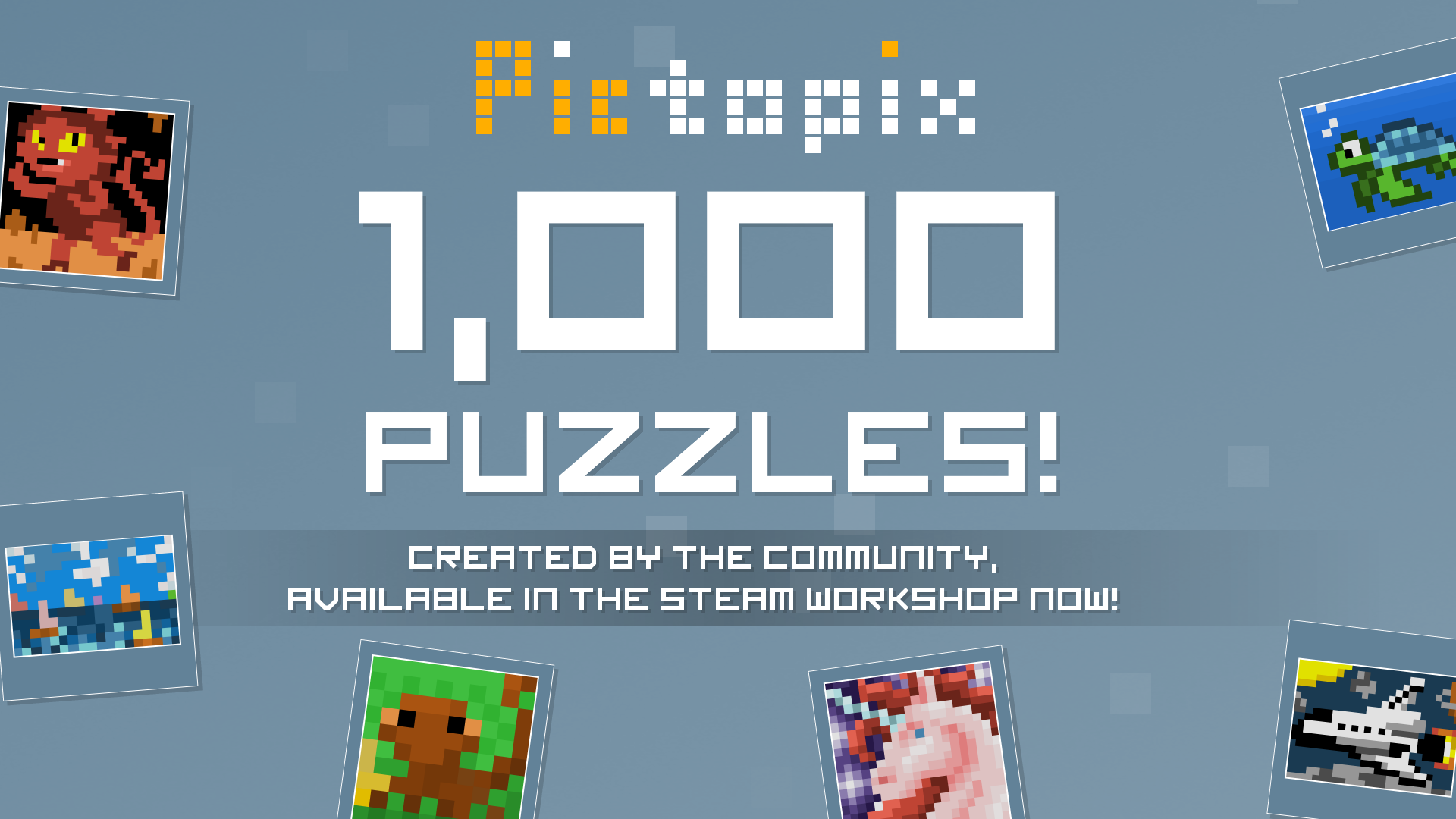 Hi everyone!

I'm really pleased to tell you that the number of puzzles created by the Pictopix community has now gone past the 1,000 mark! This target was reached on August 15th by Paduk. Blü has created a puzzle to commemorate the event. Thank you both and my thanks to all of you who contribute to the Workshop regularly: Misora, Rena, Korb3n, Ishtar, Cakoka, [CN]sunyatsen6, Hennihenner, Kethlak, Nupfi, Klaus Otto... There are certainly many more I have forgotten!

One thousand, that's a lot of puzzles. New players could be a bit lost. Don't hesitate to use the different sort options to play your favorite puzzles!
I encourage you to visit the Pictopix page on Steam because I'd like to get your feedback about the 3 crown note system: Steamcommunity.com
As usual an update comes with this announcement. As you can see, the game has been improved yet again and some translations have been corrected:

Changelog
Improvements
The game saves are now separate for each Steam account.
Smart Slide has been improved : there is no longer any risk of a square being left out when dragging a line very quickly with the mouse.
It's now possible to return to the previous screen (or to close a pop-up menu) with the Escape key or the B button on the controller.
It is also now possible to exit the game from the main screen with the Escape key or the B button on the controller.
Changes
Some translations have been corrected and updated.
Workshop: a Back button has been added to the "Puzzle size" pop-up.
Fixes
The images were fuzzy in the "Controls" tab of the Options panel.
You can get Pictopix on Steam or on the Humble Store.
Your remarks and suggestions are always welcome. Thanks again and good gaming!!!
Tom
twitter: Twitter.com
facebook: Facebook.com
Here are a few screenshots of players' creations!