A huge thanks to all of you who nominated us during Phase 1! Because of your support we were able to make it into the Top 100!
Phase 2 Voting for ModDB's 2016 MOTY began a few days ago. The voting will be open for 7 more days, until December the 21st, and the victor this time will be crowned MOTY! The Players Choice Mod of the Year Released will be announced on the 29th of December.As mentioned before, voting enters you into a chance to win games from ModDB's #modlove collection if you cast your vote while logged in. So be sure to register an account and login before voting if you'd like a chance to win! If you don't want to register an account, you can still vote for your favorite mods.
Vote ZP!S for ModDB 2016 MOTY!
Once again we'll need your help with voting ZP!S for ModDB 2016 MOTY! As stated in the previous announcement, due to us winning previous awards we may only be eligible for an honarable mention. Nonetheless, that would still be just as wonderful. We're asking that you please take a moment to cast your vote for us again as well as your other favorite mods, we'd greatly appreciate it. As another little bonus, we'd like to give you a little more info regarding v3.0 and its progress.
New Item Sharing Feature in v3.0
One of the new features we'll be adding with the release of ZPS v3.0 is the ability to share weapons and ammo with a specific person who is requesting them via the voice commands.
How it work is the person who needs a weapon or ammo opens up the voice command menu and uses the appropriate voice command to request it.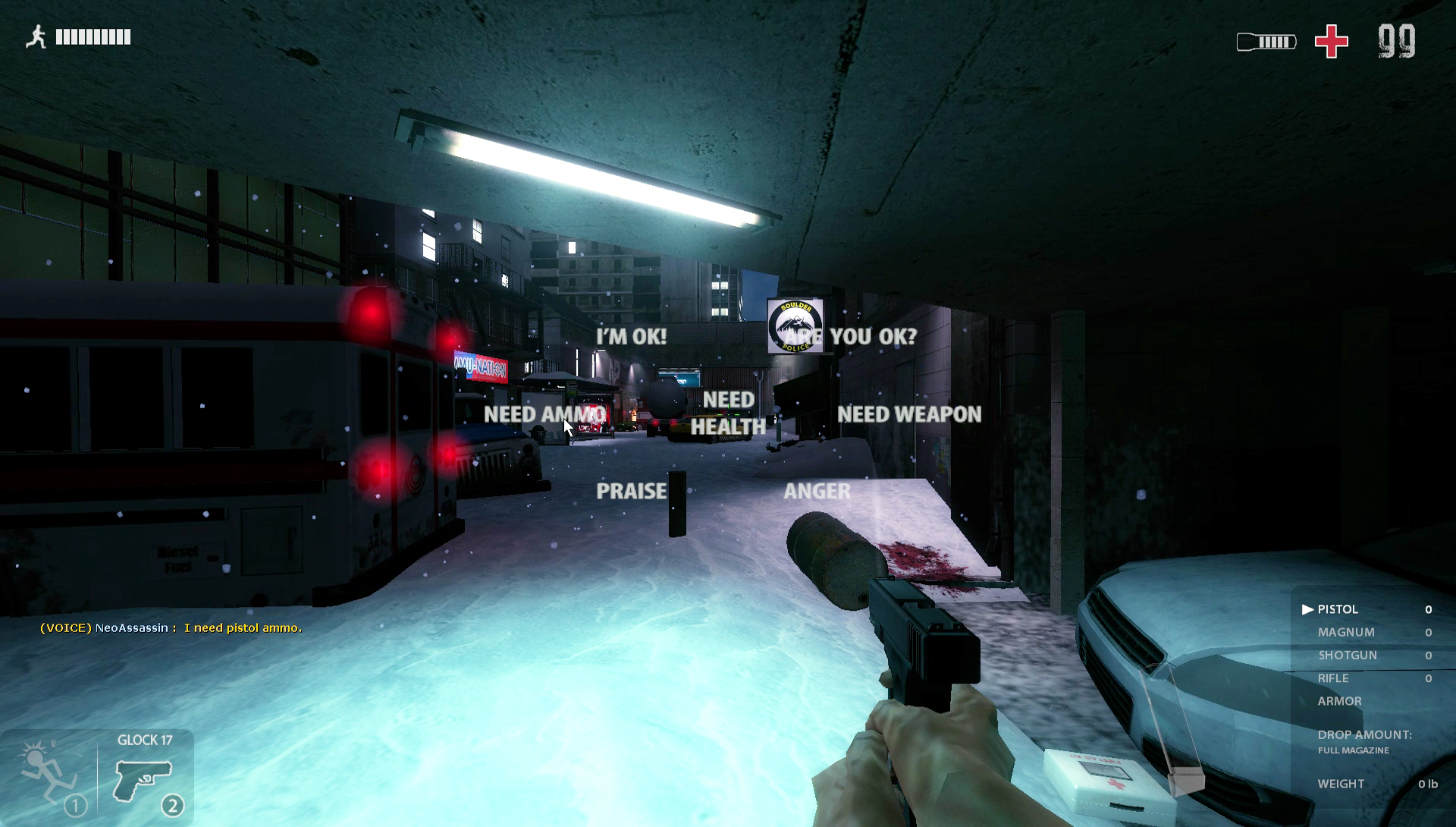 Then a player can hand them a weapon or ammo by looking directly at the person requesting it and pressing the key to drop ammo or weapons when within range.
This will give the item directly to the person requesting it instead of dropping it on the ground. That way it goes directly to the intended person and nobody can steal it. Or if you're in a location where there's a risk you'll lose the item if you drop it, you can hand it to your teammate instead as long as they request it. If they don't have room you won't give them the weapon or any more ammo and you'll drop it on the ground instead. You can also only give them one item at a time so you can not grief someone by giving them a bunch of weapons or ammo to slow them down.
Source Code Rewrite Progress
We were given the source code some months ago by Monochrome Inc. so that we could continue development on ZPS. It comes as no surprise that the code is quite outdated, and thus a lot of things were broken on the new engine and required fixing.
Now after a month of testing this port and continuously running into an odd server crash that we can't find the cause of as well as some other minor issues, we've decided that it would be best to completely rewrite the source code. This way errors because of outdated code will likely not be an issue anymore, and our programmer will be able to figure out what's causing the crashes or other issues as he makes changes/additions. So at this point it's no longer a port, it's a complete rewrite of the source code from scratch.
Don't panic though! This will not delay the release of v3.0 for very long. In fact some testing can still continue while the code is being rewritten, and we'll be completely back on track in no time. Unfortunately we still do not have a release date to announce for v3.0, nor even an estimate. We need to put everything through the proper amount of testing before we're ready and can be certain of a release date.
Removal of ZPA Gamemode in v3.0
We're going to be removing the ZPA gamemode from the v3.0 release for several different reason. The main reason being that the gamemode is broken on the new engine and will require a lot of time and effort to fix. ZPA is also not very popular or practical so we thought it'd be best if we focused our effort on making sure everything else in ZPS was functioning properly instead.
We also feel like the gamemode itself doesn't make a whole lot of sense and could be much better developed. We either want to revamp ZPA completely, or possibly replace it with a completely different gamemode that maybe draws some inspiration from what ZPA was. We're very sorry if this disappoints any of you, but it's for the best. Whatever we decide on doing, it will be much better than before.
Weekly Development Streams on Twitch! Every Friday @ 9PM EST
Casei Magnus has been sharing his work on upcoming (and experimental) levels and designs. Join us each week to participate in the discussion, give us some feedback, share ideas, mingle with the devs, and have a good time - all to ensure that the new update ends up being what both our development team and community want out of ZPS v3.0. Maybe even catch a sneak peek of something special every now and then. We stream every Friday for a few hours starting at 9PM EST, come check out our channel if you're interested. If there's any questions you want to ask us, stop by and we'll be happy to answer them. You can also go and check out our past broadcasts if there's anything you missed.

Thanks Again!
We can't thank you enough for the support we've received from all of you! We'll continue working hard and doing our best to provide you the best game possible. Let's keep ZPS going for many more years!
Happy Holidays,
- Zombie Panic Development Team