Hi, guys!
This is a short but colorful update devoted to our upcoming Steam Early Access (SEA) release, our progress on The Fall of Gyes graphic novel, and related lore.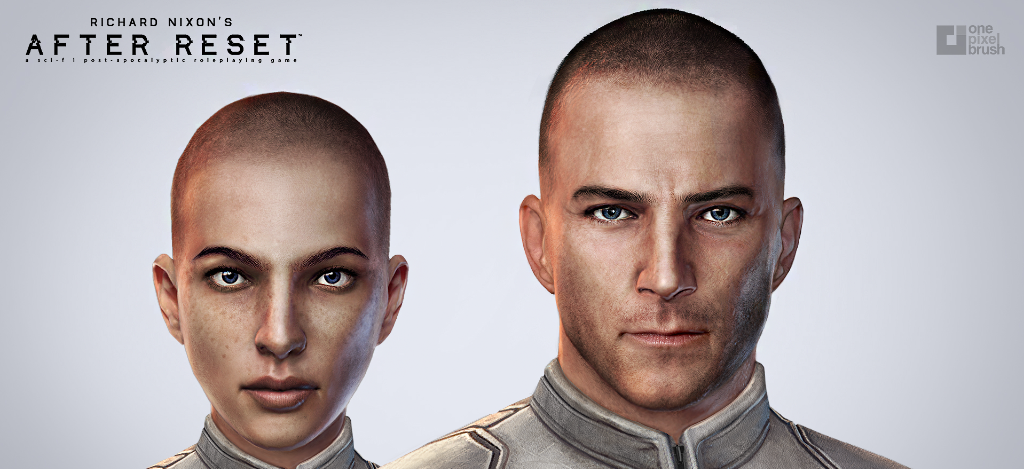 FIRST AND FOREMOST: SENDING STEAM KEYS
I know a lot of backers are still waiting on keys, so I'm going to include a status update in every news post until it's done. By the time of writing this article, 900 of 7200 keys still need to be sent. By the end of this month we should have sent all of them.
We will use the keys for media portals, gamer's sites, journalists, and You-tube reviewers that should be available 5-7 days before we go to the SEA release.
OPEN SEA RELEASE
We still need to program the inner interface so we can take fair screenshots before the final approval by Steam. If everything goes fine, you'll be able to proudly link After Reset RPG on Steam to your friends and colleagues in early March of 2015.
AFTER RESET RPG: OFFICIAL COVER ART
Some of you may have noticed that the cover art on various official portals (like IndieDB, Facebook, etc.). The reason is that is we're close to the final stage of marketing preparation for the open SEA release, and we needed to have a unified banner that also transferred to the game. We think it looks very cool, and has enough flexibility to be easily identified and still represent the whole series.
I got a pleasure and honor to work with One Pixel Brush (you might know them by working on visual styles of such games like The Last of Us, The Division, Bioshock Infinite, etc.). They made our main characters (the Commanders) truly come alive. It's the main reason I decided to put them on the cover.
Here you can download full-HD versions of the cover in 1920x1080 resolution for your desktop:
VERSION A: link.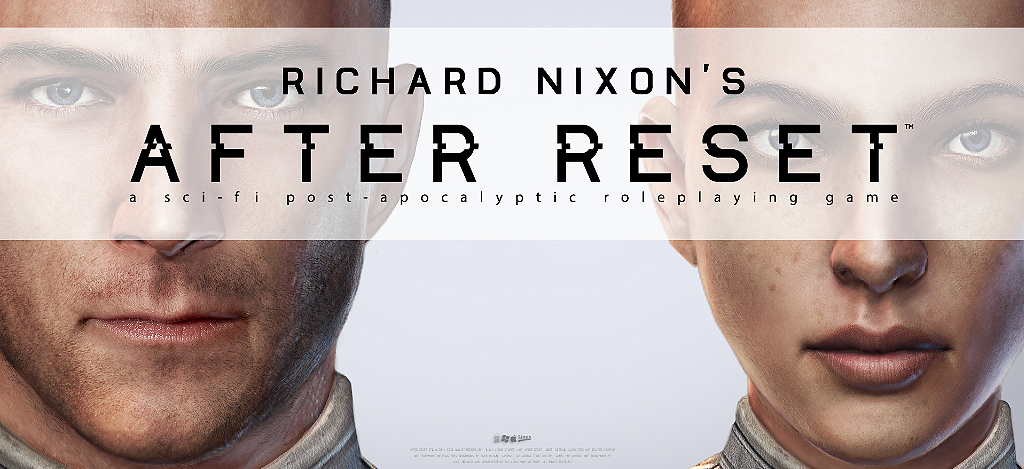 VERSION B: link.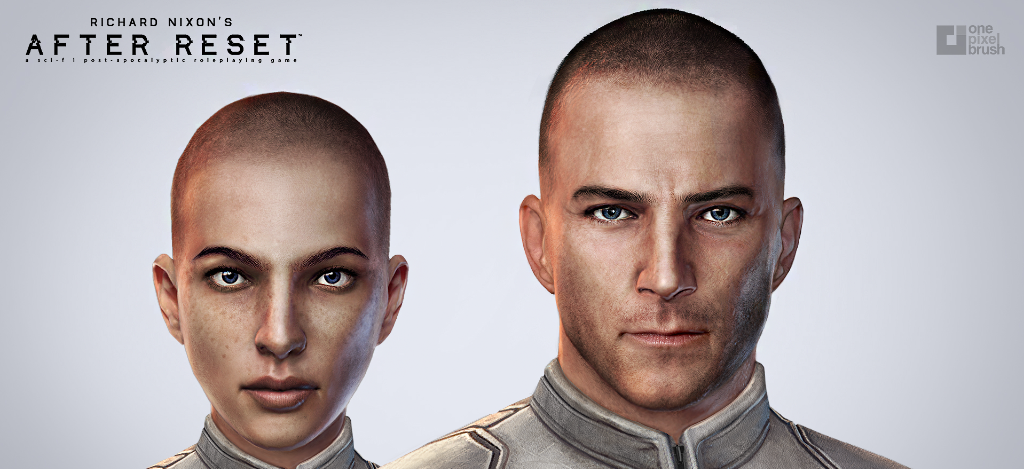 VERSION C: link.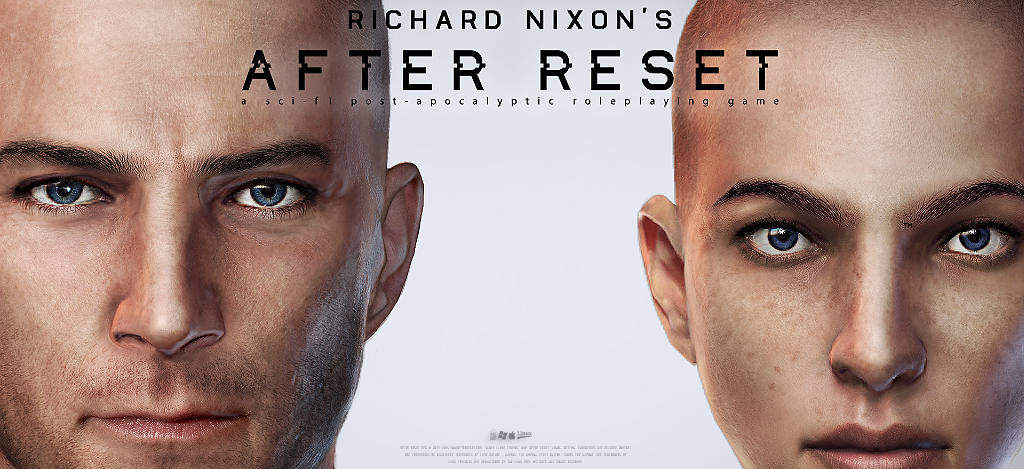 With time (from chapter to chapter) the appearance of the protagonists on the cover will change, and you'll be able to follow their evolution. Should be fun!
It might look easy, but it's taken more than six months to come up with a final version of our cover art. Now that I'm satisfied with it, I hope you will be too. :)
ROCK, PAPER, SHOTGUN
Thanks to one of our backers (Gnostic) we found out that famous Rock, Paper, Shotgun included After Reset RPG in 'PC Games Of 2015: Those Wot Could Conceivably Be Good.' It's such big honor to see our child listed with Mass Effect 4, Cyberpunk 2077, Torment: Tides of Numenera and Pillars of Eternity.
An honor well as a big responsibility.
THE STORY OVERVIEW
To prepare the game for SEA I needed to finalize the whole game story concept, and taking into account whether or not we reach our funding goals, or exceed them. Here is brief (but spoiler free) overview of the full game story: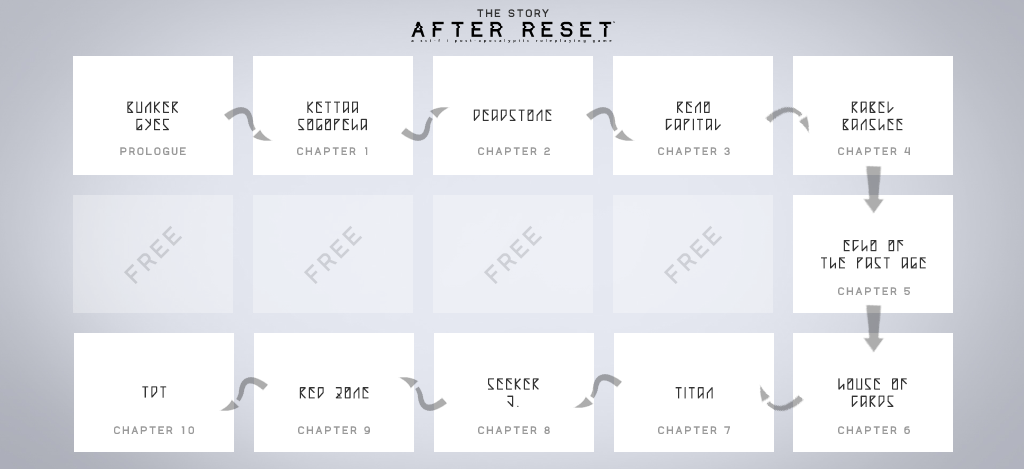 Every chapter of the game represents each stage of the big story and it is connected to the sets of regions that are relevant to that chapter. That doesn't mean every chapter will have and equal amount of game playtime.
In example: the final version of the Prologue should have about two hours of gameplay. It is quite close to the idea that was initially put into Fallout 1, but financial restrictions ending up cutting most of it out, and limited it to just walking through a cave and killing several rats. At the beginning of Fallout 1's birthday, the creators wanted to give the player the ability to play around in the Vault 13 itself. Therefore the After Reset RPG's Prologue represents only small piece of main story game play time.
If things don't work out for our funding goals, I'll rely on my savings and concentrate on the main story. However, there will be many opportunities for random encounters and side quests that can easily be added once we have the game mechanics and gameplay finished. How much or how little gets added will depend on our funding.
In final version the life and event sequences of the chapters should go even without player interaction. That implies you can be caught by story in the Great Desert with a new sequence in it even if you dropped the main storyline earlier.
"THE FALL OF GYES" GENERAL PROGRESS
After meeting with Adam yesterday, I'm happy to report that 33 out of 37 pages are completely finished. For those of you keeping track, that's 19 pages since our last update. We're pushing forward, but always with an eye on quality. I'd like to remind all of you that our Co-Founders can see previews of all the new pages on our forum: Afterreset.com
But I'd recommend avoiding spoilers… these previews are just to show our progress.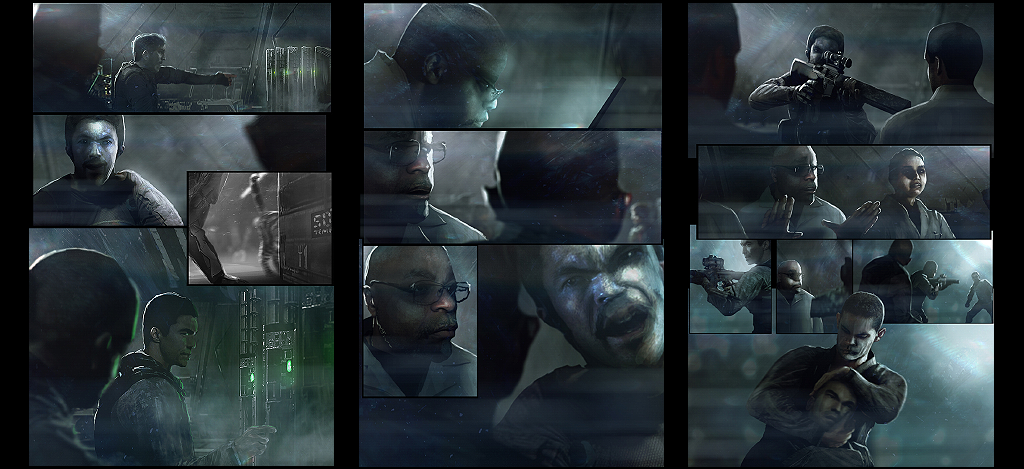 EXCLUSIVE REWARDS
During the TFoG campaign (on Kickstarter) we promised a legendary reward for up to two very special backers, and this is our second 'exclusively made character poster of YOU as a citizen of the United Governments in the After Reset setting, made in very high dimension to be printed in any photo studio.'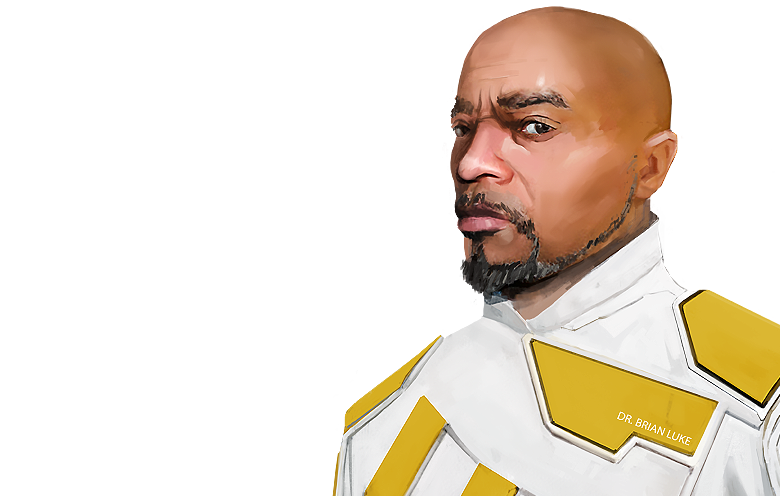 I'm very pleased to present backer Brian Luke as an NPC in After Reset setting.
Name: Brian Luke.
Nickname: Dr. Luke.
Race: Pastager.
Date of birth: December 5, 51 A.R.
Place of birth: Eos, Undereath.
In scientific circles, Brian Luke had made a reputation for himself as a distinguished micro- and synthetic biologist. Born in 51 A.R. in the technology city Eos (one of the three underground cities of the United Governments in the former USA) into a family with a long history of being researchers in the Scientific Corps of the UG. He was raised in an atmosphere of open curiosity, fascination and a penchant for the undiscovered.
He had quite a strict upbringing, due to the fact that both of his parents belonged to the administration of Kaisha Technology (one of the largest corporations in the UG), and with age Brian discovered he had the same organizational talent of a strong senior manager and a great managing consultant. Thanks to that, in 102 A.R., he was already head of the Biology department at the Eos Institute of Advanced Industrial Science.
He refused a career in private corporations ("for the purity of science," as he once argued to his parents) during his years of service in the Scientific Corps he also earned a reputation as a political conservative and government loyalist.
It is entirely possible that it was precisely that, which played the deciding role in sending Brian to the Surface in 130 A.R. where he actively took part in designing and developing the New Dallas ecosphere. In the same year he met his future wife, Maria Edgargh, and just half a year later they were married.
At the end of 131 the couple got permission to have two children immediately and submitted the documents to the Artificial Fertilization Center of New Dallas. Waiting for his children, at the beginning of 132 A.R. Brian nonetheless agreed to the request of his friend and colleague to go on an assignment to one of the new command bunkers of the UG on the Surface under the code name "Gyes" as a temporary Head of the Science Department…"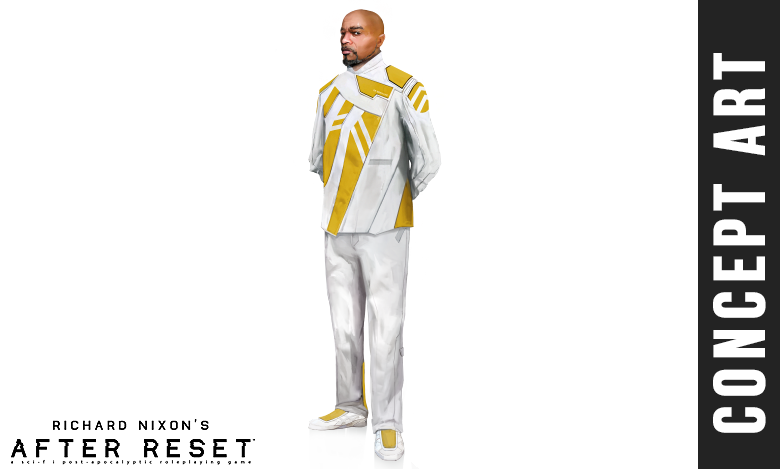 SCI-FI TO READ
Just as with our previous news posting, I want to share some fiction I've recently read, the awesome hard sci-fi short story by Peter Watts: The Things.
Watts is a rare breed of fiction writer that also has real scientific credentials, and I've really enjoyed his sci-fi work. His short story The Things is devoted to a perspective of reality and events from The Thing Movies through the eyes of 'the Thing.' It could really change your perception of the movie (and provide some cool, potentially more original ideas for the next Dead Space writers).
I would note that Watts' view of The Thing is not applicable for the After Reset setting (the true nature of Biomass is different from Watts' version) so there will be no spoilers in that regard. But that story is full of food for thought, and is a very interesting and unexpected hard sci-fi view. It's not just 'black or white,' and doesn't conform to traditional sci-fi tropes like 'that weird, wicked and bad stuff… omg, it killed Kenny… lets wipe that sh*t… hura! We won… the end. Or is it?'
* * *
That is all for today, dear followers.
Once again, thank your for your support and all the patience that you show.
Stay tuned for more news!
Add us on Steam Greenlight.
Visit After Reset official Store.
Join After Reset™ RPG official website.