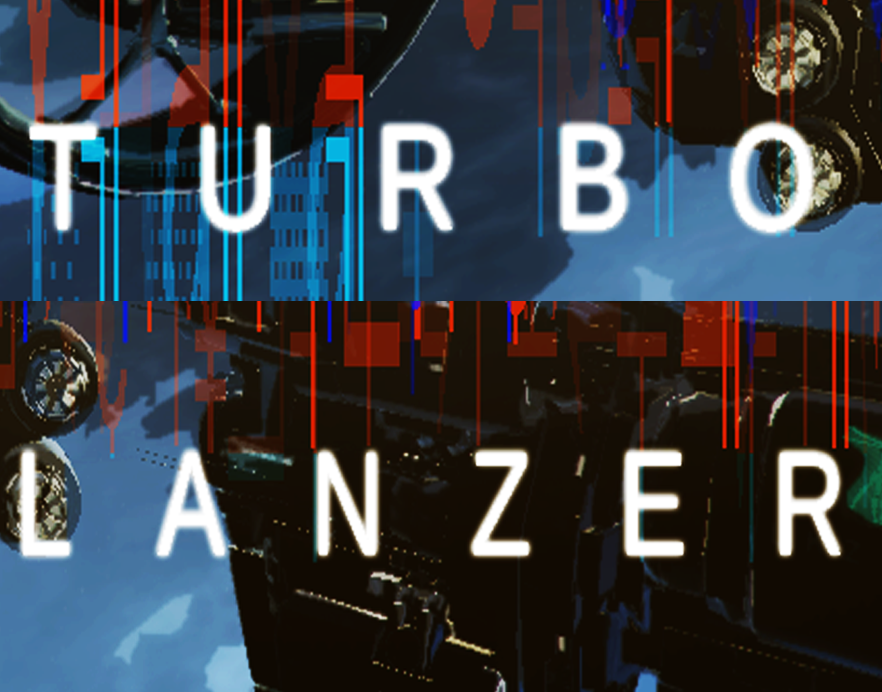 Dear Friends, please welcome a new member of Paradigm Worlds universe. This is TURBO LANZER, a Total Overhaul for X4: Foundations.

I do understand that only 2% of Paradigm Worlds players seems to be fans of X series. But I would like everyone let know, that Paradigm Worlds as a project is active, it works, and it delivers. I hope that Turbo Lanzer will make at least 11 poll voters happy, and rest of you pleased to know that everything works as planned.
I want Paradigm Worlds universe to assimilate new territories, and this include other games, and in long term future some some small independent projects.
This is Turbo Lanzer site.
If you have never played X-series before and never heard of it, let me present my subjective view on it.
X-4 is very similar, but not same, to something like Warband in space.
both games can kill any existing processor
in warband player leads army consisting soldiers and heroes or various rank, roles and functions , in X4 fleet consisting of many different ships, from fighters to battleships
both games have major faction, side or minor factions, they have relations, though X4 diplomacy is very, very basic
but in X4 player can build his own castles, ekhm, space stations
both are hard to define as genre, and in both cases it is been said that they are unique enough to say Warband-genre, or X-genre, both represent more than common
X4 has limited RPG, but a lot more economic accent (which actually Turbo Lanzer transfers to Warfare accent)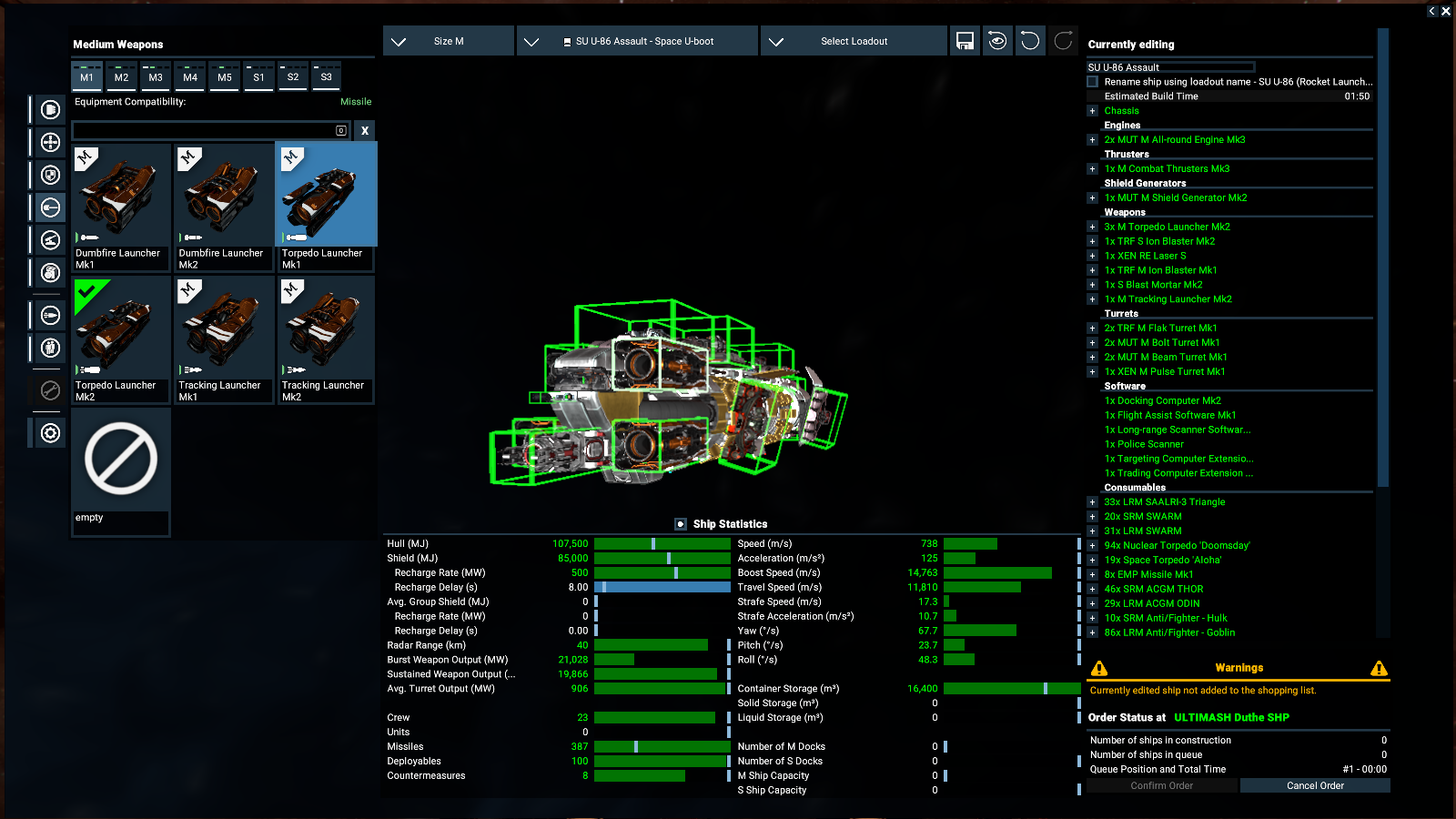 in Warband, player takes care of companion equipment (or anyone's if you played Paradigm Worlds Warband mod), and X4 player equips ships and saves it as 'loadout'. On the picture: Space Uboot equipping Torpedo Launcher (also see ship's types and sizes)
X4 is very detailed space simulation, or maybe space life simulation. Like in Warband you may begin your journey as almost no-one (small fighter, or scout, empty account), to create own empire.
I do write this article to suggest anyone to buy X4, do note. It is not the cheapest game, quite demanding when it comes to requirements, and far from being perfect. But, I just want everyone let know, that Paradigm Worlds, as a project is active, and in short future new projects will be presented.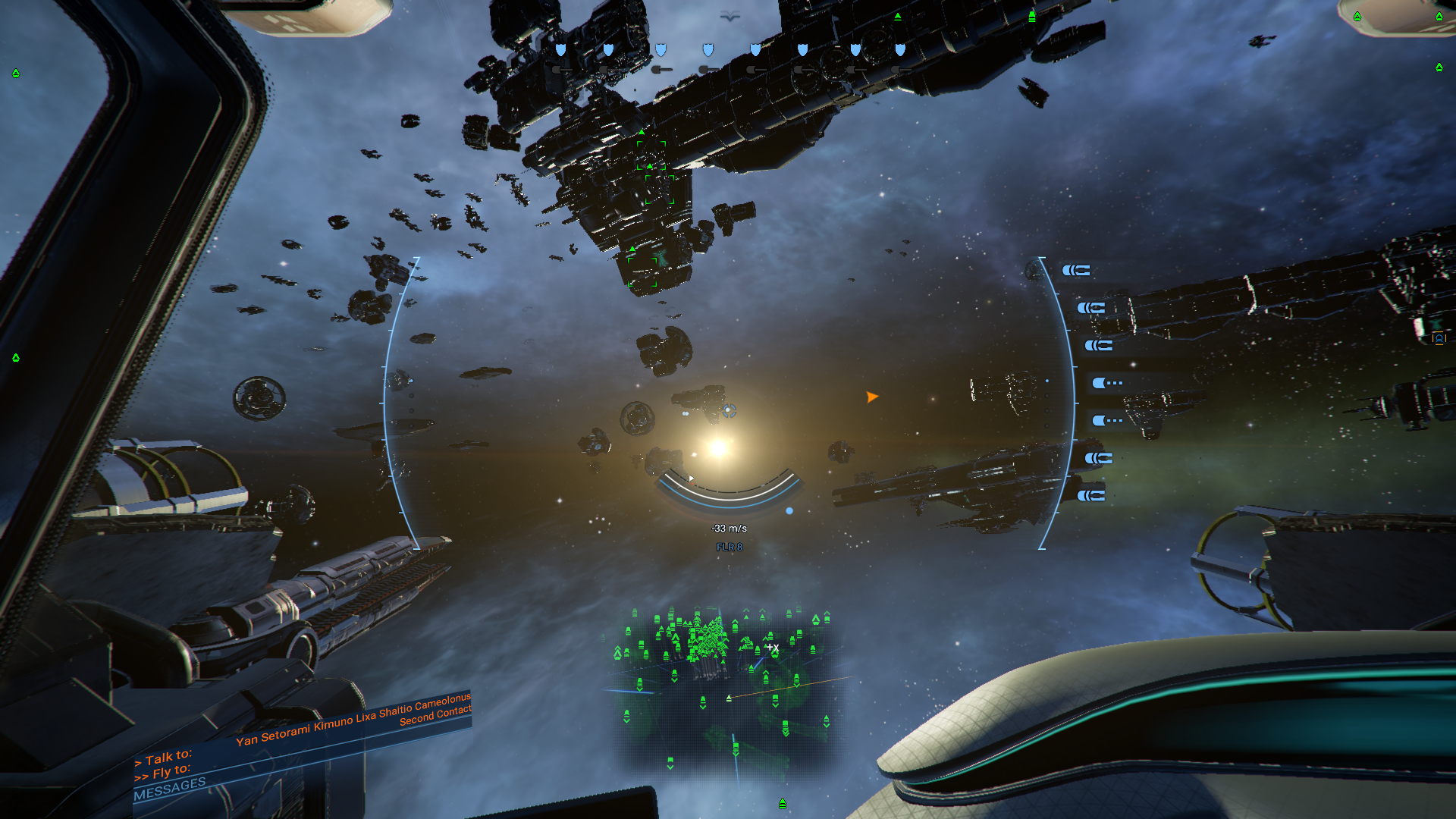 Turbo Lanzer: X4 Foundations mod offers special starting scenarios, same as Paradigm Worlds in Warband. On the picture: player in '1st person viewmode', commanding ship. Space is filled with ships belonging to player's fleet - cruisers, destroyers, spaceships and space uboots, all ready to invade.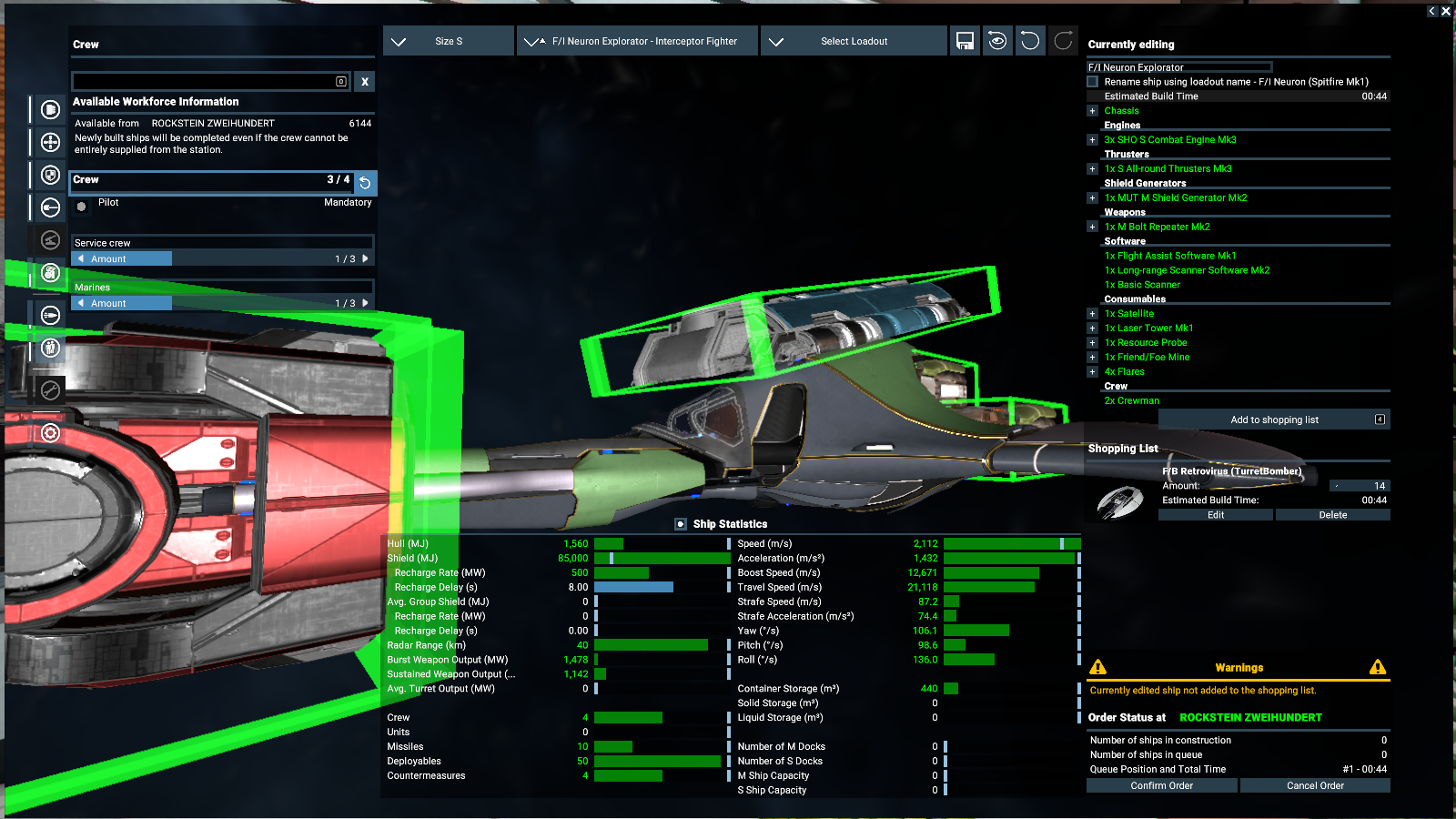 Similar to Paradigm Worlds for Warband, the Turbo Lanzer for X4 breaks some tabu rules. On the picture: a bit controversial design, small fighter equipped with a lot bigger medium size weapon, wearing certainly looking weird shield on the top.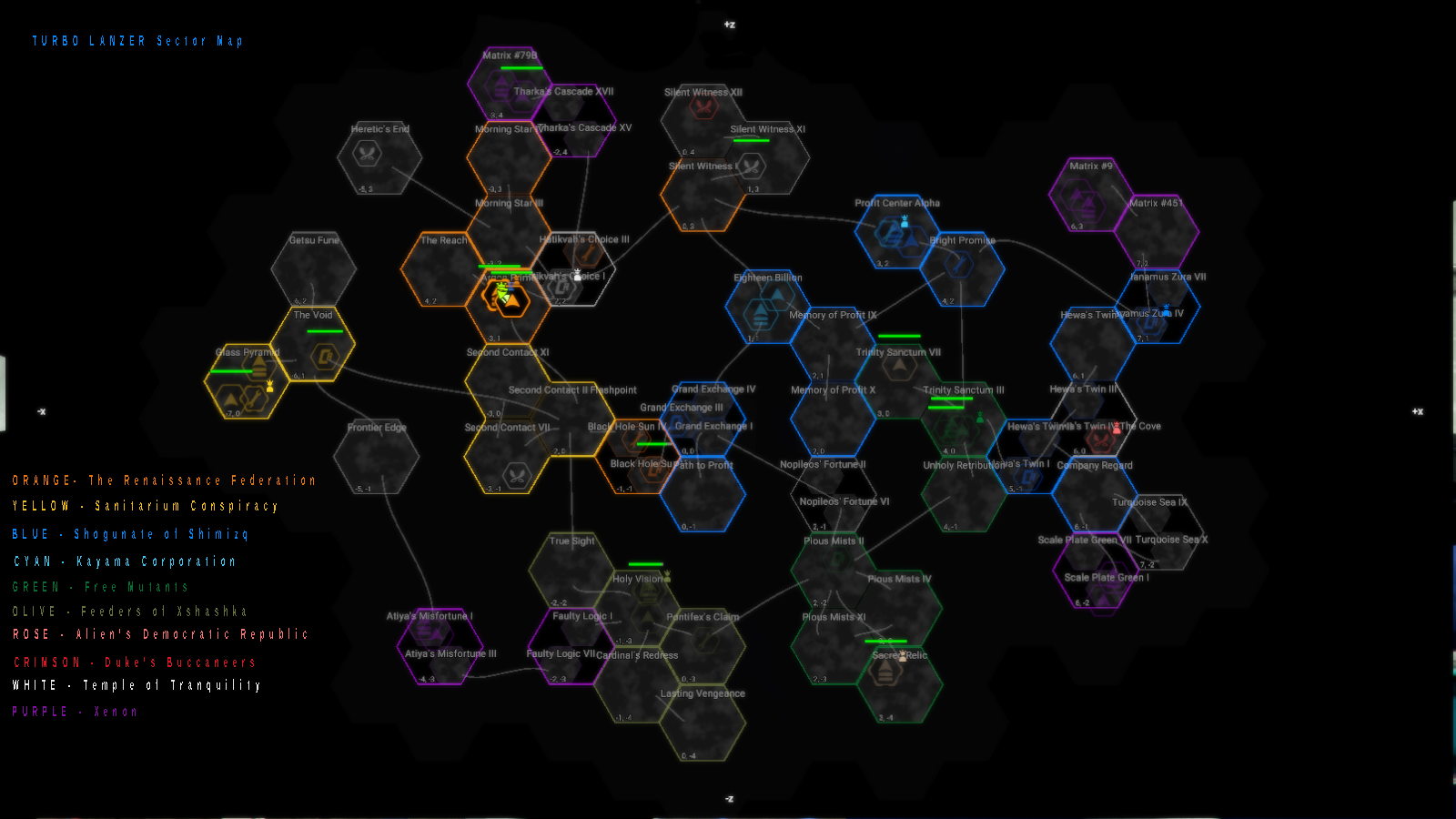 TURBO LANZER universe is directly linked to PARADIGM WORLDS. On the picture: map of the whole galaxy, with factions owning sectors (marked in colors). And same factions are in Warband Paradigm and Turbo Lanzer Paradigm, some of them naturally have changed, but general division into humans, mutants and aliens still exists. unfortunately mod is still very basic, so other Paradigm races are not covered.
Each of this sectors, [little hexes] is filled with ships, of all factions. Some are traders and miners, others do recon missions or just wage deadly battles.