Linux and Windows
We have very stable versions of Estranged for both Linux and Windows, and intend to release them alongside each other.
Our Mac version however is in a bit of a different state, and to release that we need Valve to provide their latest shaders - we are having some trouble making it work the same as Linux and Windows. To that end, our Mac version won't release at the same time with the next release, however we hope to get it working for future releases.
Phong, HBAO and Depth of Field
Chris posted an update recently about his work on making the game look amazing with his Phong shader. While it does partially work right now, there are a few issues that were caused by our engine switch that we need to iron out, so it won't make the next release.
HBAO and Depth of Field are in a similar situation (shown in this screenshot), however they just need one of us to put some time in debugging them - so I can't say if they will land in the next release or not.
A New Name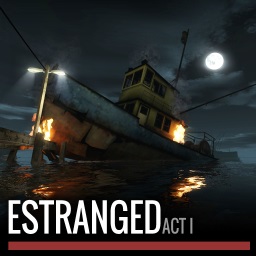 I can finally reveal that Estranged will now also be split into 3 Acts - the content in "alpha 6" making up Act 1. So, with that in mind, I wanted to move away from the Alpha label completely. The next release you will see on ModDB will be called Estranged: Act 1 (Beta).
Why Act? Well, we have a lot of story planned, and find that while we work on this act, we have to constantly backtrack and test new changes with older maps. It makes more sense for our small modding team to split the content up into "acts".
I will also be releasing this version on Greenlight to try and get Act 1 greenlit, and released on Steam. Each Act will be put up for public vote on Greenlight individually.
Translations
I have been working with several translators, and am happy to announce that Estranged Act 1 (Beta) has been translated to Danish, French, German, Italian, Portuguese, Romanian, Russian, Simplified Chinese and Swedish, with Dutch and Spanish translations pending.
---
We will be releasing Estranged: Act 1 (Beta) towards the end of this month. The delay was to allow us to finish off some content that we wanted to get into this release, and we think you'll be very happy with the result.
So, watch this space, and thanks for the support as we work towards the finished article, Estranged: Act 1!