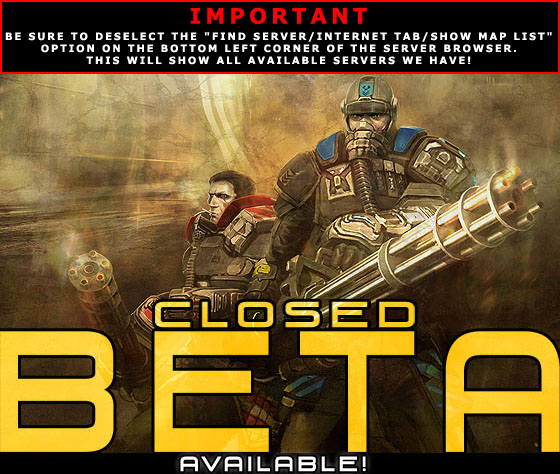 After nearly 8 years we are proud - among other things - to announce the start of the Off Limits beta [ and I'm extra happy we got to beat Duke Nukem Forever after all ;) ]. We've managed to track down and fix the remaining known issues, so we're finally ready to call this a beta. This is where you guys come in: if you're reading this it means the mod is available on Desura and we've sent out our 200+ beta invites, so check your mailbox for the invite and get downloading!
If you haven't got an invite yet but still like to join the beta test, it's not too late - just let us know. We've also deployed Off Limits to our beta servers. We have four servers in the US and one in Germany, with some more in the UK coming soon, so we should be good for the betatest period. All of these servers are linux dedicated servers. Special thanks go out to Mourad for the server in Germany and the guys at wakkaservers.com for hosting the US servers, the least we can do is give them some visiblity, so check out their great coming soon page!
We've provided some aliases for our servers, you can find them at the following addresses:
us.off-limits.be:27050 ( IP 69.147.229.218:27050 )
us.off-limits.be:27060 ( IP 69.147.229.218:27060 )
us.off-limits.be:27070 ( IP 69.147.229.218:27070 )
us.off-limits.be:27080 ( IP 69.147.229.218:27080 )
de.off-limits.be:27015 ( IP 78.46.99.138:27015 )
As for the actual betatesting, make sure to read our official guide if you haven't already ( there's some finesses in the game that are all explained in the manual ), and go out and have some fun. We'd love to hear your feedback on bugs, gameplay, artwork, balance, anything really. We have two main focuses: search & destroy whatever bugs are left that spoil the fun in the first place, and hear the first actual player feedback on our gameplay so we can tweak where necessary. All feedback should go through our moddb forum - do a quick check to see if you're not reporting eg a duplicate bug and put up a new thread if you found a new bug or want to discuss a new topic.
Be kind and constructive: Off Limits has seen a lot of contributions but has been mostly made by myself and Wesley in our spare time. We've tried to make it the best quality we could, but we know there are areas of improvement. Thanks in advance for helping us finish this game, and we hope you get to have some fun in the process :)