As a special treat for our lack of public activity recently, we have
finally created our first trailer for EC, courtesy of The DR and Nagerb.
We present to you, our first trailer!
We hope you've enjoyed our first video trailer.
American Confederacy Sioux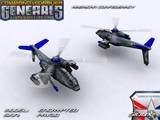 In recent years, the American Confederacy has begun phasing out some of it's older fixed-wing aircraft, most notably the AC-130, also known as the Spectre Gunship from previous campaigns. Rather than completely scrap the concept of a close-support aircraft, however, the Confederacy's brightest minds managed to rebuild the old howitzers from the AC-130s, and fit them to the wings of one of their latest helicopter designs under the new name of repeater cannons. This amalgamation of old and new was deemed the Sioux, a helicopter capable of dealing heavy damage at close support range, removing the need for the old AC-130, as well as providing a support platform that was capable of providing support for more than 90 seconds. The new helicopter frame was also of monumental design, removing one of the major flaws of all previous rotor designs - the need for a tail rotor.
With the unique NOTAR, the main rotor's torque is cancelled by a high volume of low pressure air expelled close to the tail-fins, thus changing the boundary layer of air, and stabilising the helicopter without the need for a tail rotor, a critically vulnerable part of all helicopter designs up until this point in time. The new design makes the frame far more hardy, and capable of absorbing far more damage than any other helicopter to date. To further increase their effectiveness, the Siouxs were fitted with state-of-the-art Anti-Tank missiles, cleverly housed in old-fashioned pods to fool opposing factions. Due to this old-fashioned design, the number of missiles carried is massive, but the reload time is rather long, due to the cramped space for the reloading mechanism. The Sioux is in every sense a modern support platform, and their use can quickly turn the tide of any battle.
Unit Abilities
It has speed, agility and survivability.
Heavy damage output vs all targets.
American Confederacy Dustrider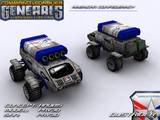 The American Confederacy have always played an extremely simplistic role in the war, in that one-on-one, they, and all of their units, cannot be beaten. Seeing this one-sided nature to their tactics, the Confederacy requisitioned a new unit, one that did not depend on powering through several units before eventually being overwhelmed. Instead, the Dustrider was developed for it's speed, agility and survivability. If damaged, it has the speed to make it out of a battle without being destroyed, and is capable of pursuing units to finish them off. Like every Confederacy unit, the Dustrider is capable of dealing high damage to any foe. It also sports a lightweight chassis that was installed to allow the Dustrider to ambush enemies from cliffs - the lightweight chassis combined with heavily absorbent suspension allows the Dustrider to literally drive over cliffs, landing at the bottom with no more than a scratch. Once there, it unloads it's payload of missiles, a weaponset unique amongst the Confederacy's many units courtesy of their corrosive payloads, which deal damage to any vehicle that stays within the blast radius for too long. However, due to the lightweight chassis, the armour of the unit is also less than that of other Confederacy units, allowing it to be destroyed quickly if it directly engages the enemy for too long, a feature that most other Confederacy units excel at. Using a Dustrider effectively is key to a Commander's victory - using it ineffectively is often the key to his downfall.
Unit Abilities
High armour and good resistance to damage.
A high damage output vs structures with its corrosive weapons.
Able to pass over cliffs.
United Asian Nations Scimitar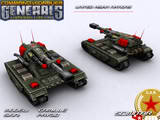 Given their dependence on old-fashioned munitions, such as napalm technology, the United Asian Nations often fell when fighting head-to-head with enemy tanks, given their advanced weaponry. This was seen as a relative weakness in their arsenal, and as such the Scimitar was developed with the aim of providing heavy fire support from a distance. Equipped with a massive anti-tank cannon, the Scimitar is capable of inflicting heavy damage on enemy units without taking any return fire due to the range of it's unwieldy cannon. This unwieldiness has it's drawbacks however. The Scimitar, while equipped with an extremely powerful engine, is still unable to achieve particularly high speeds due to the sheer weight of the chassis and cannon, and takes an even longer time to turn, due to the nature of the chassis carrying the cannon. However, should it be allowed to continue in one direction for too long, the Scimitar will pick up a surprising turn of speed due to it's momentum, often surprising enemy tank commanders who feel they have made it safety. The cannon also takes an extremely long time to reload - so unless a commander is sure of their victory, sending a Scimitar into battle without adequate support will result in a heavy financial loss as the Scimitar can easily be out-manoeuvred and out-gunned.
Unit Abilities
Long range.
Heavy damage output vs vehicular targets.
Useful top speed despite poor initial acceleration.
We hope you've enjoyed our latest update.
This is the EC team signing off.