Season's Greetings NLS fans! It's time for another update! This month we bring you a special 2010 "Year End" update starting with a few announcements from ZH Reborn
The Reborn ModDB forums are now open. For those who don't wanna join the main forums, you now have a proper place to properly comment, rant and suggest units for ZH Reborn and it's upcoming release V7.
And for those who did register on our forums. We have 3 new forums skins or you: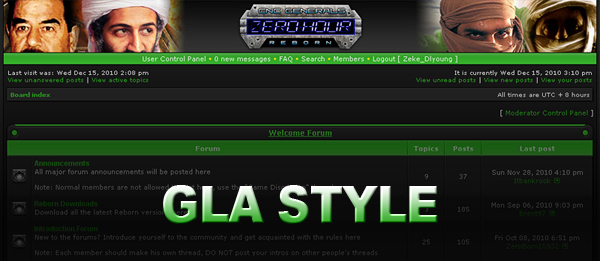 Next we have a small update! Starting with The Guard Tower for General Ironside the "USA Assault General"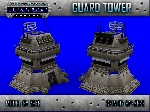 The Guard Tower is Ironside's only defensive structure. Armed with 3 medium range missiles for anti armor and a team of rangers garrisoned inside for infantry. The Guard Tower is designed to repel all unit types, to allow Ironside's commanders to focus on their armored assaults.
Basically the patriot and firebase rolled into one, the Guard Tower is designed to make you worry less about defending and more about attacking.
Up next is the Crusader Howitzer for President Bush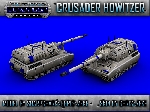 The XM2001 Crusader is the United States Army's next-generation self-propelled howitzer, designed to improve survivability, lethality, mobility, and effectiveness. Designed to eventually replace the aging M109 Paladin, the first few prototypes of the XM2001 is currently only being fielded by the US Commander in Chief.
Old players of the mod might remember this unit as the "Crusader 155mm". Firing in volleys of 3, this unit makes short work of enemy structures and defences.
Well that's it for Reborn. Next we have a GenX update starting with the revamped revamped laser tanks for General Townes.
Due to the current oil crisis, General Townes decided to equip his laser tanks with experimental miniature cold fusion reactors. The new reactors not only produce almost unlimited power, but also produce no emissions at all.
Next, something new, the USA Field Support Vehicle
Z-Tech while becoming the largest global supplier of advanced and experimental military systems doesn�t have the hold that is the common conception of the company. Recent advances in nanotech and biotech research brought the Cynopolies Corporation to the attention of both Z-Tech and US military command. It was through this joining of technological giants that the Field Support Vehicle (FSV for short) was born.
Replacing both the Engineering and Medical Corp variant Humvee; both of which proved costly to deploy due to the inherent risk in placing experienced non-combatants in field; the FSV combines the military know how of Z-Tech with the nano and bio tech experience of Cynopolies. Unique nanite catalysts are now incorporated into all US military vehicles, a well guarded secret that not even Z-Tech is privy to; these catalysts allow networked nanites swarms to quickly repair damage to any vehicle system within range of the FSV. While initial tests proved rather dangerous the FSV is now able to disperse a lab produced bio-nanite in order to heal infantry. Due to a number of concerns by both military and governmental agencies Cynopolies has been forced to reveal that this bio-nanite is essentially a highly differentiating viral agent which induces rapid tissue repair.
The bio-nanites can also be used to neutralize the effect of viral and bacterial agents as well as nuclear-radiation to a certain extent, however high levels require the use of a non-lethal "de-tox" grenade launcher located at the front of the vehicle.
FSV lore written by: Darkfire Angel
Last but not least we have an update for CnC U. Starting with the new Paladin Tank for VUSA.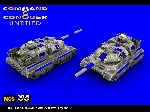 The Paladin MK1 was designed to be the future generation of US main battle tanks. However due to the extreme production costs and state of the art technology it uses, the Paladin was reassigned to the heavy frontline support role. While the MK1 was strong on it's own, it was simply no match for heavier enemy armor. Eventually a decission was made overhaul the Paladin, and soon the MK2 project, led by ZTech Industries, was underway.
The Paladin MK2 is equipped with a more durable chassis and a bigger more powerful weapon. After more extensive tests, the Paladin MK2 was also equipped with an additional Electro Magnetic Grenade System (EMGS) which disables the electronics of it's intended target.
General Townes, alongside the Cynopolis Corporation, had been secretly developing a new type of solar based technology called "Sunflare Plasma". After hearing about the MK2 project, he decided to take that opportunity to test out his new discovery.
In Townes' eyes the best way to disable a tank is to burn it. So he replaced the MK2's EMGS launchers to fire Sunflare missiles against air targets. While their power is limited, they can still defend the paladin until more specialized AA units arrive.
Next we have the new laser turret for General Townes.
Because of their pin-point accuracy and instant damage, Townes' laser turrets were considered the strongest of all� the US defense systems. However they had 2 major flaws: 1) They couldn't fire over other structures. 2) They required alot of power.
After the success of his new Sunflare tech, Townes decided to combine the new Sunflare plasma with his old laser turrets. The result was the Laser Tower. It's height allows it to fire over any structure, while the new support power packs developed by ZTech for the US' Patriot batteries help reduce it's power requirements.
Well that's it for this update, see ya'll next time!!