Now you can see the first Screens of the real webden, generated randomly. Actually, there is only Original Terminals (here, "AMATA", NIBILEEN,"SEQUALOS"...) and your ship (blue point), already in the center of the naviguator screen. As you can know in the previous screens, different sizes will be added for the O.T. and maybe a background (not too laggy i hope).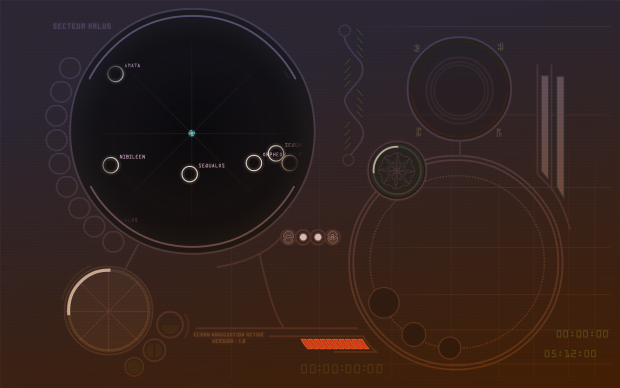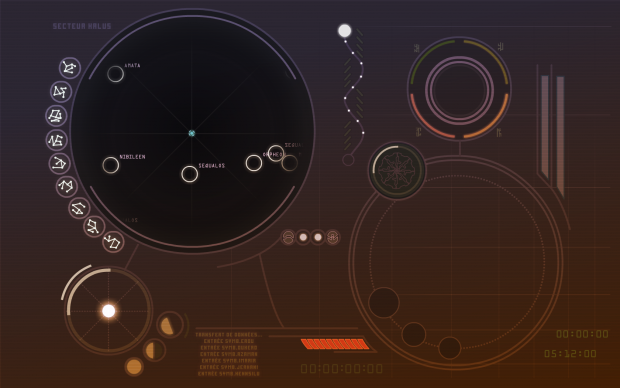 So, I can show you screenshots without any bite of programmation or animation. What is already done ?
The programmation of ship moves are well-advanced, the generated map of Webden moves when you set direction with speed of the ship, without lag (that was a big point to resolve). In fact, Flash is complicated to optimize but I hope, I will be able to create around 100 O.T. in the same time, with their own data (they've got an age, they grow old, they've got data, programs that you can steal etc...).
The engines are working perfectly to show you how much compressed fluid (the energy) you are using (all programs can't be used in the same time) with an alert light and a circle to show the resource of fluid. You can switch on/off (and they are linked together) the detectors, the engine, stabilisators, propulsors.
I've done a transfert program (the some sort of DNA on the screen) that will be useful to show when you will transfer datas between you and a O.T. or an other ship. The branch of the DNA form are corresponding to the activity of the programs of the ship, and will show you if there is malfunction ( for example, the propulsors shows they are activated, but the DNA branch show also if it's controlled normally).
Others things have been done, almost animations (symbols on the left, corresponding to O.T. characteristic if you are linked to).
See you next time for more informations.