Hi everybody!
Let's go for some (quick) news~~
Firstly,
I want to let you know that my laptop (the one I use to develop Cadaver Party) is out of order since the 3rd of July - DON'T WORRY (I see you coming!) I have automated daily backups in my personal cloud concerning the Custom Story, plus the problem is not at all related to the hard disks. So no data loss, hey. Anyway I'm not fool enough to work on this kind of projects without setting backups.
So after that I have been looking for the specific component to fix this myself and already tried to buy it on some websites or in stores but it seems hard to find it (my laptop is dated from 2007).
As a result there are big chances that I will buy a new desktop computer soon and get my hands on it in the beginning of August. I have already targeted one.
Development continues... of course:
Hopefully, last week my brother lent me his old laptop so I could install the modding tools on it, retrieve my maps and related files to continue working, even if I cannot test the results in-game. A not powerfull computer but it works well enough for mapping/coding, so I won't complain, it helps me.
What's new today?
This month, even with these problems, I managed to improve the "urban" map (you can now enter and visit a new building, penetrate flats to search stuff, it is not finished yet but it's a promising map).
I made also some scripting/coding works (major changes sometimes) & fixes on some other maps, added new textures and models.
Oh, and I started a new map... once again. I hope you like water.
Here are two screenshots made in the editor (sorry for the quality):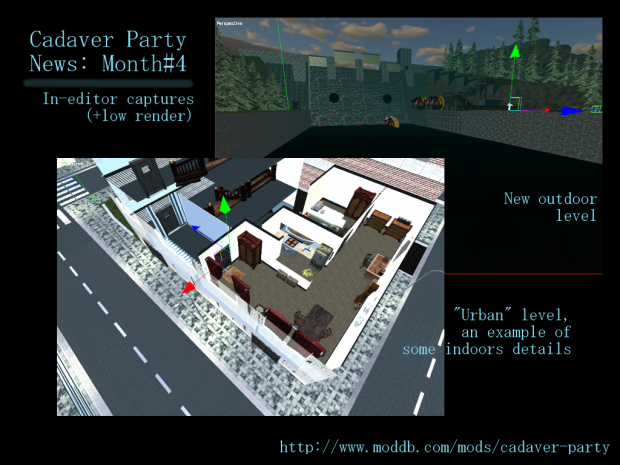 To finish all this blabla:
I won't be able to work on the mod until beginning of August because of work.
See you next month and thanks a lot for your interest, really.
Feedback & comments very welcome as usual!
Have fun - enjoy your vacations or good luck if you work!
... and... careful during hot summer nights, who knows what could enter your home through your opened windows~~
Yanka