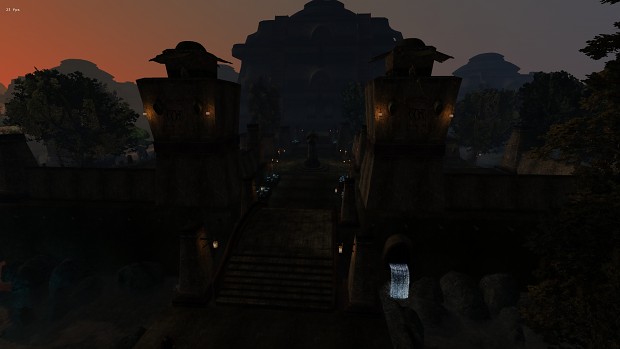 Towns/Landscape
* Balmora Museum - I loved the Mournhold Museum and It was kinda sad that you werent able to see something similar in Vvardenfell. The wait is over my friends! Balmora Museum have a vast collection of items that are displayed both familiar and exotic stuff!
* New Gnaar Mok - Some of you might have noticed that I've already made some changes to Gnaar Mok in previous versions. Lets make this clear, this is not how it will look in the future. The current layout is pretty lame and I want to make sure it keeps the same quality as to what I did with Seyda Neen.
* New Sadrith Mora - It's clearly stated that Sadrith Mora should have been "off limits" to outlanders, if they didn't have the appropriate papers to show the officials. My idea is to add "walls" to the city and add a script that will make the player unable to enter without these papers.
* Southern Ashlands - The southern region will be transformed to make it unique in comparison to its northern counterpart (don't worry there will still be loads of ash to play around with).
* New Interiors - Finish a bunch of interiors that are missing in the most recent version.
New enviromental features
* Ruined villages - It seems reasonable that the Island should at least have 1 or 2 small villages that were left and abandonned. More immersion if nothing else.
* Imperial encampments - 1 or 2 small encampments situated in the West Gash.
* Signs of the blight - With the threat of Dagoth Ur and the blight cursing the lands there should have been more signs of the blight. One example could be small camps with NPC's that have turned into walkers or small battles between NPC's and blighted creatures. Nothing major but it will hopefully add to the feeling that there's a imminent threat that has to be solved.
* Ancient battlefield - With the rival houses on the Island and things that have occured in the past its only viable that there's been a few battles taking place, or small skirmishes.
* Guar farms - Everyone loves Guars right?
* The Lost Tribes - Argonians' that didn't wish to follow their more civilized brothers and sisters or refused to be sold as slaves, have choosen to live in tribes along The Bitter Coast.
* Old Seyda Neen - Things didn't go very well for the first Imperial Settlers as they first arrived to Vvardenfell, local creatures and villans forced them to relocate and leave their old village, not much remain to be seen but those who are searching for some extra coins might be interested to explore this area.
Armor/Weapons
* Draugh Armor set - Always annoyed me that the entire set wasn't included in the final version.
* Durzog Armor set - A completely new set that fits like a glove!
* Indoril Greaves - Cover your legs, scum.
Ingredients/Misc
* 4 new types of bread - Cause bread is awesome.
* New ingredients for the Deadlands - Human parts like brain and kidney.
Graphical
* New splashscreens - Epic splashscreens that have the same artistical design.
* New skybox for the Deadlands - I.imgur.com
* Graphics pack for structures - More info later!
Balancing/Fixes
* Balanced weapon damage - New weapon damage based on real world counterparts.
* Balanced armors/weapons costs - New costs for all armors/weapons and uniques.
* New starting spells - Stay tuned for more info.
Others
* Families Of Vvardenfell - This project will add new NPC's to some homes. Basiclly for realism but also to make it harder to steal items.
And of course a lot of other small additions/fixes that will be revealed when the time is right!
Let me know what you think!