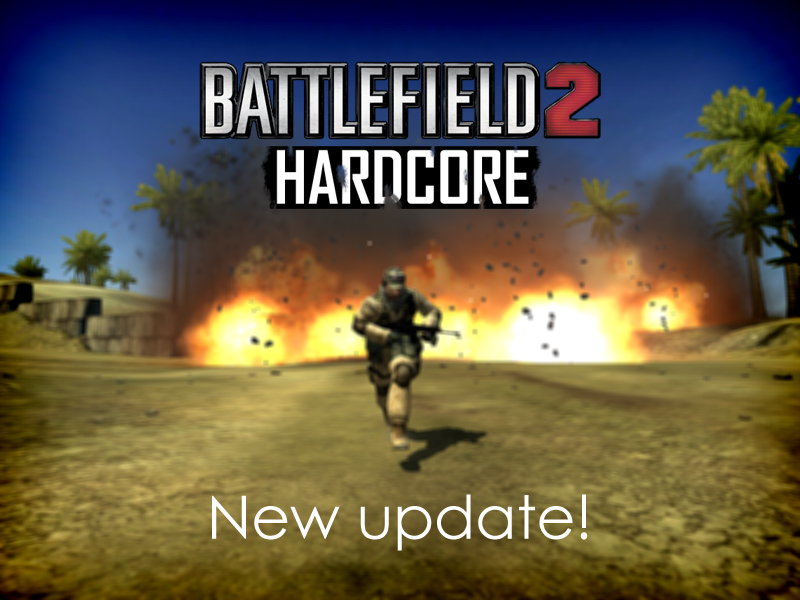 Hello friends! It's been pretty while since the last update of Battlefield 2 HARDCORE, so I decided to finally release new version of the mod. This update contains many balance improvements, enhanced effects, some fixes and finally (as I promised) new content from a booster pack.
So let's look closer what changes this new version brings.
Changes made to machine guns on Tunguska and PGZ-95 to make them more balanced compared to aircrafts.
Added zoom to stationary AT weapons (C key by default) and APC firing ports (right mouse button).
Simrad now works correclty and can light up targets for jets.
Fixed local messages issue.
Machine guns with explosive rounds were added to Mi-17 and Z-8 transport helicopters for better balance with Black Hawk.
Improved spotting system — "fake" spot is not possible now.
Heavy jeeps now take damage from .50 caliber machine guns.
Fixed texture for engineer's icon on minimap.
Hitmarker texture is perfectly centered on the screen.
Prevented use of missile bug on jets (called "No lock), which provided 100% chance of hitting aircrafts (video about bug).
Slightly increased armor level of boats, so now they can survive tank shell or Eryx/SRAW missile hit (which however deals critical damage to them).
Added support for vehicles from "Armoured Fury" booster pack (A10, Su39, WZ11, EC635, Littlebird, Fantan Q-5 and two civilian cars).
Enhanced visual effects of bullet hits, explosions, missile trails, muzzle flashes.
I am also going to add one cool map very soon, so stay tuned! ;) And be sure to check out our servers!
P.S.: I belive this update with all it's changes is one more step, which moves us closer to perfect BF2. And I also hope that with all our love and support this game will live and bring fun for many years!
---
And finally, for your entertainment, here is a couple of beautiful screenshots from BF2 HARDCORE (all clickable). Some of you may have already seen them (since I've uploaded them yesterday), but for most of you they should be new I guess ;)
Thanks for reading and don't forget to leave a comment below! ;)