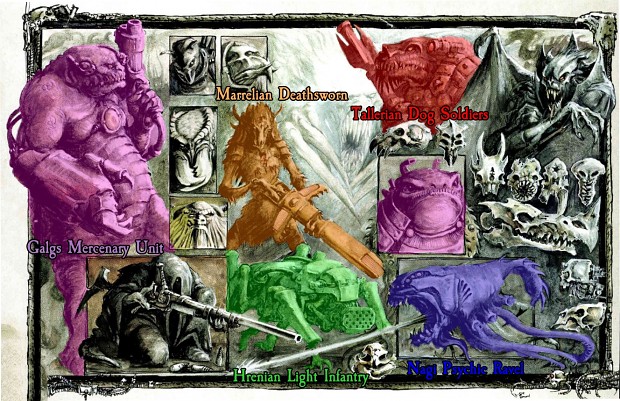 Tau lovers, rejoice, for new additions to the empire are coming, here to help you spread the Greater Good. Tau haters, rejoice as well, for new enemies come only so they can die under your unrelenting barrage.
Vladomije has been busy and did a lot of work on three factions we are working on in Phase 1. With his help and a large amount of artistic liberty, I decided to present several new auxiliary races for Tau.
If you skip over at Lexicanum or try some other source for Tau auxilia you will find mostly short descriptions and little to no picture references.
True enough, there is a lot of fan made pictures which are very subjective, not that it's a bad thing, but point being, GW has yet (if ever) to develop these races and incorporate them in TE.
Some time ago, I found this pic online, it's clearly WH40K and as you can see, xenos in the middle has a weapon which, at least to me, looks a lot like piece of Tau technology, so I decided to go with this picture as my basis for new additions to the Greater Good.
You can also see that picture is populated with different aliens, some of which can loosely be recognized as species that serve with Tau and are described in Lex. So, lets begin.
1. Red-Tarellian Dog Soldiers
Tarellians are a minor reptilian species of alien found throughout much of the galaxy. They are commonly known as Tarellian Dog-soldiers, because of their snouted faces and their habit of working as mercenaries. During the Great Crusade the Imperium virus bombed most of their home worlds, almost wiping the species out. For this reason they have a great grudge against the Imperium. The Tarellians have not been conquered by the Tau but are often found fighting as mercenaries in their armies, particularly when the war is against humans.
Physically, Tarellians are narrow-waisted, broad shouldered aliens that are slightly shorter than most humans, with long, snouted faces.
A Tarellian civilization was recently devoured by Hive Fleet Moloch during their advances from the galactic north and the Kiltor Sector.
Tarellians are the only species here that I'm sure of in regards of appearance.
2. Purple-Galgs Mercenary Unit
Galgs are green, scaled, frog-like creatures that often form into mercenary bands. Like most mercenaries, they fight for the highest bidder.
The only humans to come into contact with Galgs are other mercenaries, and for this reason they are considered a minor race. Most of them work as mercenaries for the Tau Empire, however, it is unknown if they work for other groups as well. Like many alien races, they have an incredible hate for the Imperium.
3. Orange-Morralian Deathsworn
Morralians are a group or species of alien that are part of the Tau Empire or at least work as mercenaries for the Tau. Their known military body is the Morralian Deathsworn.
Orange aliens looked the most suited for this. No real logic in the choice, just the knowledge that if someone asked me who would be Deathsworn of all the races in the pic, I would definitely choose these guys.
4. Blue-Nagi Psychic Ravel
The Nagi are a xenos race from the world of Sha'galudd. Highly intelligent worm-like creatures, the small Nagi are known for their mind control abities. When they were first discovered by the Tau Empire, they were despised by the Tau, who fought a series of violent conflicts with them. However they have since agreed to a peace accord and have joined the Tau Empire. Nagi's frequently serve as advisors to the Ethereal Caste.
Yes, I know, the description says Nagi are wormlike, and the blue alien is more squid then worm, but what the heck, artistic liberty full throtle :D.
5. Green-Hrenian Light Infantry
Hrenians are a group or species of alien that are part of the Tau Empire, or at least work as mercenaries for the Tau. Their known military body is the Hrenian Light Infantry.
6. Humans-Gue'vesa Auxiliaries
No need to introduce this, by now, classic Tau auxilia.
Of course, what you see in this pic is by no means the final product. I might add or take away some aspect of the model. Hrenians will be a bit taller and more agressive, Morralians will be clad in some sort of tauish armor but will probably keep the weapon shown. I'll try to keep all races named here inside some general Tau parametres when it comes to appearance. I know for sure that Nagi will have no combat capabilites, but will be purely support unit with several abilites with effects on enemy morale and health. Not really sure yet how will recruitment go, except that you will not be able to recruit all auxiliary races in one game, we will set limit to 2-3 races. With already existing Kroots and Vespids in game, this will raise the number of helper races to 7 and give really multiracial feel to the Tau. There will be new building for these races, not to expensive and probably tier I or II.
More details will be fleshed out as the work progresses.
Cheers
Zmaj