After months of being silent we are ready to start showing off the new elements of the game. With an engine switch to UE4 and some serious additions to the team we have a quality product that we are close to launching on early release (steam). Here is some information about the game in its new state:
CONCEPT BEHIND THE GAME:
Born from a passion to have a quality farming game on the PC, we bring you "Valley of Crescent Mountain". However, why stop with farming when you can add espionage to the mix, throw in some magic and perhaps a dastardly deed or two and what you have is our game!

As a newly graduated Spy, you have been dispatched into the world to make a difference and benefit the kingdom. Your first post is to the north near a neutral town settled deep within Crescent Valley. The village is in the middle of the only mountain pass between your kingdom and the neighboring nation. A small plot of land has been purchased on your behalf for you to establish your deep cover identity as a new farmer to the area. Your mission is to engage with the locals, watch for incursions by the opposing kingdom, sway opinions to your advantage and find new opportunities to push your country's agenda. Amidst all of this, unsettling signs of darkness are making themselves known.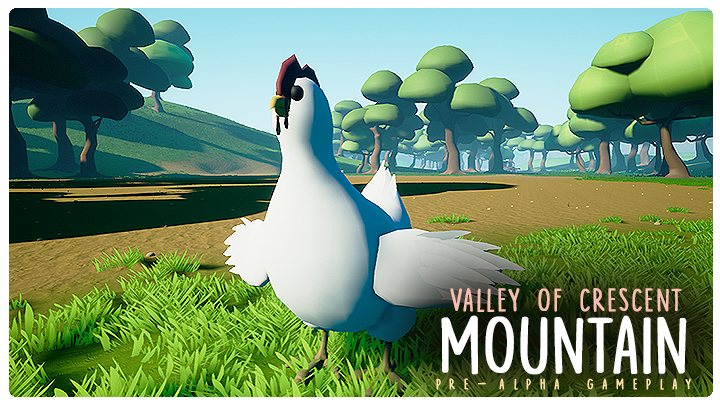 ELEMENTS OF THE GAME:


STATE OF THE GAME TODAY:
Right now we have been working on getting the alpha version of the game released and playable to our playtesters. Each week we work on specific content that will help the first milestone of the game be completed, from there we want to springboard into adding in features that will matter to the playerbase. You can watch as we complete this process by following us on twitch. RIUTHAMUS's TWITCH STREAM I stream on TUESDAY, WEDNESDAY, FRIDAY, SATURDAY, SUNDAY at 8pm HST (hawaii standard time). If you get a chance come and check us out. You can also follow us on any of our other media outlets:

FACEBOOK:
Facebook.com

TWITCH:
Twitch.tv

YOUTUBE:
Youtube.com

TWITTER:
Twitter.com

INDIEDB:
Indiedb.com