Nations Cup 2010
Here is the TL;DR version of this section!
Here is the second year of the Nations Cup. The Nations Cup is a community built tournament for the Movie Battles II modification for Jedi Knight Jedi Academy. The nations cup is a 5v5 tournament where players play for the country in which they reside in for an all out battle for the championship!
MB2GamingTeam wrote: I'm delighted to announce that we finished our work on our old-new website and launched an exciting project called MB2Gaming.
It is dedicated to the objective of supporting and improving the MovieBattles II mod by organising events, providing the game a proper publicity, attracting new players to the and helping them in their first steps in little mb2's world.

I'm certain that we will all enjoy the outcome of MB2Gaming's team work as we have already planned two gaming events with a spectacular frame. One of them you already know - the Nations Cup is already knocking on your doors. The second one dedicated to individual players named Proleague will start in October.

I'd like to invite you to visit a new website:
Mb2gaming.eu

About the Nations Cup.

Schedule
Player Registration deadline: 05.07
Players' voting for Captains: 03.07-04.07
Drawing: 05.07.2009
National Team Selection: 05.07.2009
Nations Cup Matches: 06.07.2009 - 16.07.2009

Matches will be played on 18:00 and 20:00.
UTC + 1 time (Berlins, Brussels, Paris, Rome, Warsaw)

After several weeks of ninja work, I'm convinced to say that this years National Cup will be probably be better in terms of competition comparatively to last year as we drew conclusions carefully.

What exactly is Nations Cup?

Nations Cup is a 5v5 competition meant for best national teams from all over the world. National teams made up of 10 players will be chosen by a team captain. Competition will start in a group stage and eight best teams will proceed to the quarter-finals.

The purpose of the tournament is obviously to conquer the world.
Will Poland defend it's title? Will Finland, strong as never before, avenge their defeat? Maybe USA players will show their value? Or maybe you will prove to be the best and lead your national team to a great victory?

You can sign in by posting a short application on our forums.

Hopefully tournament won't be limited to just matches. We are preparing a variety of attractions, including live video streaming, match demos, MVP polling and daily player statistics.

If you have any questions please feel free to contact us.
I would also like to take this opportunity as a Movie Battles II Development Team member to be sure that everyone has updated their Movie Battles II to the current version so that they are ready for the tournament. The current version is V0.0.1 and you can find the download to the Full V0 release as well as the v0.0.1 incremental patch by clicking the below link. There is a possibility that new patches might be released before or during the tournament so be sure to stay on top of things!

Good luck to all participants!
New Website and Forums!
Here is the TL;DR version of this section!
We have released a brand new site and forum design. Check out the below image to take a look at the homepage!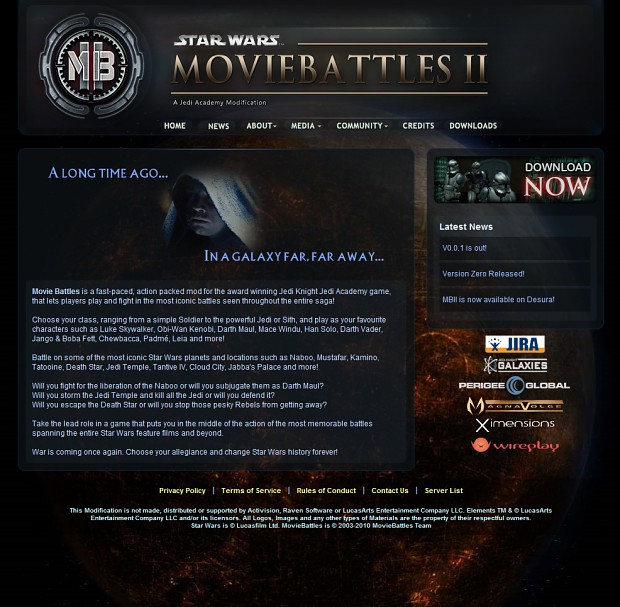 For those who like reading here is some more info on the site itself as well as what it means for MBII.
Frost wrote: As some of you might have noticed, our forums have recently received a new dressup. Well, my friends, I'm afraid that's just the tip of the iceberg. Here, without further due, I am pleased to welcome you to:

The new and improved MovieBattles.com

This new site's been many months in the making and has taken a great deal of time from a couple of people. The road to this new site has been long and rocky at times, reaching an impass in some periods.

This mod and it's website has been around since about 2003 and has come to grow over this past 7 years. In the early days, it was just couple of simple pages advertising what was then an ambitious project.

As the project started to grow and more people got involved, the need of having a better presentation rose up. The need to have a look that would draw newcomers to the game and deliver it to the public in an accessible yet stylish way.

After quite the bumpy ride, we finally got it implemented and it's kicking sweet ass.

The new design delivers a far more modern look and streamlines the long pages of convuluted content that the old site. We're still doing some final tweaks / adding some more content to our new sweet media gallery and we will continue to update the site regularly to bring you the latest on our game.

So now I want you to give it up for these three people who helped me get the ball running! Here are the responsibles for the new site's look:

iFish - CSS and HTML Template Design/Coding.
Tom/Jnive - Integrating and Simplying the Web Site.
Mace Madunusus - Epic Media Content Provider.
Greenleon - Letting us use his awesome MBII server query script.
Frost - Visual Redesign, Layout and Page Creation

Along with v0, this redesign marks the beginning of a new era. A milestone for this mod's life. We are now, finally, starting a campaign to promote the mod all around the Internet with the sole purpose of broadening our horizons and reaching out to a bigger number of players. And as a result of such we want youto go out and spread the word! Get on forums and email magazines! It's your job as a long endured Community Member of this mod to go out and advertise it so that it may keep getting played and developed for generations to come.

Without anything else to say, Frost here, I love you all!
Leave feedback and bug reports down here!
That is it for now everyone! Don't forget to sign up for the tournament!