It's us again, your PerfectTeam...
outside our windows it is raining and it's cold – autumn the most depressing season... And we are going to cheer up you a bit. After above a month I want to present you effects of our work. Obviously, these aren't all attractions that we prepared for this news...
First and the most important thing for further progress of "Command & Conquer 3 - Mutants Revenge" – we are showing you Mutants Airfield model with its already virginal texture.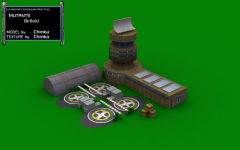 We're ready to serve you captain...
It is known that Airfield is one of most important structures for each conflict side. Thanks to them Mutants' commanders are able to produce aircraft, which grim-reap from above...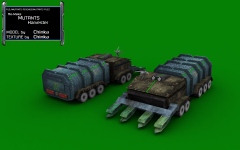 Ready to collecting resources!
You should tend to observe that some our earlier models have been remaked until release. Why? We want to suit our units to the rest of Tiberium universe and show its functionality by their design. Meanwhile our modellers set their minds to remake Mutants Harvester. Rate their work's results.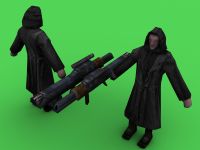 You are not prepared for my wrath..




Who is Stalker Commando? It's seemingly another commando, which has to be a cannon-fodder drawing enemy's fire. He is armed with forgotten by GDI scientists' technology, adapted by Mutants for custom requirements. Believe me you wouldn't want to meet him at the battle field. His real armor is hidden underneath ostensibly looking coat...




These innocently looking vehicle are really mighty units. In this case, Dragonfly G is very mobile artillery, able to siege enemy base for a long time and also to block straits. And Horus Tank? This vehicle is a genuine killer of the skies. If you think you flit above Mutants' terrain unscathed – use your head twice, otherwise you will come back home... in a body bag...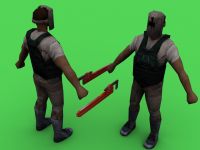 What I should repair for you?




Technicians are known that pop up in the least expected moments. This is Mutants' Technicians' standard. Exactly, whereby them, Mutants can count on reliable supplies in terms of all kinds of weapons and vehicles.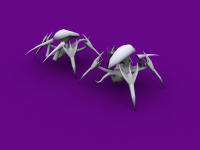 Death come...




The people thought, that Aliens aren't able to surprise them. In time, Aliens' invasion forces had been driven off. Nothing could be further from the truth - Mantis is a kind of a parasite, which uses the opponents in order to cure himself. This is obviously lethal in its consequences for Mantis' potential victims.

The constant point of each news is to present another models in-game. Unfortunately this time we have to skip this section of the program because the Print Screen key has gone haywire...
Of course I'm joking so I'm coming back to the point:




What more can I say? Remember to visit us regularly, because soon... Anyway, you will see for yourself...

... and of course - have a nice week!
~ Makintosh!