Hello stalkers!
Here is a new journal of my adventures with C P P, the Cadaver Party Project.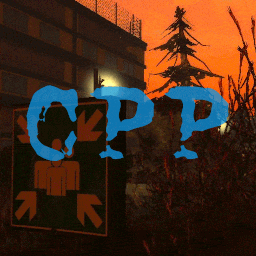 As you might realize when you compare the dates between those present news and the last ones, yep, it has been quite some time... of course I haven't stopped working. Maybe I even worked a little too much at some times, well, that's cool. Sometimes progress is slower, sometimes it's normal, sometimes it's huge, I think you get used to me and understand how I work, in the shadows. Those who follow me on Twitter @Yanka_Prod saw the screenshots I post from time to time.
To begin with, awesome progress was made since the last article here!
"Of course, it's been more than a year" you say? Don't throw rotten tomatoes at me please, it's not because I don't post news regularly that the project is halted... ok, ok, sorry for the lack of news.
I told myself: "when I'll have something big I'll tell my stalkers", and today is the day.
OK, let's check it.
Steam Greenlight!
Boom. Just like that. Without a warning. Savage.
After way too much time in hibernation, I finally decided to open the Steam Greenlight page for C P P!
Have a look and don't forget to vote and talk about it to your friends & people who may be interested!
It would give me the opportunity to launch C P P on other places than Mod DB, because you know. Steam. Lots of players there. #1 platform. Easier updates for the players. I think you understand that too.
Watch the trailer!
I hope you will like what you see. In-game sequences only of course. No surprises.
Big up to my friends Cosmonecromantum for the music.
More details about the evolutions
Tons of things have been improved, updated, edited, redone in the maps but also in the code, music, sound, textures, HUD, effects, etc. Here is a list with the items:
A new (and cool) mechanic was implemented last summer and rewritten from scratch a few months ago. This is pretty fun and add something new and special to this project. You can see it in the trailer near the end.
The finished maps have been upgraded, not only visually, again there are new rooms, details, puzzles, wrong ends, etc. Hmm, what? Oh, this hasn't been discussed already? Wrong ends? Yep, because one is never enough. Believe me, some of these are pretty... "surprising"?
Well I think I haven't mentioned the secret zones as well. Oh, don't mind that, you'll see while playing. If you're the searching type of player like I am, you'll be rewarded.
The last two maps of Episode 1 are ready mapping speaking. I have to finish the code part and of course add more details before shipping the new beta (testers, please contain your... excitement. There are children all around you in the room, even if you can't see them... yet).
Speaking of maps, new ones have been added to Chapter 1. Yep.
By the way I changed my mind about the two Chapters thing. What the hell you say? Let me explain. It's simple.
Let's make episodes
Originally, Cadaver Party Project was designed as a single block (I'm not talking about the Special Chapter which is a "bonus" chapter, just the main story). It was then divided in two parts so I could release the first one where a lot was already done. I decided (I think it was ±a year ago) to come back to the single episode idea but divided in shorter episodes. That will help me gather feedback and be more efficient. I know, I'm complicated.
It shall be better since the story script was rewritten and various things changed.
To sum up, Cadaver Party Project = Chapter 1 + with new maps and/or portions of maps from Episode 2. Some maps from the former Episode 2 have been put aside (for now) until I finish the main story.
Requirements + what's next
Some maps are pretty big. Like, REALLY big. I do my best to optimize and organize everything but you will need a better rig than you needed for Amnesia, at least for some areas.
There are chances I will release a patch/include a patch so you can choose between "laptop" and "gaming rig", exactly like the system I used in the demo for those who tried it. It's a good compromise.

Right now, even if there is still work to do, you can do a complete playthrough of the game and finish it, even if you miss some puzzles/encounters/battles etc., it has been possible since a few months! It's a cool personal milestone but I'm not done yet, I'll relax when I'll be dead or at least when the project will be out and over.
The WAIT
I added, edited, changed tons of various stuff and I don't regret it even if it makes the development longer.
Do you know why?
Because my knowledge, my skills had some good time to get better, it made me capable of changing, improving, doing or redoing things better and prettier, add brand new ideas or even mechanics.
So thank you for bearing with me!
If it's hard for you to wait remember it's always, always harder for me. ;)
Beta branch will be updated in the not-so-far future. Winners of the beta invites, you are not forgotten, I hope you are in a comfortable chair and still patient!
Wow, I've been a real chatterbox today, it's terrifying.
As always, thanks for your interest everyone, thanks for reading and your nice messages & feedback, I can't wait to complete the project!
See you soon my dear stalkers,
the clock restarted.
Don't die on me please!
Not now!~
Yanka
Greenlight page: Goo.gl