PRIVATE BETA (GOOD) PROGRESS!
... WHAT HAPPENED DURING THE LAST TWO MONTHS?
Hi stalkers!

During the last weeks and since the last news, the private beta has been updated 9 times (today a new version has been uploaded for testers).

I am very happy, things have taken a big turn in some domains.
Thanks to feedback, a lot of stuff have been optimized (lights, shadows, details...) and the loss of FPS in some areas is now weak or null.
-Visually speaking, the majority of final details has been included in the maps, it looks nice.
-The new User Interface is currently nearly completed, I just want to re-redo the Health & (in)Sanity icons. The rest, like Inventory, Items, Cursors, etc. is ready.
-I reworked a lot of textures (80+) and added 30+ new ones. Even if some are not really optimized (= not pow2) it is now visually better, especially in dark areas.
-New events were added. New things to do. Of course various errors have been corrected too.

As I said last time, I decided to revamp a final time some of the maps so they become good enough regarding my standards.
So here is the current "maplist" for the Episode 1, it will give you a view on what's ready and what isn't finished.
I use my own "classification" system to avoid any spoil... but if you want to keep the suspense until you play the game, just ignore this block!

*cpe0l0: 100% READY
*cpe1l1: 100% READY
*cpe1l2: 100% READY
*cpe1l3: 100% READY
*cpe1l4: 100% READY
*cpe1l5: 100% READY
*cpe1l6: 100% READY
*cpe1l7: Re-working the level design. Must finish coding.
*cpe1l8: Level design 100% READY. Must finish coding.
*cpe1l9: READY but re-working the level design as well. Coding 100% READY.
*and maybe
*other surprises ;)

Since beta phases are going smooth, I wonder if it's necessary to make a public beta... maybe Cadaver Party will just come out in its final state. I'll see how I handle this and will give you more news as soon as possible.

I'm really proud of how things have been going recently, it's unusual enough to be underlined as I'm working very hard so that the story and generally the "game" will be good enough.

Ok, less chatting, more watching!
SOME SCREENSHOTS FROM THE CURRENT BUILD
Enjoy those indoor and outdoor screenshots.
From cold colours to hot ones.
High contrasts and different vibes.
You are [not?] alone.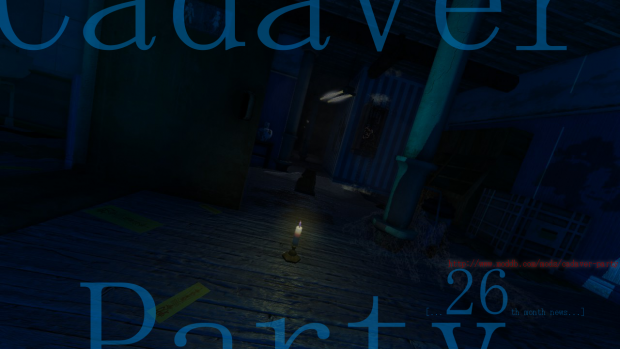 Month 26 - Forbidden ofuda

Note: all this comes from the current beta so there might be a few changes when Cadaver Party: Episode 1 will be out.
ABOUT THE SPECIAL CHAPTER
Development is not evolving a lot because I work a lot on Episode 1 but at least I corrected the problems caused by the last "big" engine update. I'll finish it after Episode 1. That's all for now!

Here it is for the latest news. Now it's time for me to go back to work so stay tuned and see you in the next months!
Thanks for your interest!... and by the way...
... don't mind that strange and still figure by your bed, next night~

Yanka

PS: more news and screenshots here: Twitter.com