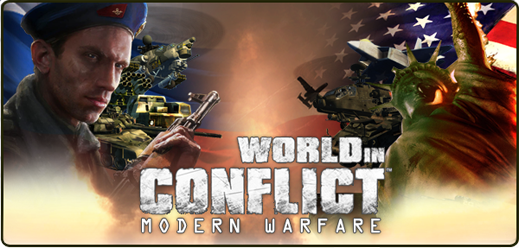 Modern Warfare Mod Version 4.6
Modern Warfare Mod Version 4.6 is now available.
Highlights of new features in 4.6:
V-22B Osprey tiltrotor infantry transport craft for US faction.
New OPFOR (TA dropped) 1500km ranged Medium Range Ballistic Missile (MRBM) launcher.
Improvements to RU Anti-Tank infantry fire team, and ATGM vehicles (US Stryker TOW/Bradley, RU BMP-2)
Maintenance update improvements (game balance and several bug fixes).

NOTE: This mod requires your World in Conflict to be patched to version 1.0.1.1. or it will not work. To patch your game, simply start the game, sign into multiplayer, and it will detect that your game is outdated and patch it.
Mod
Choose which type of install you would like to do. Please note that the installer is only compatible with Windows Vista, Windows 7 and Windows 8. Not Windows XP.

This is a full version of the mod. Even if you don't have the mod at all this will install it as the current version. If you do have a previous version, it will update you to the current version.
Maps
Maps were last updated during MW Mod 4.1 release. NOTE: If you already had any version of the maps from 4.1 or onwards you do not need to redownload the maps -- just get the updated mod instead.
If you had a previous version of the map pack installed from older versions of the mod, please update it by downloading the latest map pack below:
The updated map pack improves performance of the mde_Reforger map and adds one additional map: do_Fulda by Slepnyrl.
System Requirements
Due to the increasing complexity in the simulation of missiles, aircraft, artillery, and more- Modern Warfare Mod 4 requires a higher-end system than specified on the original World in Conflict system requirements.
These are now the minimum system requirements:
OS: Windows Vista or 7
Processor: Intel i5/i7 or AMD Quad Core FX
RAM: 3 GB or more
Graphics card: DirectX 11 NVidia or AMD ATI card, Nvidia GeForce GTX 260 or ATI Radeon 5870 or higher.
Graphics card memory: 512 MB or more
Sound card: DirectX compatible sound card
These are now the recommended system requirements:
OS: Windows 7 64-bit (Vista also supported)
Processor: 2nd Generation Intel i5/i7 or high-end AMD Quad Core FX
RAM: 4 GB or more
Graphics card: DirectX 11 NVidia or AMD ATI card, Nvidia GeForce GTX 460 or ATI Radeon 6950 or higher.
Graphics card memory: 1 GB or more
Sound card: DirectX compatible sound card
At minimum, your system (including video card) must maintain 27 frames per second or higher, and 40fps or higher is recommended for a good gameplay experience. Below 27 fps, numerous homing projectiles may miss their targets or fail to perform altogether. Try lowering your graphics settings if you cannot achieve enough frame rate.
World in Conflict and MW Mod both support multi-threading.

Due to the fact that WiC's dedicated server application (WiC_DS) only runs at 10 frames per second and is incredibly buggy, MW Mod cannot be run on dedicated servers or it will crash.
This means that all sessions need to be hosted by players.
For details on how to host a game with your friends or other MW Mod players, please see: Understanding Multiplayer for WiC MW Mod.
To find other MW Mod players, please join our WiC Clan, and join our Steam group !

Firstly, here are some lists that may be useful:
Complete development change log follows.
Change Log 4.6 (Honeybadger)
Last updated October 21, 2014:
- Significantly increased pricing of invincible tactical aids that cannot be countered or shot
down, such as: Incendiary Bomb, Sensor Fuzed Weapon, Airstrike.
- Removed following Tactical Aids: JDAM, Precision Artillery
- Increased game time by 5 minutes.
- BGM-71 TOW and 9M113M Konkurs ATGM: Missiles will now proactively reload when reload time
is up, rather than requiring ammunition to be depleted first and reloading afterwards.
- (US) Airdropped PAC-3 missile launcher TA has been relocated to 2nd (middle) level category
(Theater Support Systems) in the Tactical Aids menu.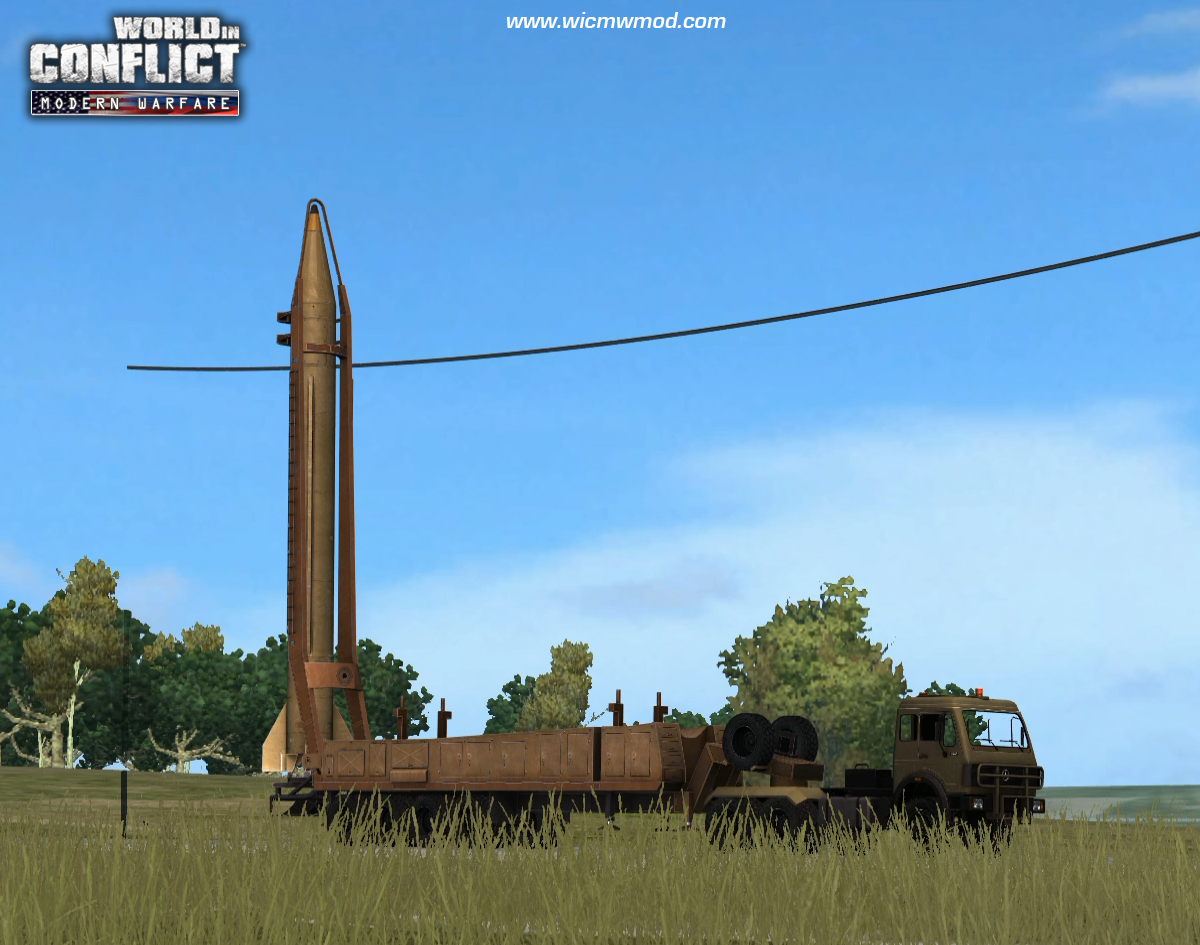 - (RU) New TA airdropped unit added: (OPFOR) Medium Range Ballistic Missile Launcher:
1500 km ranged MRBM launcher (Shahab-3). Takes 3 minutes to arrive on target with apogee of
240km altitude. Extreme terminal velocities (Mach 7 - Mach 11), making it more challenging
target for missile defenses; 1,000 kg of clustered HE payload.
- (RU) Mi-28N: Improved kinematics for 9M120 Ataka-V missile; fixed some homing related issues.
- (RU) BM-21 price reduced to 1600 (from 1750).
- (US) Removed UH-60 Blackhawk transport helicopter.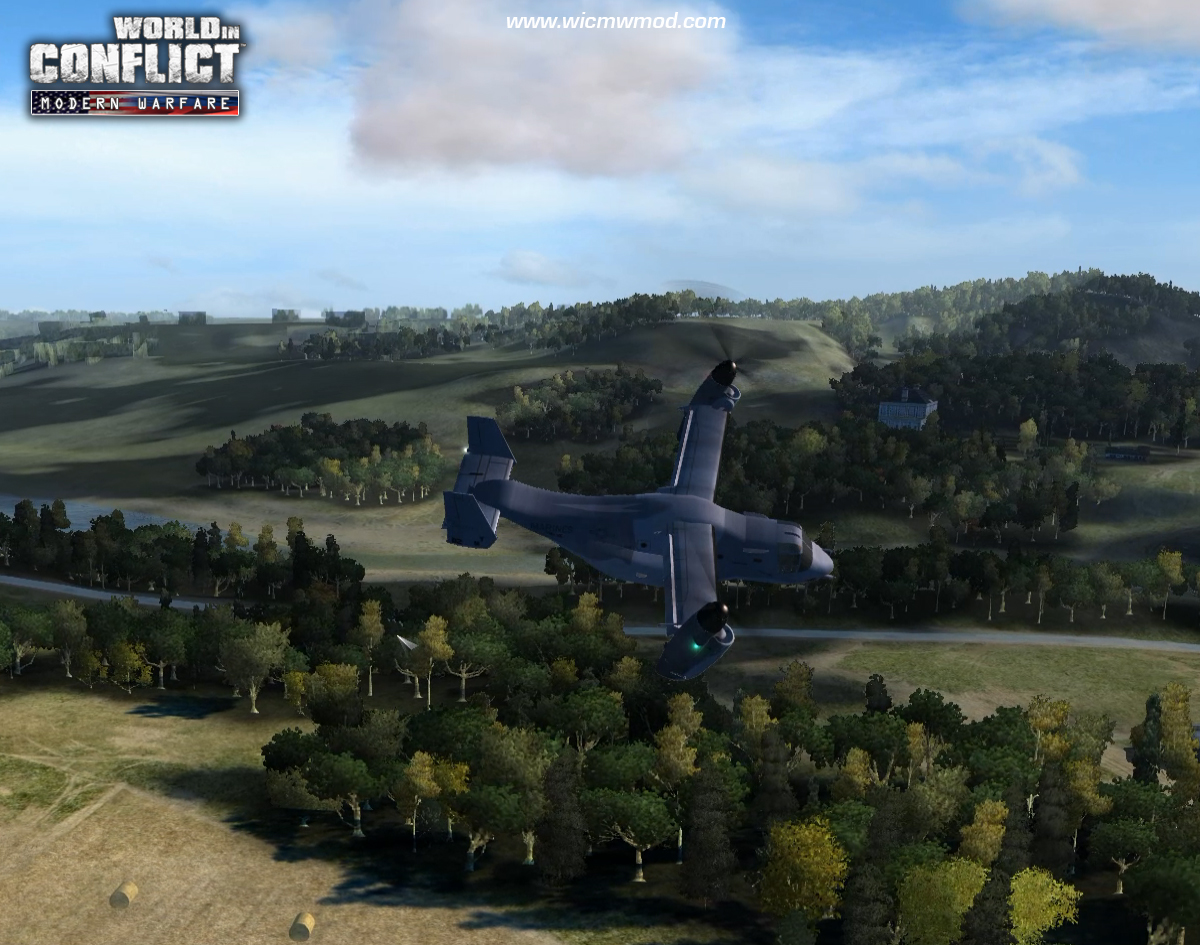 - (US) New Unit: MV-22B Osprey transport tiltrotor craft. Significantly improves mobility of
infantry forces; Offensive special ability allows the aircraft to spawn Airborne Infantry
without requiring TA points.
- (RU) Anti-Tank infantry fire team now fires 9M113M Konkurs ATGM using FLINT missile system.
- Anti-Tank fortifications now use FLINT missile system.
- All homing projectiles in game have now been migrated into FLINT missile system -- no more
vanilla homing rockets anywhere in the game.
- (US) Ammunition for BGM-71 TOW missile increased to 8 on Bradley and Styker ATGM vehicles.
Reload time also increased to 90 seconds.
- (US) MGM-140B ATACMS Block IA launcher TA price raised to 30 (from 28).
- (US) MGM-140B ATACMS Block IA launcher reload time reduced to 60 seconds (from 90).
- (US) Patriot/IADS complex - Weapons Control Computer version 6.5:
* (Bug fix PR#4065): Uncommanded launch of Tamir interceptors when a track number (ECL_id)
equals wicg UnitID.
* (Bug fix PR#4059): Invalid triggering of 'terrain impact warning' and flight termination
of interceptors when engaging TBM & RAM tracks with low TLLs.
* PAC-3: Added two-way datalink between ground radar and outgoing interceptors:
Kinematics are more accurately reported and mid-course updates are significantly improved
against high velocity targets (i.e. MRBM coming down at Mach 7+).
* PAC-3: Attitude control (using side thrusters) is now engaged when the missile first
clears the launcher. Pitch & yaw axis are matched to Line-of-Sight bearing, prior to
pitching up for lofted trajectory.
* Tamir: Now flies higher during mid-course flight to minimize energy loss.
* Minimum flyout altitude (1.5km height) is now enforced on all TBM engagements.
* Iron Dome BMC: Improved command & control AI to mitigate excessive wasting of interceptors
against late engagement targets.
* Rewrote target queueing/track hand-off process on Missile Defense Radar in preparation for
future integration & addition of upper-tier defense element into the game (THAAD).