[IMPORTANT]:
If you have not heard about Mindworld on ModDB yet, you can read this article for all the necessary information you missed out. We just made the jump to finally go indie and therefor we moved to IndieDB. Remember, this article has been published on the 25th of March on ModDB. Therefor, some content may seem not appropriate for IndieDB, we simply keep all the information in, because many people are probably coming from ModDB and they should not miss out those information.
---
Another month has gone by since we published the last big content update. Many people have applied for the open positions in the team and many hours have been spent on interviewing in order to find new talents. I am happy to announce that we have found a couple of really dedicated people who are more than willing to produce high quality for Mindworld. But, we are still looking for a couple of people (especially a female voice to play the main character Katherine Evans) to join our team and realize this project - maybe you are the right person for us?
Current open positions:
• Concept Artist
• Female Voice
• Level Designer
You can find more information on the current open positions right here.
---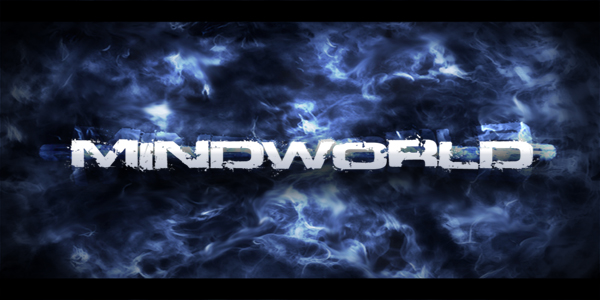 In the last article, we answered the most fundamental questions that had risen while we were developing the early stages of pre-production. One question that has been asked frequently was which engine Mindworld is going to use. And this is going to be the first question that we answer right now.
What engine is Mindworld going to use?
After we have asked many experienced teams who were in the stage of production or in the phase of releasing, reading a lot of articles and asking God for help, we have decided to not use the Source Engine. Instead, we are going to use the new UDK (Unreal Development Kit) and therefor Mindworld is going to be an indie game.
Wait, you are not developing in the Source Engine? - Why did the modpage say HL2-Modification all the time then?
Well, we wanted to let you experience the early stages of pre-production with us and already let you be a part of this. However, we needed to decide what engine to choose for the modpage and we went for the Source Engine for two simple reasons. The first reason is that HL2-Modifications do enjoy a lot of attention on this site and we used that for marketing reasons. The second reason is that I wanted to develope in the Source Engine at that time, but it does not make any sense to go that way, if the game concept does not fit the engine. And, we only want to deliever the highest quality for the community to enjoy.
If Mindworld is now going indie, is the game going to be free to play?
The release of the game is years away and I find it useless to discuss that topic already. It is going to play a big role later on and I think that, if we work so hard for this and the market is ready for us, we are going to go commercial. Making money with an indie title does not just need a high quality game, you can crush a whole project, if the marketing strategies and plans for the shipping do not work. Therefor, we are going to choose whatever might be the best solution at that time.
I've applied for a position in the team, but I did not get a response from you, why didn't you write back to me?
I have replied to most of the applications, but I do not spend any time on responding for the application, if you clearly did not spend any time on the application yourself. The more time you spend on the private message or e-mail you want me to read, the more likely it is to get interviewed for the position, it only makes sense, doesn't it?
How far in development is Mindworld right now?
A lot of time has been spent on building up the team. Some of the people are still working on sample tasks I gave them and some are already part of the team. We have a new 3D artist, who is currently working on the model for Katherine Evans, our main character. Also, we have found a voice actor for us, who is currently studying certain material thoroughly. Two coders, including one leader for the programing department, are going to start working for us in Summer.
Other than that, we have worked on the game story, included a few new concepts and ideas for the game, thought about the fighting system, worked out some areas with concept art and spent a lot of time for composing to experiment with atmosphere-settings.
---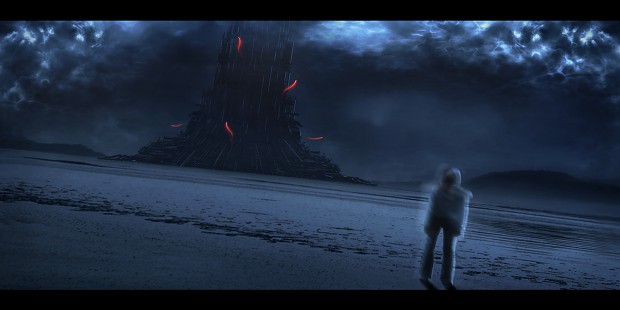 Artbible wrote: This shows the 'Outer World'. It's a dreamworld that is not fully stable yet and Katherine needs to focus to not fall into another dream. The tower is probably going to play a significant role in the game. It's also the first time you encounter the Helping Senses.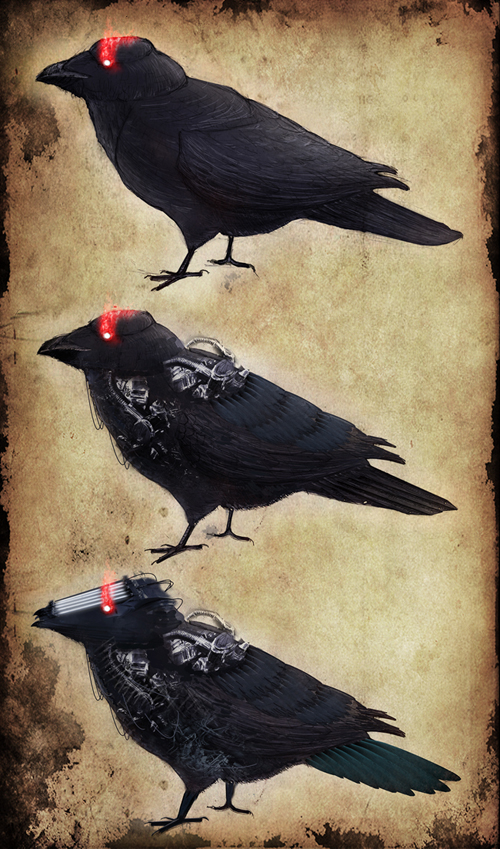 Artbible wrote: This shows the metamorphosis of an important symbol in the game: A red-eyed raven. The first raven can be found in the Outer Ring, the second in the Inner Ring and the last one can only be seen in the Core.
---
And finally two brand new tracks by Alex Michajlow. They show some great atmosphere for the overall gaming experience in Mindworld:
Our Ghosts (by Alex Michajlow):
Breathing Towers (by Alex Michajlow):

---
We are always publishing the content update on the last Friday of each month.
- Kjell 'iQew' Bunjes
(Team Leader and Art Director)