One of the central goals of Star Wars: Interregnum is to give each new faction distinct and unique mechanics that changes the way it plays. For the Galactic Empire, this mechanic was the Morale System, a special weakness for an otherwise strong faction. The Imperial Warlords, the next faction to be released in Interregnum, have a rather different problem. As upstarts in the galaxy without the wealth of the core worlds or very much legitimacy, they cannot field as large of a fleet as the Galactic Empire or even most other factions. Instead, they must make more use of innovation and special abilities to make up for their lack of numbers.
To that end, as a struggling warlord in the galaxy yourself, you will have the option to ally with one of the four major warlords after earning the rank of Captain. While this is purely optional if want to conquer the galaxy alone, doing so will give you special bonuses, access to new unique research options, and even allow you to build a different titan (the titans will be discussed in a later news article).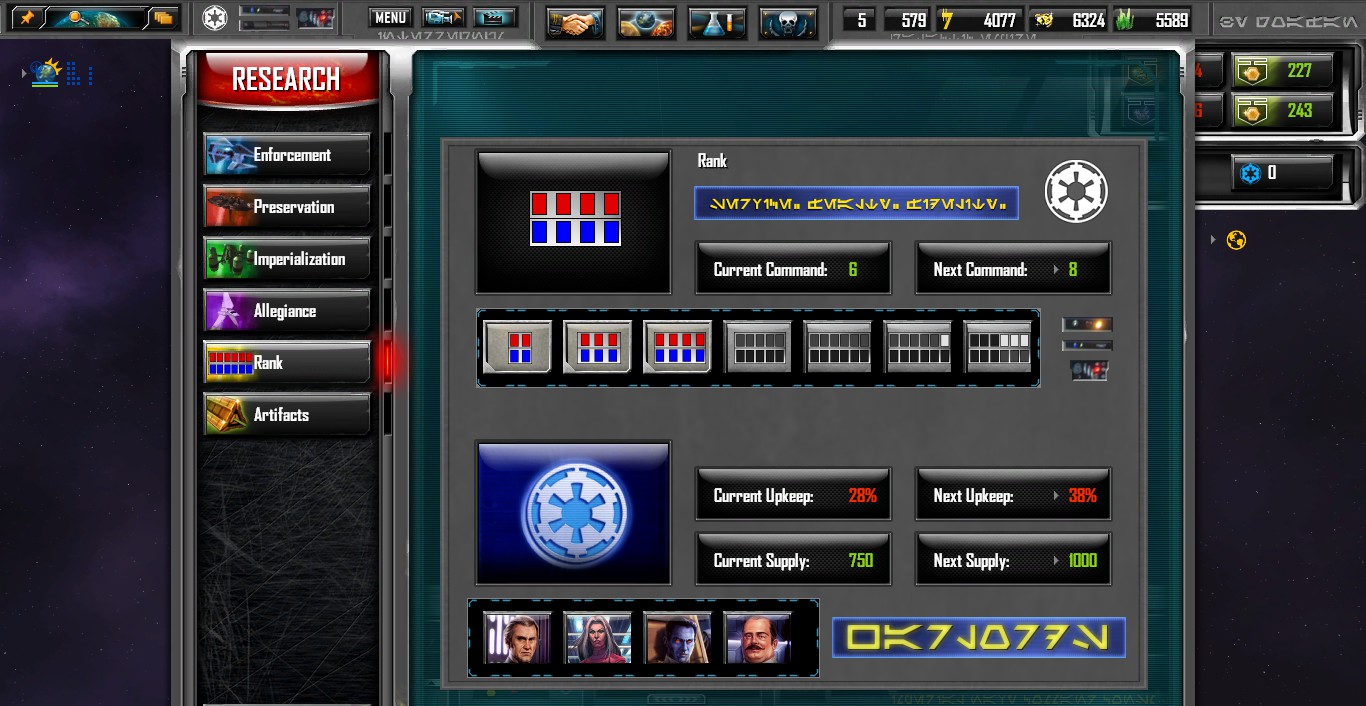 So, in preparation for releasing this faction, its time for you to... (insert Team Fortress 2 music here)
Grand Moff Ardus Kaine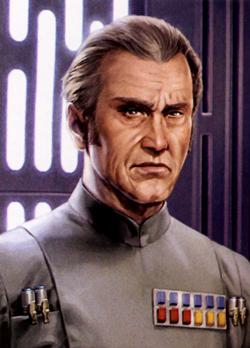 The successor to Grand Moff Tarkin after his death on the first Death Star, Grand Moff Ardus Kaine was among the most zealous and competent officials in the entire Empire. Yet while most people would have been pleased to be promoted to Grand Moff, Kaine disliked his new position because it required him to fight Rebels in the Outer Rim, not influence Imperial policy on Coruscant as he desired. As such, by the time Palpatine was killed at Endor, Kaine was hardly the loyal Imperial most thought him to be. With Darth Vader's brutish take over of the Imperial government and his failure to prevent the loss of Kaine's base of operations on Eriadu, Kaine had enough of the Galactic Empire. Taking what forces of his remained, including the Super Star Destroyer Reaper, Grand Moff Kaine retreat to the last Imperial stronghold in the Outer Rim, the New Territories. But instead of reforming Imperial forces there, Kaine formed his own government, the Pentastar Alignment of Powers, with no intention of following orders for Coruscant any longer.
While he may now be a Warlord, Kaine runs his new fiefdom with strict obedience to the principles of the New Order (the founding ideals of the Emprie), with the goal of forming a more efficient, less corrupt state. As such, much of Kaine's bonuses are economic, and joining his faction will provide an immediate bonus to trade, metal and crystal income. He has also proven to be much better at politics than the likes of Darth Vader or his fellow Warlord Zsinj; one of his unique techs is a Neutrality Proclamation, which substantially improves diplomatic relations by promising not to interfere with other powers so long as they leave the Pentastar Alignment alone. Finally, Kaine understands that Imperial legitimacy can only be gained by protecting his citizens, as such any planet protected by a Golan-III defense station can request assistance from the Pentastar Patrol Forces, allowing your planets to be protected by a special defensive fleet whenever they are threatened.
Director Ysanne Isard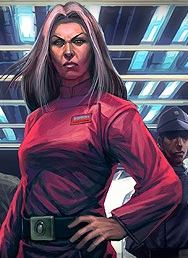 The former director of Imperial Intelligence, it is hard to find suitable adjectives to describe Ysanne Isard, but ruthless, cunning and vengeful come reasonably close. With the death of her idol Emperor Palpatine, Isard rightly feared losing her position when Darth Vader came to Coruscant to gain control of the Imperial government. However, she underestimated how hard it is to kill a force user like Darth Vader, and after a failed assassination attempt on him, was forced to flee to the Outer Rim on her Super Star Destroyer Lusankya. After manipulating Triple Alliance and New Republic intelligence, she managed to get these two powers to push the Empire away from her stronghold, which most people falsely assumed was too small to be dangerous. Yet with the cloning facilities of Kamino and the Clone Wars era shipyards of Rothana and Hypori under her control, with enough time Isard has all she needs to be a threat to anyone in the galaxy.
Anyone brave enough to join Isard will find her intelligence experience provides immediate assistance in keeping subverters and enemy agents out of your Empire, increasing allegiance and allowing your culture to spread through other planets more easily. Further, Isard's spies will allow you to see any planet your culture has infiltrated. She also has developed a secret back door into Sector Plexus, the database and communications system of Imperial Intelligence rivaled only by the Bothan Spynet in sophistication, which allows you to see all fleet movements in the galaxy. Finally her control over Rothana, the original manufacturing site of the Acclamator-II Assault Ship, will allow you to upgrade these vessels, making them more combat worth and improving the armor of all your ships.
Grand Admiral Thrawn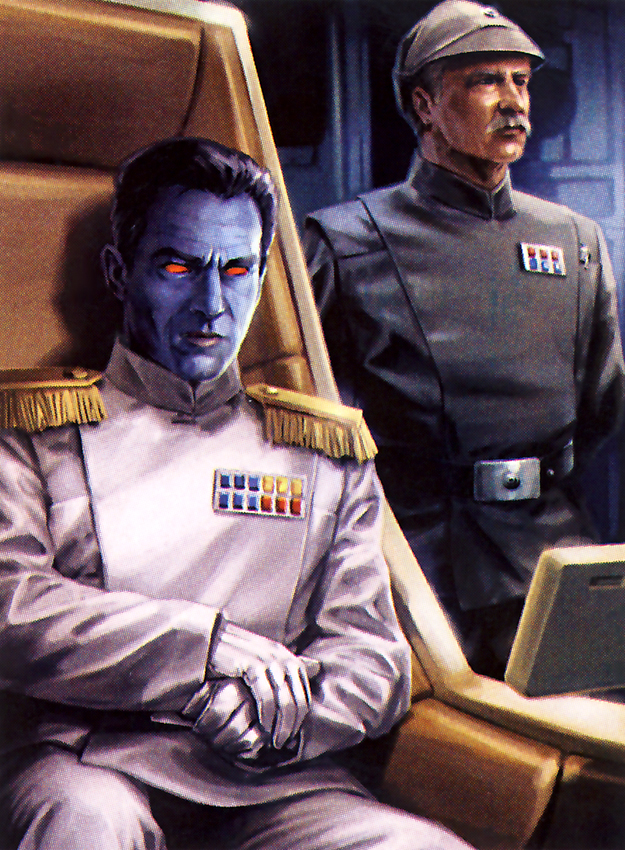 Of all the Warlords here, Grand Admiral Thrawn is probably the one that needs the least introduction. Possibly the greatest military strategist of his era, Grand Admiral Thrawn has managed to work his way to the top of the Imperial Navy despite the Empire's humanocentric tendencies. While not technically a Warlord as he has not rebelled against Darth Vader, the Grand Admiral none the less has complete operational independence over his territory in the Unknown Regions and significant authority over his native Chiss, who are now a vassal of the Galactic Empire in no small part thanks to Thrawn. He is also unique among the other Warlords in that he does not personally want to rule the galaxy; rather he wants the Empire to reunify and defeat the New Republic and its new allies, so that the galaxy can prepare for a second extra-galactic invasion by the Yuuzhan Vong (a danger that few non-Chiss are aware of). To that end, he has been known to occasionally assist any of the other Imperial factions against their non-Imperial enemies.
Allying yourself with Thrawn will immediately boost your ships shield mitigation and antimatter thanks to the Grand Admiral's training regime. After allying with him, you also have the ability to gain the support of his infamous Noghri Death Commandos, who will bring a swift and silent end to anyone in your Empire that opposes you, improving allegiance and culture resistance. Finally, influence over the Chiss Ascendancy will allow you to recruit skilled Chiss Engineers, who develop ways to save resources on ship construction while making your units slightly more durable at the same time. Finally, after an expedition to the Emperor's vaults on Wayland, Thrawn is believed to be in possession of several trivial bits of technology, one of which may be in use at something called the Night Hammer project.
Warlord Zsinj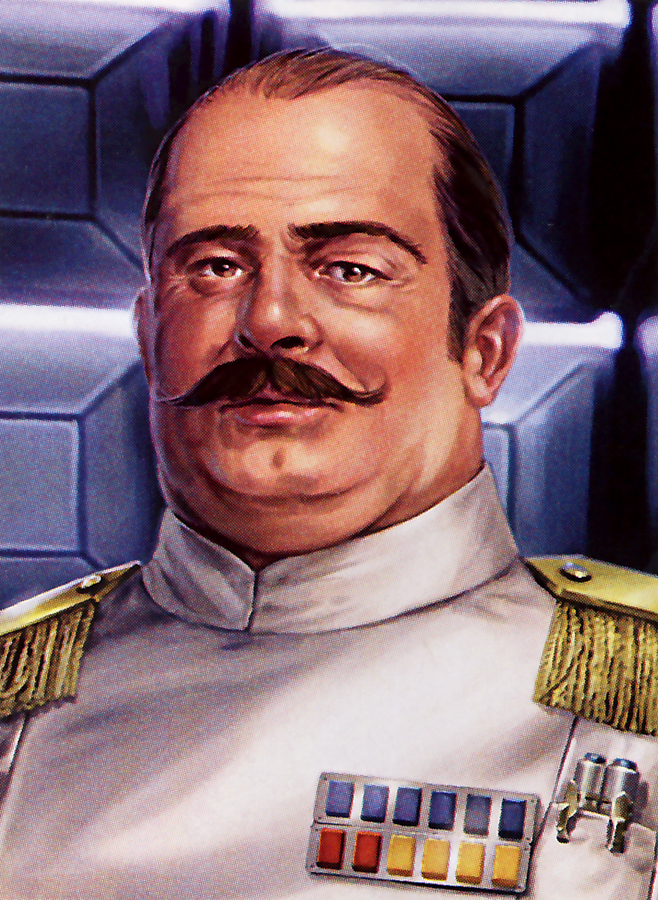 An eccentric yet surprisingly intelligent former High Admiral, Warlord Zsinj broke away from the Empire out of simple ambition and opportunism. While he initially conquered a sizable Empire for himself out of the chaos of the Interregnum, these gains were almost entirely erased after an unexpected full out assault by the Advent. Despite this, Zsinj has proven to be an extremely difficult man to kill, having managed to avoid or escape from ambushes by the Empire, New Republic and Orthodox Advent on several occasions. From his flagship the Iron Fist, Zsinj still controls enough ships to be a threat to any other power, though he would welcome any support he can get.
Allying with Zsinj provides some of the most direct military bonuses, immediately improving your ships rate of fire and bombing range. He has also proven successful at making a new elite military force based on the traditions of Storm Troopers, the Imperial Guard and even the Mandalorians called the Raptors, which can assist your forces during planetary bombardments or defenses. As a native of Fondor, Zsinj also has ties to the massive shipbuilding industry there, which can improve your ship building rates as well as reduce the credit cost of your ships.