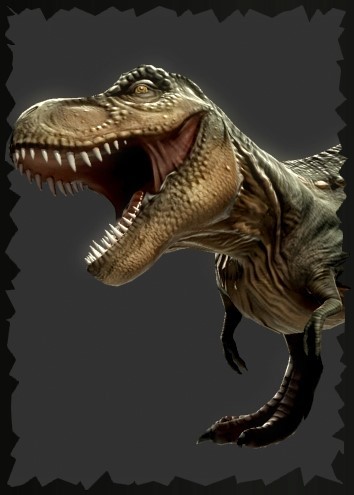 Stats:
Health: 300
Sprint speed: Slow
Pros:
Very high health
Extreme damage
Can be used as a distraction
Cons:
Large target, easy to hit
Audible from a distance
Hard to control
Tactical Summary:
This is the dinosaur tank class. The T-Rex does two things, chomp and stomp. It is the most powerful dinosaur, the T-Rex is fear itself embodied in a massive form.
The T-Rex will plow through any enemy in its way, it will even run down trees as if they were twigs. The T-Rex's massive jaws will tear apart any enemy and send them flying into the air like a ragdoll afterward.

Your only real opponent is the giant on the human side, the Heavy Gunner. Alone he is no match, but with a smart squad he can be the end of the T-Rex's rampage.

Bite: A bite that delivers colossal damage, throwing your prey into the air afterwards which causes falling damage if they managed to survive.

Head Butt: The Head Butt ability knocks players to the ground causing moderate damage and leaving them vulnerable to the stomp ability.


Stomp: An instant kill ability that can only be activated once a human player is knocked to the ground. The fatally player is crushed beneath the T-Rex's mighty foot.

Roar: A loud roar that causes players screens to shake and blur wildly. It also makes their ears ring loudly for a few moments.